Yamaha PSR-8000 Styles
214 Preset Styles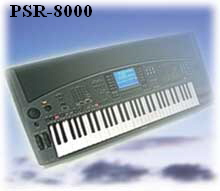 Here's how Yamaha described the 214 PSR8000 music styles:
From standard 8 and 16-beat, to ballad and dance, the PSR8000 has the perfect accompaniment style for your music. All the styles make full use of XG control, effects, filters, etc., to make you sound your best. The One Touch Setting feature lets you select from four different texture variations for each style to find the accompaniment that's right for you. You can also create your own custom styles and grooves.
This top-of-the-line arranger keyboard, introduced in 1998. It was followed by the PSR9000, 9000Pro, Tyros, Tyros2, Tyros3, Tyros4, and now the Tyros5.
The 214 styles were in 13 categories. Click on the category links below to download the ZIP file. All of the styles shown are stored in a single ZIP file, which must be unzipped before the styles can be used.
PSR-8000 Preset Styles
8Beat - 20 Styles
1-8 Beat 1
2-8 Beat 2
3-8 Beat 3
4-8 Beat 4
5-8 Beat Adria
6-Heart beat
7-Organ Ballad
8-Piano Ballad
9-Pop Rock 1
10-Pop Rock 2
11-8 Beat Soft
12-8 Beat Heat
13-8 Beat Soul
14-Guitar Ballad
15-8 Beat Pop
16-Polka Pop 1
17-Polka Pop 2
18-Polka Pop 3
19-Baroque
20-Pop Rhumba
16Beat - 20 Styles
21-16Beat1
22-16Beat2
23-Pop Ballad 1
24-Pop Ballad 2
25-Funky Pop
26-Hip Hop Pop
27-Soul Shuffle
28-Street Pop
29-Soft Fusion
30-West End
31-16Beat3
32-16Beat4
33-Pop Ballad 3
34-Pop Ballad 4
35-Funky Fusion
36-Analog Pop
37-Game Show
38-Cool Night
39-Fusion 1
40-Fusion 2
Ballad - 10 Styles

41-Love Song
42-Slow Ballad
43-16Beat Ballad 1

44-16Beat Ballad2
45-Epic Ballad
46-Slow Rock 1
47-Slow Rock 2
48-Slow Rock
49-6/8 Ballad
50-Modern 6/8
Rock - 18 Styles
51-Rock 1
52-Rock 2
53-Hard Rock
54-Rock Shffle1
55-Rock Shffle2
56-6/8 Rock
57-Jazz Rock
58-Soft Rock
59-Rock Ballad1
60-Cowboy Rock
61-Rock 3
62-Rock 4
63-Sunny Rock
64-Rock Ballad 2
65-Rock Ballad 3
66-80's Rock
67-LA Shuffle
68-Rock Classic
Dance - 20 Styles
69-Eurobeat
70-Entrance
71-Euro House
72-Techno 1
73-Trance 1
74-Rave
75-Clubdance 1
76-Dance Pop 1
77-Dance Soul
78-Hip Hop
79-Trip Hop
80-Techno 2
81-Techno 3
82-Dance Pop 2
83-Dance Pop 3
84-Clubdance 2
85-Trance 2
86-Cool Dance
87-Funky Dance
88-Groundbeat
Disco - 20 Styles
89-70's Disco 1
90-Disco Girls
91-Disco Samba
92-Meneito
93-Disco Latin
94-Disco Hands
95-Disco Queen
96-Disco Fox
97-Disco Rock
98-Disco Pop
99-70's Disco 2
100-70's Disco 3
101-Party Pop
102-Disco Tropic
103-Soul Dance
104-Electro Pop
105-Disco Philly
106-Disco Clap
107-Disco Slap
108-SynthBoogie
Swing - 18 Styles
109-Swing 1
110-BigBandSwing1
111-BigBandSwing2
112-Swing BaIIad
113-Swing WaItz 1
114-DixieIand 1
115-Ragtime
116-Gypsy Swing
117-Jazz Quartet
118-Lazy Jive
119-Swing 2
120-BBSwing3
121-CooI Jazz
122-Bebop
123-Jazz WaItz
124-DixieIand2
125-SwingWaItz2
126-BigBandJazz
R&B - 17 Styles
127-4/4 BIues
128-6/8 BIues1
129-BIues Rock
130-BIues BaIIad
131-Rock & RoII
132-Twist 1
133-Boogie 1
134-BB Boogie
135-Funk
136-R&B
137-SouI
138-6/8 BIues 2
139-BIuesShuffIe
140-Pop ShuffIe1
141-Pop ShuffIe2
142-Twist 2
143-Boogie 2
Country - 17 Styles
144-CountryRock1
145-CountryRock2
146-CountryRock3
147-CountryShuffIe1
148-CountrySwing1
149-BIuegrass1
150-Country 2/4
151-FoIk Rock
152-CountryBaIIad
153-CountryWaItz
154-CountryRock4
155-Two Step
156-CwbyBoogie
157-CntryShuffIe2
158-CntrySwing2
159-BIuegrass 2
160-Light Pop
Latin - 20 Styles
161-Samba Rio
162-Bossa Nova 1
163-More Bossa
164-Reggae 1
165-Reggae 2
166-Pop Reggae
167-Swing Reggae
168-EspagnoIe
169-Lambada
170-Mambo 1
171-Jazz Samba
172-Pop Bossa1
173-Pop Bossa2
174-Bossa Nova2
175-PopChaCha
176-SaIsa
177-Merengue
178-Tejano
179-SpPasodobIe
180-Mambo2
Ballroom - 20 Styles
181-Vienna WaItz
182-EngIish WaItz 1
183-SIowfox
184-Foxtrot 1
185-Tango
186-Samba
187-Rhumba 1
188-ChaChaCha
189-PasodobIe
190-Jive
191-Quickstep
192-EngWaItz2
193-Foxtrot 2
194-Foxtrot 3
195-Foxtrot 4
196-Shuffle
197-BB Quickstep
198-Beguine
199-Rhumba 2
200-TangoArgen
MarchWaltz - 14 Styles
201-March 1
202-6/8 March
203-TaranteIIa
204-Musette
205-Pop WaItz
206-PoIkaOber
207-PoIka1
208-WaItzOber
209-Trad WaItz1
210-Trad WaItz2
211-March2
212-PoIka2
213-Overture
214-BB WaItz
Additional 2-part Styles
(1 February 2017) I recently converted 254 Yamaha song styles from 4 variations to 2 variations for a friend who still uses a PSR8000. These might be of use to members who use some of the more recent keyboards that still use 2 variation styles. Click on 2 Part styles.zip to download this collection.
Best wishes,
Brian Miles