Yamaha PSR-730 Styles
100 Preset Styles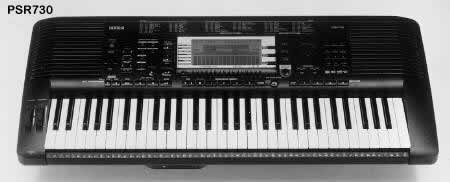 The Yamaha PSR-730 was replaced by the PSR-740. The PSR-740, in turn, was replaced with the PSR-2000, which was followed by the PSR-2100, the PSR-3000, the PSR-S900, and now the PSR-S910.
The original internal PSR-730 styles have all been adjusted by Randy Johnson who used Michael Bedesem's StyleUpdater program to convert the 2-variation (AB) styles into 4-variation (ABAB) formats. This also had the benefit of fixing some "double-ending" problems encountered in the original styles. (Several styles -- Big Band Quickstep, Cajun, and Euro House -- were too large for the PSR-2000 when converted by StyleUpdater, so I converted them manually on the PSR-2000.) Charley [Rattley] was kind enough to provide PSR-2000 versions by adding OTS to all of these PSR-730 styles. Charley's conversions are available in the first table (zip files with a "2k" suffix). Randy's conversions, without the OTS, are available in the following table. If you click on the link in the table title, you can download all the styles in one zip file.
There are 100 styles in the PSR-730. I have grouped them into style categories and then included several categories in one zip file. These styles will fill up the better part of three disks when unzipped. The categories shown below are close, although not identical, to the original categories. Note: actual filenames include the default tempo so that it is easily visible in the PSR-2000 window when selecting a style file.
PSR-730 GM Styles from Onacimus sayaham
2 Variation Styles
(12/12/09) I downloaded the PSR730 styles from a friend's keyboard. All are in original tempos. 730 preset styles have one Intro, one Ending, two Mains (AB), Fill AA, AB, BB & BA. But in style recording, only one fill in is recordable. That is Fill in AA only. When I played some 730 styles in my 3k, however, I found improper voice playing in tracks. When I viewed each style through Michael's MidiPlayer, the LSB value of each voice was 127. This may be the reason for improper voice selections. So, I modified all the styles to use basic GM voices and set the volume level to be the same as the original styles.
The 730 has a total of 100 styles. I added 8 factory styles given for the 730 and 630. In that batch, the 530 also had 100 styles. but there were four new styles not in the 730 and 630. So, all together, we have 112 styles in this set.
-- Onacimus
PSR730_GMStyles
112 styles
4 Variation Styles
(02/21/10) I have completed the 730 4-variation in GM format. As we know, 730 styles have A & B variations and only AA Fill in. I made these styles as [A] [A] [B] [B] and Fill in [BA] [AA] [AB] [BB]. I have not changed any voices or volume levels. These can be used in PSR-740, PSR-9000 and later keyboards that support 4v styles.
-- Onacimus
PSR730-GM(4V)
112 Styles