[You've just downloaded a batch of styles that were done on the Tyros. But you don't have a Tyros. You have a PSR-2000, or a 2100, or a 3000. The styles don't quite work right on your PSR. No problem. One of Michael Bedesem's utilities, MidiPlayer, not only "plays" midi files, but it also converts midi files -- and styles -- produced on one keyboard so that they can be played on another keyboard. Not only that, the latest version provides a batch capability that allows you to convert a whole folder of styles. Thanks to Dennis for providing us with very useful, step-by-step instructions on how to use this feature. -- Joe Waters ]
MidiPlayer Step-By-Step Instructions
STEP 1: Open MidiPlayer Program.
STEP 2:
Click the "Options" button at the top and a pop-up window appears. Make sure the top box ("Assign Mega Voices for Tyros") is UN-checked. (There is some kind of problem with it.) Click "Close" on "Options" pop-up.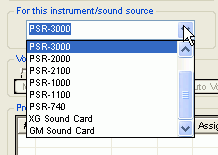 STEP 3: In the Main Screen select the target instrument, that is the keyboard you want the styles to be going to (for example, "PSR-3000" is selected in the figure below).
STEP 4: Click "Panel + XG" button, which will use both Panel and XG voices in making voice conversions.
STEP 5: Click the "View" button under "PlayList" - at the top.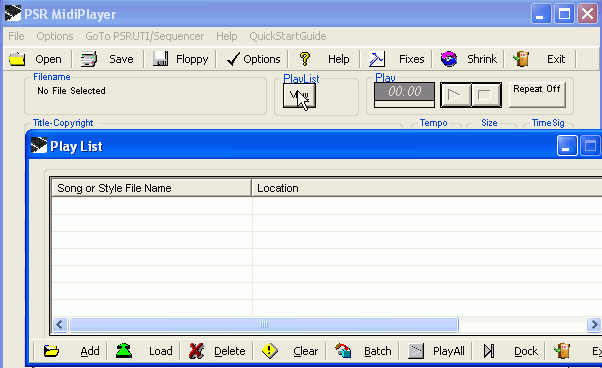 STEP 6: Check "Add" in "Play List" Pop-Up window. A Pop-up Screen labeled "Select one or more files" appears. Use the "Look in..." input box to scroll to where your styles are located. (The example below shows files in the Combo_2K folder.) Double click the folder where your styles reside (every style in that folder will then be displayed on the screen.). Highlight ALL the styles you wish to convert or adjust and then click the "Open" button.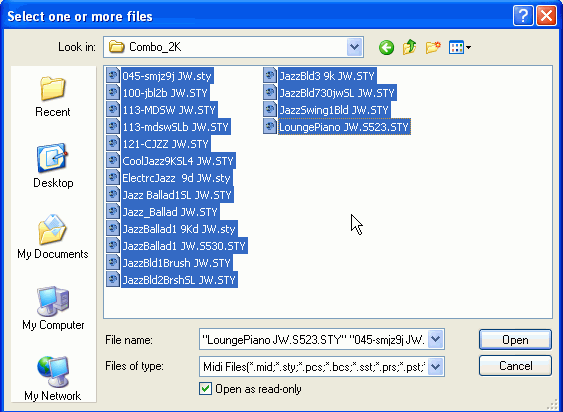 The selected styles are automatically copied over to the "Play List" window.

STEP 7: If you have more than one style to change, click the "Batch" button. A "Batch Mode" Pop-Up appears. Use "Browse" to select a specific Destination Folder. You will want to create your destination folder first if it doesn't already exist. In the example shown here, the files are going into a folder labeled "Combo_3k".
STEP 8: You're ready to go now, so in that same "Batch Mode" window, click the "Process Save" button. Styles are processed one at a time. Watch "Status" at the bottom of your screen as each style is processed. You will also see that the style names are set to bold in the "Play List" Pop-Up window."
STEP 9: The converted styles are now IN your target folder. Hit "Exit" on "Play List" to close the Play List window.
STEP 10: (Optional) If you wish to do more conversions, simply repeat the above steps.
STEP 11:Hit "Exit" on MidiPlayer Main Screen to leave the MidiPlayer program.
---
This page updated on May 20, 2021 .