Patrick Hannequin's Styles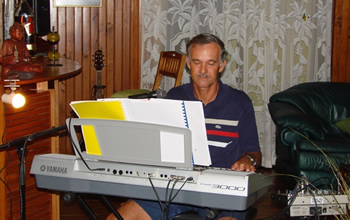 Patrick Hannequin has been providing styles on the PSR Tutorial forum for some time now. Here are a selection of the styles he has tweaked on his PSR3000 and for his S910. Many of the styles include multipads and special voices that fit the final style. They will play, of course, on the other Yamaha keyboards as well. You can hear Patrick perform some of his songs using these styles on his PSR Performer page.
For those of you unfamiliar with some of these styles, the Wikipedia definitions below may be helpful:
Gig Disks for S900
(7 July 2010) Patrick, who has converted Hammer's S910 Gig Disks for use on the S900. These should also work on many other earlier keyboards although you may have to adjust the OTS.
Brazilian Styles for S910
(29 August 2012) Jovial was kind enough to share 68 original samba and bossa nova rhythms created by Brazilian musicians, especially for the Solton. Patrick has converted these styles for use on the S910. These should also work, therefore, on the S710 and the Tyros3/Tyros4 Yamaha keyboards. Patrick included 7 Zouk styles based on some of the Brazilian styles.
Solton.zip
75 styles
8/29/12
Jovial - Brazil 2
(5 September 2012) Here is a second set styles from Jovial. I've added 8 styles that I've mixed on my keyboard and a few more from Brazil as I've deleted some duplicated styles. I hope you'll find theses style interesting for the members of the forum. Some styles are very good. I've not worked on the OTS; just for a few styles.
RolandJovial2.zip
193 styles
9/5/12
Jovial - Brazil 3
(15 September 2012) Many thanks, Jovial, for these Korg styles. These were much more complicated to convert, however, I've found 113 styles and they are quite good after the conversion. I hope they'll be good enough for some players on the forum. i've added a few remixed styles. I wish you and everybody a nice weekend, very friendly, Patrick.
113KorgOrig.zip
119 styles
9/15/12
Jovial - Brazil 4
(7 October 2012) Here are 245 additional styles from Brazil that I have converted for the PSR S910. These styles are from Technics KN3000, KN3500, KN5000, Solton and Roland. Perhaps some of our members may be interested in using some of these styles on the new S950! I'll certainly change my S910 for the new S950 when it will be here in New Caledonia.
JovPatConv.zip
245 styles, 2MB
10/7/12
Brazil 5
(24 October 2012) Here are some more styles from Brazil that I've converted. They are from Roland, Technic KN3000 and KN5000. I hope some of them will be played by the members of the forum. I have not tweaked all theses styles. The OTS and styles can be improved with adjustments on the keyboard. Theses styles are for the PSR S910, Tyros 3 and 4, PSR S650 and now PSR S950.
HPRol-Tech.zip
518 styles, 5MB 10/24/12
Brazil 6
(9 November 2012) Hello Joe, I send you some more converted styles from Gem, Ketron, Solton. They're from Brazil and some styles are very good; the members will be pleased to play with some of these styles. Styles are for PSR-S910, Tyros 3 and Tyros 4, PSR-S650, PSR-S950. Still some work to do on the styles. I hope members will appreciate these new styles.
3rdPackPatrick.zip
1,051 styles, 6MB
11//9/12
(5 August 2013) Hi Joe, it's winter here and today the weather is grey, windy, cold and wet! it's a good time to play music on the keyboard! I've received some Brazilian Roland styles that I've converted for the S910 and above. Perhaps we can share them with all the members. i'm still playing on the S910 as it's quite hard to have a S950 here.