Eileen Lowry's Conversions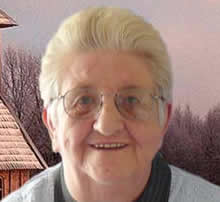 You may have already downloaded some PSR conversions from other keyboards in the "Other Kbds" section. Eileen Lowry was a key participant in doing those conversions. Through the years, Eileen has converted a great many styles for use on PSR and Tyros keyboards. Below are some recent conversions from Eileen. Eileen has owned many of the Yamaha keyboards. Below are her styles used on the Tyros5, Tyros4, Tyros3, and earlier keyboards using the SFF1 format.
[Be sure to visit Eileen's PSR Performer page and you can listen to Eileen performing on her Tyros 3. - JW]
Tyros 5
(August 2016) Here are some styles I use a lot on my Tyros5 keyboard. Hope some members can find a use for them. --Eileen
Ty5 Sty.zip
(129 styles)
Tyros 4
(November 2010) Eileen is now the proud owner of Yamaha's new flagship, the Tyros4 and, as you might expect, she has started developing styles for the new T4. Her T4 conversions are found in the table below. (Click on the ".ZIP" files below to download the styles.) Note that many of these styles will also work fine on the PSR-S950.
155 Styles for Tyros4
Tyros4_1.zip
11/23/10
HappyClassic, HappyShuffle, Keep On Smile, Love Call, Menuett, Slow Swing, Soft Ballad 3, Soft Ballad 3, Sweet Sweet Smile, SwingingRag
Tyros4_2.zip
12/01/10
Country Ballad, Easybeat, Happy Music, Lonesome Me, Party Time, Pussycat-Smile, Scan Waltz, Slow Ballad, So What's New, SwingFox
Tyros4_3.zip
12/24/10
Ballad, Brush Shuffle, Dream Slow, Foxtrot, James Last 2, James Last, ModernOrchBld, Movie Swing 3, Polka, Raindrops
Tyros4_4.zip
12/27/10
8 Bt Standard, Ballad 2, Country, Electric Dance, GenteCome Ballad, Jazz Combo, Schlager 6~8, Schlager, StipeBallad, Sweed Shuffle
Tyros4_5.zip
1/4/11
6-8 Pop, 70s Dance, 70s Disco, BallroomWaltz, James Last, Kaempfert, Rydell Rock, Shaky Time, US Country, Walzer
Tyros4_6.zip
1/4/11
68March, Fast Bossa 1, Lunabeat, MellowRock, Scand I1, Slow Waltz, Spanish Eyes, Tango 1, Theatre Swing, Trendy Beat
Tyros4_7.zip
1/20/11
8 Beats, 70'sGroove, Country Shuffle, Disco Schlager, Love Movie, Medium Schlager, PopTown, Schlager Rhumba, SchlagerPop, SilenceIsGolden
Tyros4_8.zip
1/20/11
CaliBlue, Do That, Good Beat, Good Old Rock, ovenbird, Mandolino, ScandSloRock2, Swing Fox, Tango, There Goes
Tyros4_9.zip
3/27/11
Brush Slow Swing, Country Beat, Country, ElectricJazz, Green Grass, Guitar, Lovebird, Musical, Nice 8 Beat, Swingy Fox
Tyros4_10.zip
3/27/11
Blue Moon, Bubbly, Do That To Me, Hello Joe, Hustle, Nashville, Now Or Never, Pop Ballad 4, Somew Rain, Summer Love
Tyros4_11.zip
3/28/11
8 Beat Ballad, Clapping Gordons, Green Green Grass, Nice 8 Beat, SecretService, Shuffle, Slow Bossa, Theatre March, Warm Ballad, You Light Up My Life
Tyros4_12.zip
5/9/11
8 Beat Ballad, Acapella, Ballad, Country Blues, PopNewAge6, Quick Foxtrot, Slow Pop, Soul Shuffle, Sweet Sweet Smile, Wave
Tyros4_13.zip
5/9/11
BallroomWaltz, Country, Last Ballad, SanAntonioR, Santa Claus Is Coming To Town, Satin Doll, Scat Swing, SlowShuffle, Waltz
Tyros4_14.zip
7/2/12
6'8 Waltz, 50's Waltz, 70er Waltz, Alpen Waltz, Are You Lonley, BohemianWaltz, CntryPiano Waltz, CountryWaltz, DreamWlz, Fast Waltz, OrganWaltz, Piano Waltz, Slow Waltz 1, Slow Waltz, Waltz All I Do
Tyros4_15.zip
5/27/13
16Beat4, 70sDisco, Broadway, CtryShff, EasyPop, HappyShuffle, MidnightBlues, PianoStandards, SwingingRag, TwBeat2
Tyros3
The styles below have been tuned on Eileen's Tyros3 and, as such, will only work on the Tyros3 keyboard. The PA800 styles were converted by Brian Miles and then tweaked for the Tyros3 by Eileen.
Tyros1/2/3 and PSR-S900
Click on the zip file(s) below to download the individual styles in that collection. As usual, the zip file will have to be unzipped to get to the underlying styles. These styles should work on the Tyros1/2/3 keyboards as well as the PSR-S900. Many will also work on the PSR-3000.