Murray's Registration Manager
Yamaha Registration Manager 5
(10 January 2017) Registration banks are one of the most useful features on your Yamaha. However, for new users, they can be difficult to understand and use. A registration bank instantly configures a keyboard to a specific configuration and thus can hold a lot of information. But it is not always easy to see what is in a registration file or easily move registration buttons from one file to another or convert a registration made on one keyboard for use on another, different keyboard. This program allows you to review and modify the contents of registration banks, convert the banks when necessary to load on a different keyboard, and much more.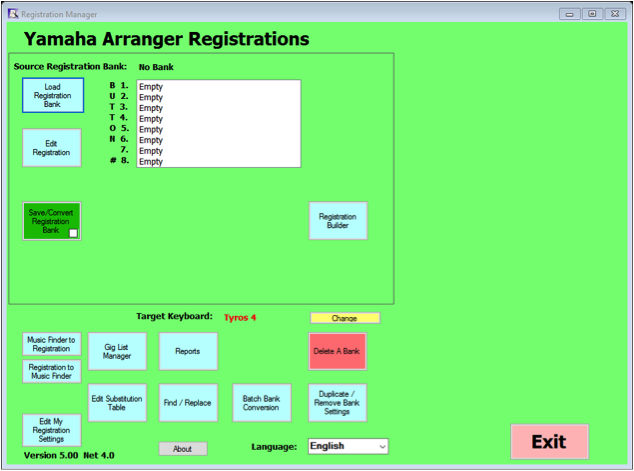 This program can be used for the following tasks:
Building new registration banks
Copying registrations from existing banks
Editing settings contained in registration buttons
Sample styles and voices when keyboard is attached to computer
Add / Duplicate / Remove settings from registrations or bank(s)
Converting existing registrations to load on a different keyboard
Search for text in a registration bank or directory of banks
Replace text in path names in a registration bank or directory of banks
Preparing numerically organized registration banks (Gig Lists)
Creating new registration banks from Music Finder entries
Creating a Music Finder from directories of registrations
Preparing reports on the contents of banks
This program will recognize registrations from following keyboards and can be selected as the Target Keyboard:
Tyros 5; Tyros 4; Tyros 3; Tyros 2; and Tyros
PSR S970; S950; S910; S900; S770; S750; S710; S700 and S670
PSR 3000
Clavinova CVP609; CVP605; CVP701
Click here for V 5 of the Yamaha Registration Manager. Complete English documentation is included in a pdf file. There is also a German version of the documentation. Direct any comments or questions to Murray Best. You can also contact Murray through the PSR Tutorial Forum (murrayb).
---
This page updated on January 10, 2017.