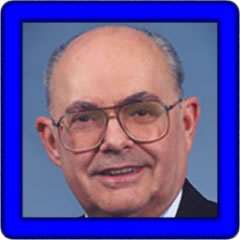 (Aug, 2003) I received my undergraduate degree and two graduate degrees from Central Missouri State University and a doctorate in educational administration from Oklahoma State University.
For 39 years I was an educator serving as a high school science teacher, high school principal and college academic advisor. I retired from Central Missouri University in 1996 where I was the Registrar and Director of Student Records.
I began my musical career on the clarinet in the fourth grade and took piano lessons from the age of 12 to 16. After receiving a tenor saxophone for my 16th birthday, I began playing clarinet and saxophone in small bars and clubs, which I continued for about 10 years. As I pursued my career in education, however, I quit playing in public and only played for the amusement of my family and close friends. In 1978 I obtained a Wurlitzer electric organ and mainly played it and my wife's Yamaha piano until I purchased a PSR-2000 in December 2002. I play from music and fake books. My keyboard playing has always been based around chords and improvision. I play primarily for my own amusement, but I have played for a few service clubs and retirement homes.
Update: Bob now has a PSR-3000 and his 22nd volume is the first one with his new keyboard!
MP3 Songs
Below are a sample of some of Bob's MP3s. More are available on the Songs of 2009 and Songs of 2010 collections.
MIDI Songs
You can download all of Bob's MIDI songs here: BB-2k.zip, BB-3k.zip.
Alphabetical List of MIDI Songs

| Title | T | TS | L | C | Style | V | K |
| --- | --- | --- | --- | --- | --- | --- | --- |
| Accenttchuate The Positive | 142 | 4/4 | N | Y | MediumJazz | 28 | 3k |
| Afternoon Tea | 120 | 4/4 | N | Y | ElectricJazz | 13 | 2k |
| After The Lovin' | 68 | 4/4 | N | Y | 6-8SlowRock2 | 16 | 2k |
| After You've Gone | 142 | 4/4 | N | Y | MediumJazz | 26 | 3k |
| After You've Gone | 142 | 4/4 | N | Y | MediumJazz | 29 | 3k |
| Again | 80 | 4/4 | N | Y | Slow&Easy | 01 | 2k |
| Again | 70 | 4/4 | N | Y | Slow&Easy | 11 | 2k |
| Alabama Jubilee | 128 | 4/4 | N | Y | Hoedown | 26 | 3k |
| Alice Blue Gown | 90 | 3/4 | N | Y | EnglishWaltz | 12 | 2k |
| All By Myself | 115 | 4/4 | N | Y | MidnightSwing | 26 | 3k |
| All By Myself | 115 | 4/4 | N | Y | MidnightSwing | 29 | 3k |
| Alley Cat | 140 | 4/4 | N | Y | Swing1 | 02 | 2k |
| All I Do Is Dream Of You | 130 | 4/4 | N | Y | BigBandMed2 | 20 | 2k |
| All I Have To Do Is Dream | 120 | 4/4 | N | Y | 60s8Beat | 18 | 2k |
| All Of Me | 135 | 4/4 | N | Y | JazzClub | 08 | 2k |
| Always On My Mind | 72 | 4/4 | N | Y | CountryBallad | 14 | 2k |
| Amapola | 108 | 4/4 | N | Y | Rumba | 27 | 3k |
| Am I Blue | 118 | 4/4 | N | Y | | 18 | 2k |
| Amor | 113 | 4/4 | N | Y | Beguine | 11 | 2k |
| And I Love You So | 64 | 4/4 | N | Y | Slow&Easy | 20 | 2k |
| Angry | 142 | 4/4 | N | Y | MediumJazz | 27 | 3k |
| Anytime | 130 | 4/4 | N | Y | CountryPop1 | 10 | 2k |
| April In Portugal | 100 | 4/4 | N | Y | 8BeatAdria | 18 | 2k |
| April Love | 100 | 4/4 | N | Y | SlowBossa | 12 | 2k |
| April Showers | 126 | 4/4 | N | Y | OrchestraSwing1 | 26 | 3k |
| Are You Lonesome Tonight | 120 | 3/4 | N | Y | CountryWaltz | 18 | 2k |
| Are You Sincere | 68 | 4/4 | N | Y | 6-8Orchestral | 14 | 2k |
| As Time Goes By | 78 | 4/4 | N | Y | Slow&Easy | 23 | 3k |
| At Last | 64 | 4/4 | N | Y | Slow&Easy | 01 | 2k |
| At Sundown | 108 | 4/4 | N | Y | SlowFox | 02 | 2k |
| Avalon | 118 | 4/4 | N | Y | MediumJazz | 19 | 2k |
| Before The Next Teardrop Falls | 95 | 4/4 | N | Y | CountrySwing1 | 10 | 2k |
| Begin The Beguine | 113 | 4/4 | N | Y | Beguine | 18 | 2k |
| Behind Closed Doors | 90 | 4/4 | N | Y | 16BeatBallad1 | 14 | 2k |
| Besame Mucho | 113 | 4/4 | N | Y | Beguine | 01 | 2k |
| Best Things In Life Are Free, The | 135 | 4/4 | N | Y | Swing1 | 21 | 2k |
| Bewitched, Bothered, And Bewildered | 82 | 4/4 | N | Y | MoonlightBallad | 08 | 2k |
| Beyond The Sea | 106 | 4/4 | N | Y | SlowBossa | 16 | 2k |
| Bill Bailey | 118 | 4/4 | N | Y | MediumJazz | 11 | 2k |
| Blue Bayou | 108 | 4/4 | N | Y | 8BeatAdria | 10 | 2k |
| Blue Christmas | 80 | 4/4 | N | Y | Slow&Easy | 05 | 2k |
| Blue Eyes Crying In The Rain | 113 | 4/4 | N | Y | CountryShuffle | 02 | 2k |
| Blue Hawaii | 100 | 4/4 | N | Y | Hawaiian | 09 | 2k |
| Blue Moon | 135 | 4/4 | N | Y | MediumJazz | 24 | 3k |
| Bonaparte's Retreat | 126 | 4/4 | N | Y | CountryShuffle | 20 | 2k |
| Born To Lose | 110 | 4/4 | N | Y | CountryPop1 | 06 | 2k |
| Bouquet Of Roses | 130 | 4/4 | N | Y | CountryPop1 | 20 | 2k |
| But Not For Me | 120 | 4/4 | N | Y | BigBandMed2 | 24 | 3k |
| Button Up Your Overcoat | 130 | 4/4 | N | Y | BigBandMed2 | 30 | 3k |
| Bye Bye Love | 148 | 4/4 | N | Y | Country8Beat1 | 27 | 3k |
| Bye Bye Love | 126 | 4/4 | N | Y | OrchestraSwing1 | 29 | 3k |
| By The Time I Get To Phoenix | 76 | 4/4 | N | Y | 16BeatBallad1 | 20 | 2k |
| Cab Driver | 126 | 4/4 | N | Y | OrchestraSwing1 | 28 | 3k |
| Call Me Irresponsible | 120 | 4/4 | N | Y | MediumJazz | 13 | 2k |
| Cara Mia | 90 | 3/4 | N | Y | EnglishWaltz | 28 | 3k |
| Carioca | 140 | 4/4 | N | Y | BossaNova1 | 08 | 2k |
| Carolina In The Morning | 125 | 4/4 | N | Y | OrchestraSwing1 | 29 | 3k |
| Chicago | 130 | 4/4 | N | Y | BigBandMed2 | 26 | 3k |
| Christmas Song, The | 80 | 4/4 | N | Y | MediumJazz | 05 | 2k |
| Coquette | 130 | 4/4 | N | Y | BigBandMed1 | 04 | 2k |
| Crying | 80 | 4/4 | N | Y | 16Beat | 20 | 2k |
| Cry Me A River | 76 | 4/4 | N | Y | 16BeatBallad2 | 01 | 2k |
| Dancing In The Dark | 106 | 4/4 | N | Y | SlowBossa | 18 | 2k |
| Darktown Strutters Ball | 195 | 4/4 | N | Y | Dixieland1 | 23 | 3k |
| Diane | 98 | 3/4 | N | Y | SwingWaltz | 15 | 2k |
| Don't Blame Me | 82 | 4/4 | N | Y | 16BeatBallad2 | 01 | 2k |
| Don't It Make My Brown Eyes Blue | 64 | 4/4 | N | Y | 6-8ModernEP | 04 | 2k |
| Don't Sweetheart Me | 148 | 4/4 | N | Y | Country8Beat1 | 30 | 3k |
| Don't Take Your Love From Me | 72 | 4/4 | N | Y | 6-8SlowRock1 | 28 | 3k |
| Dream A Little Dream Of Me | 90 | 4/4 | N | Y | EasyListening | 24 | 3k |
| Elmer's Tune | 130 | 4/4 | N | Y | BigBandMed1 | 06 | 2k |
| Embraceable You | 118 | 4/4 | N | Y | MediumJazz | 09 | 2k |
| Endless Love | 88 | 4/4 | N | Y | 8BeatModern | 13 | 2k |
| Endlessly | 80 | 4/4 | N | Y | 16BeatBallad2 | 20 | 2k |
| End Of The World, The | 80 | 4/4 | N | Y | Slow&Easy | 15 | 2k |
| Feliz Navidad | 106 | 4/4 | N | Y | SlowBossa | 25 | 3k |
| Five Foot Two Eyes Of Blue | 180 | 4/4 | N | Y | Dixieland1 | 04 | 2k |
| Five Minutes More | 145 | 4/4 | N | Y | MediumJazz | 11 | 2k |
| Fly Me To The Moon | 101 | 4/4 | N | Y | 8BeatModern | 21 | 2k |
| Foggy Day, A | 130 | 4/4 | N | Y | MediumJazz | 22 | 3k |
| Fools Fall In Love | 90 | 4/4 | N | Y | 6-8SlowRock1 | 13 | 2k |
| For The Good Times | 85 | 4/4 | N | Y | Country8Beat2 | 11 | 2k |
| For Your Love | 70 | 4/4 | N | Y | Slow&Easy | 24 | 3k |
| Four Walls | 105 | 3/4 | N | Y | CountryWaltz | 19 | 2k |
| Frosty The Snowman | 158 | 4/4 | N | Y | ChristmasSwing | 25 | 3k |
| Georgia On My Mind | 72 | 4/4 | N | Y | Slow&Easy | 10 | 2k |
| Gonna Get Along Without You Now | 126 | 4/4 | N | Y | OrchestraSwing1 | 24 | 3k |
| Guilty | 77 | 4/4 | N | Y | PopBallad | 04 | 2k |
| Gypsy, The | 90 | 4/4 | N | Y | Slow&Easy | 08 | 2k |
| Have I Told You Lately | 128 | 4/4 | N | Y | CountryRock | 20 | 2k |
| Have You Ever Been Lonely | 120 | 4/4 | N | Y | CountryPop1 | 03 | 2k |
| Have Yourself A Merry Little Christmas | 80 | 4/4 | N | Y | Slow&Easy | 05 | 2k |
| Heartaches | 90 | 4/4 | N | Y | EasyListening | 23 | 3k |
| Heartaches By The Number | 148 | 4/4 | N | Y | CountryPop1 | 07 | 2k |
| Heartbreak Hotel | 90 | 4/4 | N | Y | SlowBlues | 24 | 3k |
| Heart Of My Heart | 118 | 4/4 | N | Y | MediumJazz | 12 | 2k |
| He'll Have To Go | 90 | 3/4 | N | Y | CountryWaltz | 29 | 3k |
| Help Me Make It Through The Night | 78 | 4/4 | N | Y | PianoBallad | 14 | 2k |
| Here Comes Santa Claus | 158 | 4/4 | N | Y | ChristmasSwing | 25 | 3k |
| Hey, Good Lookin' | 154 | 4/4 | N | Y | CountryRock | 08 | 2k |
| Hey Man | 100 | 4/4 | N | Y | JumboReggae | 14 | 2k |
| Hold Me | 80 | 4/4 | N | Y | Slow&Easy | 22 | 3k |
| Honey | 130 | 4/4 | N | Y | BigBandMed1 | 03 | 2k |
| I Ain't Got Nobody | 64 | 4/4 | N | Y | Slow&Easy | 24 | 3k |
| I Almost Lost My Mind | 62 | 4/4 | N | Y | Blues2 | 01 | 2k |
| I Can't Begin To Tell You | 90 | 4/4 | N | Y | CoolJazzBallad | 13 | 2k |
| I Can't Believe That You're In Love With Me | 102 | 4/4 | N | Y | MORSwing | 28 | 3k |
| I Can't Help It | 87 | 4/4 | N | Y | Kramer | 10 | 2k |
| I Can't Stop Loving You | 80 | 4/4 | N | Y | Slow&Easy | 06 | 2k |
| I Could Write A Book | 70 | 4/4 | N | Y | 8BeatModern | 14 | 2k |
| I Cried For You | 130 | 4/4 | N | Y | BigBandMed2 | 03 | 2k |
| I'd Love To Make Love To You | 85 | 4/4 | N | Y | EasyListening | 30 | 3k |
| I Don't Care If The Sun Don't Shine | 126 | 4/4 | N | Y | OrchestraSwing1 | 23 | 3k |
| I Don't Know Why | 83 | 4/4 | N | Y | Slow&Easy | 01 | 2k |
| I Fall To Pieces | 115 | 4/4 | N | Y | CountrySwing1 | 07 | 2k |
| If I Give My Heart To You | 110 | 4/4 | N | Y | Swing1 | 01 | 2k |
| If Teardrops Were Pennies | 126 | 4/4 | N | Y | CountryShuffle | 07 | 2k |
| If You Love Me | 116 | 4/4 | N | Y | 8Beat1 | 15 | 2k |
| I Heard The Bells On Christmas Day | 80 | 4/4 | N | Y | ChristmasWaltz | 25 | 3k |
| I'll Get By | 118 | 4/4 | N | Y | MediumJazz | 21 | 2k |
| I'll Never Stop Loving You | 75 | 4/4 | N | Y | Slow&Easy | 01 | 2k |
| I'm Beginning To See The Light | 130 | 4/4 | N | Y | BigBandMed2 | 26 | 3k |
| I'm Getting Sentimental Over You | 80 | 4/4 | N | Y | BigBandBallad | 21 | 2k |
| I'm Gonna Sit Write Down And Write Myself A Letter | 145 | 4/4 | N | Y | Jive | 07 | 2k |
| I'm Looking Over A Four Leaf Clover | 145 | 4/4 | N | Y | Swing1 | 16 | 2k |
| I'm Sitting On Top Of The World | 120 | 4/4 | N | Y | MediumJazz | 14 | 2k |
| In The Still Of The Night | 140 | 4/4 | N | Y | Beguine | 08 | 2k |
| I Only Have Eyes For You | 118 | 4/4 | N | Y | JazzClub | 01 | 2k |
| I Overlooked An Orchid | 135 | 4/4 | N | Y | Country8Beat1 | 30 | 3k |
| It Came Upon A Midnight Clear | 80 | 3/4 | N | Y | ChristmasWaltz | 25 | 3k |
| It Had To Be You | 118 | 4/4 | N | Y | MediumJazz | 09 | 2k |
| It Isn't Fair | 105 | 4/4 | N | Y | MediumJazz | 06 | 2k |
| It's Been A Long Long Time | 85 | 4/4 | N | Y | BigBandBallad | 17 | 2k |
| I Wanna Be Around | 100 | 4/4 | N | Y | EasyListening | 23 | 3k |
| I Want You, I Need You, I Love You | 73 | 4/4 | N | Y | 6-8SlowRock1 | 29 | 3k |
| I Will Always Love You | 64 | 4/4 | N | Y | Slow&Easy | 06 | 2k |
| I Wish You Love | 108 | 4/4 | N | Y | Rumba | 29 | 3k |
| I Wonder As I Wander | 80 | 3/4 | N | Y | ChristmasWaltz | 25 | 3k |
| Jambalaya | 115 | 4/4 | N | Y | Bluegrass1 | 09 | 2k |
| Jealous Heart | 130 | 4/4 | N | Y | CountryPop1 | 19 | 2k |
| Jingle Bell Rock | 145 | 4/4 | N | Y | ChristmasSwing | 25 | 3k |
| Jingle Bells | 194 | 4/4 | N | Y | ChristmasSwing1 | 05 | 2k |
| Johnson Rag | 130 | 4/4 | N | Y | BigBandMed2 | 02 | 2k |
| Just A Little Lovin' | 126 | 4/4 | N | Y | CountryShuffle | 18 | 2k |
| Just In Time | 125 | 4/4 | N | Y | MediumJazz | 19 | 2k |
| Kansas City | 135 | 4/4 | N | Y | JazzClub | 02 | 2k |
| Kiss An Angel Good Morning | 126 | 4/4 | N | Y | CountryShuffle | 15 | 2k |
| Kiss To Build A Dream On, A | 120 | 4/4 | N | Y | OrchestraSwing1 | 22 | 3k |
| Lady Is A Tramp, The | 126 | 4/4 | N | Y | Technic/JazzQuint | 02 | 2k |
| Lady Of Spain | 120 | 4/4 | N | Y | Beguine | 04 | 2k |
| Last Date | 85 | 4/4 | N | Y | Kramer | 10 | 2k |
| Let It Be Me | 75 | 4/4 | N | Y | Slow&Easy | 11 | 2k |
| Let It Snow | 125 | 4/4 | N | Y | ChristmasSwing1 | 05 | 2k |
| Let Me Call You Sweetheart | 92 | 4/4 | N | Y | MediumJazz | 09 | 2k |
| Let's Fall In Love | 120 | 4/4 | N | Y | MediumJazz | 19 | 2k |
| Like Someone In Love | 120 | 4/4 | N | Y | MediumJazz | 19 | 2k |
| Love Is Just Around The Corner | 102 | 4/4 | N | Y | MORSwing | 30 | 3k |
| Love Me | 72 | 4/4 | N | Y | EasyListening | 28 | 3k |
| Love's Theme | 112 | 4/4 | N | Y | 8Beat1 | 30 | 3k |
| Mad About Him | 127 | 4/4 | N | Y | Blues3 | 02 | 2k |
| Make Her Mine | 80 | 4/4 | N | Y | Slow&Easy | 24 | 3k |
| Make Love To Me | 130 | 4/4 | N | Y | BigBandMed2 | 17 | 2k |
| Make The World Go Away | 75 | 4/4 | N | Y | 6-8SlowRock2 | 07 | 2k |
| Mamselle | 78 | 4/4 | N | Y | | 04 | 2k |
| Margie | 210 | 4/4 | N | Y | Dixieland1 | 23 | 3k |
| Margie | 192 | 4/4 | N | Y | BigBandFast2 | 29 | 3k |
| Maria Elena | 94 | 3/4 | N | Y | EnglishWaltz | 10 | 2k |
| Maybe | 120 | 4/4 | N | Y | CountryPop1 | 03 | 2k |
| Maybe You'll Be There | 70 | 4/4 | N | Y | 16BeatBallad2 | 17 | 2k |
| Melody Of Love | 90 | 3/4 | N | Y | EnglishWaltz | 06 | 2k |
| Memories | 90 | 3/4 | N | Y | EnglishWaltz | 29 | 3k |
| Memories Of You | 80 | 4/4 | N | Y | Slow&Easy | 14 | 2k |
| Mexicali Rose | 95 | 3/4 | N | Y | CountryWaltz | 07 | 2k |
| Misty | 70 | 4/4 | N | Y | Slow&Easy | 11 | 2k |
| Moonlight And Roses | 130 | 4/4 | N | Y | BigBandMed1 | 19 | 2k |
| Moonlight Serenade | 82 | 4/4 | N | Y | MoonlightBallad | 15 | 2k |
| More | 113 | 4/4 | N | Y | Beguine | 17 | 2k |
| More Than You Know | 80 | 4/4 | N | Y | Slow&Easy | 06 | 2k |
| Music, Music, Music | 165 | 4/4 | N | Y | JazzClub | 04 | 2k |
| My Happiness | 76 | 4/4 | N | Y | 16BeatBallad1 | 11 | 2k |
| My Kind Of Girl | 126 | 4/4 | N | Y | OrchestraSwing1 | 24 | 3k |
| My Melancholy Baby | 101 | 4/4 | N | Y | 8BeatBallad | 30 | 3k |
| My One And Only Love | 88 | 4/4 | N | Y | CoolJazzBallad | 12 | 2k |
| Nearness Of You, The | 65 | 4/4 | N | Y | Slow&Easy | 13 | 2k |
| Near You | 125 | 4/4 | N | Y | BoogieWoogie | 19 | 2k |
| Nevertheless | 82 | 4/4 | N | Y | MoonlightBallad | 17 | 2k |
| No Other Love | 113 | 4/4 | N | Y | Beguine | 19 | 2k |
| O Christmas Tree | 80 | 3/4 | N | Y | ChristmasWaltz | 25 | 3k |
| Oh, Lady Be Good | 118 | 4/4 | N | Y | MediumJazz | 19 | 2k |
| Oh, What It Seemed To Be | 90 | 4/4 | N | Y | MediumJazz | 17 | 2k |
| Old Lamp Lighter, The | 70 | 4/4 | N | Y | LoveSong | 17 | 2k |
| O Little Town Of Bethlehem | 75 | 4/4 | N | Y | Slow&Easy | 05 | 2k |
| One Dozen Roses | 135 | 4/4 | N | Y | CountrySwing1 | 09 | 2k |
| Only The Lonely | 95 | 4/4 | N | Y | CountryPop1 | 13 | 2k |
| Orange Colored Sky | 120 | 4/4 | N | Y | MediumJazz | 23 | 3k |
| Our Love Is Here To Stay | 135 | 4/4 | N | Y | JazzCombo | 12 | 2k |
| Paper Doll | 85 | 4/4 | N | Y | EasyListening | 29 | 3k |
| Paper Roses | 110 | 4/4 | N | Y | CountrySwing1 | 07 | 2k |
| Pennies From Heaven | 118 | 4/4 | N | Y | MediumJazz | 15 | 2k |
| Perdido | 128 | 4/4 | N | Y | GuitarBossa | 16 | 2k |
| Pick Me Up On Your Way Down | 148 | 4/4 | N | Y | Country8Beat2 | 07 | 2k |
| Please Don't Talk About Me When I'm Gone | 118 | 4/4 | N | Y | MediumJazz | 21 | 2k |
| Please Help Me I'm Falling | 100 | 4/4 | N | Y | CountryShuffle | 07 | 2k |
| Please Mr Sun | 64 | 4/4 | N | Y | Slow&Easy | 27 | 3k |
| Pledging My Love | 73 | 4/4 | N | Y | 6-8SlowRock1 | 23 | 3k |
| Pretend | 75 | 4/4 | N | Y | LoungePiano | 03 | 2k |
| Pretty World | 106 | 4/4 | N | Y | SlowBossa | 28 | 3k |
| Raindrops Keep Falling On My Head | 120 | 4/4 | N | Y | BigBandBallad | 13 | 2k |
| Ramblin' Rose | 100 | 4/4 | N | Y | 8BeatAdria | 03 | 2k |
| Red Roses For A Blue Lady | 138 | 4/4 | N | Y | PopBossa1 | 07 | 2k |
| Red Sails In The Sunset | 95 | 4/4 | N | Y | 8BeatAdria | 17 | 2k |
| Return To Me | 113 | 4/4 | N | Y | Beguine | 10 | 2k |
| Room Full Of Roses | 130 | 4/4 | N | Y | CountrySwing1 | 30 | 3k |
| Santa Baby | 85 | 4/4 | N | Y | ChristmasBlues | 25 | 3k |
| Santa Claus Is Coming To Town | 140 | 4/4 | N | Y | ChristmasSwing1 | 05 | 2k |
| Second Time Around, The | 80 | 4/4 | N | Y | Slow&Easy | 16 | 2k |
| Seems Like Old Times | 125 | 4/4 | N | Y | BigBandMed2 | 09 | 2k |
| Send Me The Pillow You Dream On | 160 | 4/4 | N | Y | CntrySing-a-Long | 30 | 3k |
| Sentimental Me | 68 | 4/4 | N | Y | 6-8SlowRock2 | 17 | 2k |
| Silent Night | 80 | 3/4 | N | Y | ChristmasWaltz | 05 | 2k |
| Silver And Gold | 80 | 3/4 | N | Y | ChristmasWaltz | 05 | 2k |
| Silver Bells | 80 | 3/4 | N | Y | ChristmasWaltz | 25 | 3k |
| Sincerely | 64 | 4/4 | N | Y | Slow&Easy | 03 | 2k |
| Sincerely | 70 | 4/4 | N | Y | Slow&Easy | 11 | 2k |
| Slipping Around | 130 | 4/4 | N | Y | CountrySwing1 | 09 | 2k |
| Slowpoke | 115 | 4/4 | N | Y | CountryShuffle | 16 | 2k |
| Smoke Gets In Your Eyes | 62 | 4/4 | N | Y | 6-8SlowRock1 | 21 | 2k |
| Snowbird | 130 | 4/4 | N | Y | Country8Beat1 | 15 | 2k |
| Somebody Loves Me | 142 | 4/4 | N | Y | MediumJazz | 27 | 3k |
| Someday (You'll Want Me To Want You) | 100 | 4/4 | N | Y | Cool8Beat | 28 | 3k |
| Some Sunday Morning | 101 | 4/4 | N | Y | 8BeatBallad | 27 | 3k |
| Somethin' Stupid | 80 | 4/4 | N | Y | 16BeatBallad2 | 18 | 2k |
| Somewhere Along The Way | 72 | 4/4 | N | Y | 12-8Ballad | 28 | 3k |
| Spanish Harlem | 113 | 4/4 | N | Y | Beguine | 02 | 2k |
| S'posin' | 100 | 4/4 | N | Y | Cool8Beat | 24 | 3k |
| Stardust | 64 | 4/4 | N | Y | Slow&Easy | 02 | 2k |
| St Louis Blues | 80 | 4/4 | N | Y | 6-8Blues | 02 | 2k |
| Stranger On The Shore | 90 | 4/4 | N | Y | SlowFox | 27 | 3k |
| Strangers In The Night | 106 | 4/4 | N | Y | SlowBossa | 27 | 3k |
| Stumbling | 140 | 4/4 | N | Y | JazzClub | 03 | 2k |
| Summertime | 65 | 4/4 | N | Y | 6-8Blues | 06 | 2k |
| Sunday | 118 | 4/4 | N | Y | MediumJazz | 03 | 2k |
| Sweet Georgia Brown | 120 | 4/4 | N | Y | MediumJazz | 03 | 2k |
| Sweet Lorraine | 118 | 4/4 | N | Y | JazzClub | 16 | 2k |
| Take These Chains From My Heart | 126 | 4/4 | N | Y | CountryShuffle | 18 | 2k |
| Take These Chains From My Heart | 128 | 4/4 | N | Y | CountryRock | 23 | 3k |
| Taking A Chance On Love | 126 | 4/4 | N | Y | HeartBeat | 04 | 2k |
| Taking A Chance On Love | 140 | 4/4 | N | Y | JazzClub | 08 | 2k |
| Tangerine | 112 | 4/4 | N | Y | Rumba | 06 | 2k |
| Teardrops | 66 | 4/4 | N | Y | 16BeatBallad2 | 16 | 2k |
| Tears On My Pillow | 85 | 4/4 | N | Y | 6-8SlowRock2 | 13 | 2k |
| That Old Feeling | 115 | 4/4 | N | Y | OrchBigBand2 | 22 | 3k |
| That's My Desire | 75 | 4/4 | N | Y | Slow&Easy | 11 | 2k |
| There'll Be Some Changes Made | 146 | 4/4 | N | Y | TechnicJazzCombo | 06 | 2k |
| There Will Never Be Another You | 118 | 4/4 | N | Y | MediumJazz | 16 | 2k |
| These Foolish Things | 90 | 4/4 | N | Y | Slow&Easy | 08 | 2k |
| These Foolish Things | 118 | 4/4 | N | Y | MediumJazz | 17 | 2k |
| Time After Time | 82 | 4/4 | N | Y | MoonlightBallad | 08 | 2k |
| Today I Started Loving You Again | 110 | 4/4 | N | Y | Country8Beat1 | 14 | 2k |
| Tonight You Belong To Me | 120 | 4/4 | N | Y | OrchestraSwing1 | 22 | 3k |
| True Love | 94 | 3/4 | N | Y | PopWaltz | 21 | 2k |
| Try A Little Tenderness | 80 | 4/4 | N | Y | 8BeatModern | 13 | 2k |
| Twilight Time | 70 | 4/4 | N | Y | 6-8SlowRock1 | 14 | 2k |
| Unforgettable | 106 | 4/4 | N | Y | SlowBossa | 27 | 3k |
| Vincent | 80 | 4/4 | N | Y | Slow&Easy | 21 | 2k |
| Volare | 110 | 4/4 | N | Y | 8BeatAdria | 21 | 2k |
| Walk In The Black Forest | 140 | 4/4 | N | Y | Swing1 | 08 | 2k |
| Wasted Days And Wasted Nights | 120 | 4/4 | N | Y | GuitarBossa | 15 | 2k |
| Welcome To My World | 83 | 4/4 | N | Y | Country8Beat1 | 15 | 2k |
| What A Difference A Day Makes | 106 | 4/4 | N | Y | SlowBossa | 15 | 2k |
| What Is This Thing Called Love | 118 | 4/4 | N | Y | MediumJazz | 12 | 2k |
| When I Take My Sugar To Tea | 126 | 4/4 | N | Y | OrchestraSwing1 | 22 | 3k |
| When My Blue Moon Turns To Gold Again | 130 | 4/4 | N | Y | Country8Beat1 | 20 | 2k |
| When You And I Were Young Maggie | 152 | 4/4 | N | Y | AcousticJazz | 26 | 3k |
| When You're Smiling | 126 | 4/4 | N | Y | OrchestraSwing1 | 22 | 3k |
| Where Or When | 112 | 4/4 | N | Y | Rumba | 09 | 2k |
| Whispering | 100 | 4/4 | N | Y | 8BeatAdria | 09 | 2k |
| White Christmas | 84 | 4/4 | N | Y | WarmChristmas | 05 | 2k |
| White Sport Coat, A | 126 | 4/4 | N | Y | CountryPop1 | 10 | 2k |
| Wild Side Of Live | 126 | 4/4 | N | Y | CountryShuffle | 04 | 2k |
| Winchester Cathedral | 126 | 4/4 | N | Y | OrchestraSwing | 10 | 2k |
| World Is Waiting For The Sunrise | 232 | 4/4 | N | Y | GuitarSwing | 26 | 3k |
| Wrap Your Troubles In Dreams | 112 | 4/4 | N | Y | 8Beat1 | 30 | 3k |
| Yearning | 126 | 4/4 | N | Y | OrchestraSwing1 | 26 | 3k |
| Yellow Bird | 100 | 4/4 | N | Y | JumboReggae | 12 | 2k |
| Yesterday | 70 | 4/4 | N | Y | LoveSong | 21 | 2k |
| Yesterday When I Was Young | 75 | 4/4 | N | Y | Slow&Easy | 20 | 2k |
| You Are Too Beautiful | 90 | 4/4 | N | Y | CoolJazzBallad | 12 | 2k |
| You Belong To Me | 90 | 4/4 | N | Y | 8BeatAdria | 18 | 2k |
| You Call Everybody Darling | 130 | 4/4 | N | Y | Country8Beat1 | 16 | 2k |
| You'd Be So Easy To Love | 118 | 4/4 | N | Y | Beguine | 12 | 2k |
| You'd Be So Nice To Come Home To | 113 | 4/4 | N | Y | Beguine | 22 | 3k |
| You Don't Know Me | 80 | 4/4 | N | Y | CountryBallad | 28 | 3k |
| Young And Foolish | 108 | 4/4 | N | Y | Rumba | 26 | 3k |
| You're My Everything | 75 | 4/4 | N | Y | ChartBallad | 22 | 3k |
| You're My World | 73 | 4/4 | N | Y | 6-8SlowRock1 | 27 | 3k |
| You're The Cream In My Coffee | 145 | 4/4 | N | Y | AcousticJazz | 23 | 3k |
| Your Love Is Mine | 106 | 4/4 | N | Y | SlowBossa | 22 | 3k |
| You Were Meant For Me | 130 | 4/4 | N | Y | BigBandMed1 | 04 | 2k |
| You Were Meant For Me | 140 | 4/4 | N | Y | Swing1 | 12 | 2k |