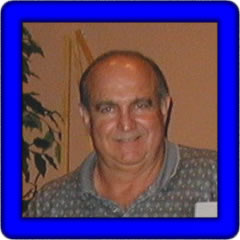 (Dec, 2004) Ben Corsetti is currently living in Leesburg Florida in a +55 development.
Background: I started learning accordion at the age or 4 as my father was a music teacher and my mother a piano player. I was an accomplished accordionist by age 10 and playing all over the place locally. To work my way through college, I taught accordion and, later, trumpet and drums and had a small dance band. I played the accordion for about 40 years and then discovered keyboards that auto-constructed chords. I sold my last accordion 15 years ago and never looked back. I can play sheet music, but I really enjoy playing by ear. I, as some others of you, have the gift of knowing the correct chord to play at the right time.
I have owned a bunch of different Yamaha PSR series keyboards. I don't even remember all the numbers. My latest were 5700, 7000, 2000, and now, finally, the TYROS. My greatest pleasure in playing seems to be different from what I see submitted to the PSR site. What I really enjoy is to Pick a Style, Listen to the Style, and then select a song that matches the style. I rarely pick a song and look for a style. The first two groups of songs I have submitted reflect this in that I have named the Style and leave identifying the tune to the listener. These midi files are live performances that I recorded with all the mistakes we all make. Enjoy the midi files and good luck identifying the songs. I will continue to record more tunes in this manner and submit them in the future.
Some Tips on Faking It. The following is guaranteed to make many of you groan when you read further. I have a little secret to tell you all about faking (playing by ear) with the correct chords. I have about 40 years experience playing the Accordion. This may be the best preparation for faking songs that I can imagine. Why, you ask??. Because of the structure of the BASS on the accordion. Just picture the 120 bass buttons on an accordion. They are arranged in the most logical fashion imaginable. The Bass buttons are arranged in the order of key signatures. Starting with the marked button in the middle, they are (going up) C, G, D, A, E, B . Starting from C and going down - C, F, B flat, E flat, A flat, D flat.
Iin other words, going up: 1 sharp, 2 sharps, 3 sharps; going down: 1 flat, 2 flats, 3 flats, etc.. Consider the following. Start on C and go up one and down one row (C up to G, C down to F) and you have the major chords in the key of C. start from F and go up one and down one and you have the major chords in the key of F ( F up tp C, F down to B flat) . It works whereever you start on the bass of the accordion.
You want an Intro? Just start with the major chord and go up to the third button, then the second, then the first. For example, for the key of C, go to A, then D, then G, and back to C. Again, this will work wherever you start. This will work for about 80 percent of all songs.
Sorry all you non-accordion players.
Ben Corsetti
You can download all of Ben's MIDI songs in this file: BC-T1.zip.
| Title | T | TS | L | C | Style | V | K |
| --- | --- | --- | --- | --- | --- | --- | --- |
| Ain't She Sweet | 162 | 4/4 | N | Y | Swing1 | 05 | T1 |
| Alley Cat | 148 | 4/4 | N | Y | BigBandShuffle | 04 | T1 |
| All The Way | 86 | 4/4 | N | Y | | 07 | T1 |
| Amazing Grace | 102 | 4/4 | N | Y | | 14 | T1 |
| American Patrol | 170 | 4/4 | N | Y | TechnicsBigBand | 03 | T1 |
| Amor | 116 | 4/4 | N | Y | | 10 | T1 |
| Angels We Have Heard On High | 96 | 4/4 | N | Y | | 09 | T1 |
| Around The World | 162 | 4/4 | N | Y | GuitarBossa1 | 12 | T1 |
| Arrivederci Roma | 122 | 4/4 | N | Y | | 06 | T1 |
| At Seventeen | 130 | 4/4 | N | Y | | 07 | T1 |
| At The Hop | 192 | 4/4 | N | Y | | 11 | T1 |
| Away In A Manger | 100 | 4/4 | N | Y | | 08 | T1 |
| Away In A Manger | 120 | 4/4 | N | Y | RockChaCha | 13 | T1 |
| Babe | 92 | 4/4 | N | Y | | 14 | T1 |
| Bad, Bad Leroy Brown | 172 | 4/4 | N | Y | DetroitPop1 | 02 | T1 |
| Bad, Bad Leroy Brown | 172 | 4/4 | N | Y | | 11 | T1 |
| Bad, Bad Leroy Brown | 166 | 4/4 | N | Y | | 12 | T1 |
| Battle Hymn Of The Republic | 112 | 4/4 | N | Y | OrchestralMarch1 | 01 | T1 |
| Battle Hymn Of The Republic | 112 | 4/4 | N | Y | | 10 | T1 |
| Beer Barrell Polka | 150 | 4/4 | N | Y | OrchestralPolka | 01 | T1 |
| Besame Mucho | 125 | 4/4 | N | Y | | 07 | T1 |
| Best Things In Life Are Free, The | 175 | 4/4 | N | Y | | 11 | T1 |
| Blue Christmas | 85 | 4/4 | N | Y | | 08 | T1 |
| Blue Spanish Eyes | 130 | 4/4 | N | Y | | 15 | T1 |
| Brazil | 114 | 4/4 | N | Y | BigBandSamba | 01 | T1 |
| Bye Bye Blackbird | 240 | 4/4 | N | Y | | 10 | T1 |
| Bye Bye Blues | 205 | 4/4 | N | Y | FastJazz | 04 | T1 |
| Bye Bye Love | 166 | 4/4 | N | Y | | 06 | T1 |
| By The Light Of The Silvery Moon | 120 | 4/4 | N | Y | | 06 | T1 |
| Caro Papa | 160 | 3/4 | N | Y | | 15 | T1 |
| Cats Theme | 57 | 4/4 | N | Y | | 14 | T1 |
| Chantilly Lace | 150 | 4/4 | N | Y | | 06 | T1 |
| Clarinet Polka | 120 | 4/4 | N | Y | PolkaPop | 02 | T1 |
| Darktown Strutters Ball | 164 | 4/4 | N | Y | JazzClub | 04 | T1 |
| Darktown Strutters Ball | 164 | 4/4 | N | Y | | 07 | T1 |
| Darktown Strutters Ball | 192 | 4/4 | N | Y | JazzPiano | 12 | T1 |
| Desperado | 70 | 4/4 | N | Y | ModCntryBld2 | 02 | T1 |
| Disney Medley | 128 | 4/4 | N | Y | | 01 | T1 |
| Disney Medley | 128 | 4/4 | N | Y | | 10 | T1 |
| Do You Hear What I Hear | 115 | 4/4 | N | Y | | 08 | T1 |
| Do You Hear What I Hear | 101 | 4/4 | N | Y | | 09 | T1 |
| Elmer's Tune | 130 | 4/4 | N | Y | BigBandMed1 | 05 | T1 |
| Feliz Navidad | 116 | 4/4 | N | Y | | 08 | T1 |
| Feliz Navidad | 100 | 4/4 | N | Y | BigBandSamba | 13 | T1 |
| Five Foot Two Eyes Of Blue | 206 | 4/4 | N | Y | Charleston | 04 | T1 |
| Frosty The Snowman | 205 | 4/4 | N | Y | | 08 | T1 |
| Frosty The Snowman | 110 | 4/4 | N | Y | RumbaFlamenca | 13 | T1 |
| God Bless America | 112 | 4/4 | N | Y | OrchestralMarch2 | 01 | T1 |
| God Bless America | 124 | 4/4 | N | Y | OrchBigBand2 | 14 | T1 |
| Good Life | 124 | 4/4 | N | Y | | 15 | T1 |
| Green Eyes | 120 | 4/4 | N | Y | K7000ModernBegine | 03 | T1 |
| Green Green Grass Of Home | 96 | 4/4 | N | Y | BluesPiano1 | 12 | T1 |
| Green Green Grass Of Home | 104 | 4/4 | N | Y | | 14 | T1 |
| Habanera | 120 | 4/4 | N | Y | Traditional3 | 12 | T1 |
| Hello Dolly | 120 | 4/4 | N | Y | 30sBigBand | 04 | T1 |
| I Hear Music | 122 | 4/4 | N | Y | | 07 | T1 |
| I Hear Music | 200 | 4/4 | N | Y | OrganQuickStep | 10 | T1 |
| I'll Be Home For Christmas | 124 | 4/4 | N | Y | | 09 | T1 |
| I'll Be Home For Christmas | 140 | 4/4 | N | Y | BossaNova1 | 13 | T1 |
| I Love You So | 80 | 4/4 | N | Y | | 07 | T1 |
| I Saw Mommy Kissing Santa Claus | 120 | 4/4 | N | Y | | 08 | T1 |
| I Saw Mommy Kissing Santa Claus | 172 | 4/4 | N | Y | | 09 | T1 |
| I Saw Mommy Kissing Santa Claus | 200 | 4/4 | N | Y | Tijuana | 13 | T1 |
| Isle Of Capri | 84 | 4/4 | N | Y | | 15 | T1 |
| It Came Upon A Midnight Clear | 100 | 4/4 | N | Y | LatinDisco2 | 13 | T1 |
| It's Beginning To Look A Lot Like Christmas | 124 | 4/4 | N | Y | | 09 | T1 |
| Cherry Pink And Apple Blossom White | 128 | 4/4 | N | Y | ChaCha | 01 | T1 |
| Joy To The World | 94 | 4/4 | N | Y | | 09 | T1 |
| Just Another Polka | 128 | 4/4 | N | Y | OberPolka | 02 | T1 |
| Just Another Polka | 119 | 4/4 | N | Y | | 07 | T1 |
| Lady Is A Tramp, The | 175 | 4/4 | N | Y | RolandJazz175 | 03 | T1 |
| Lady Is A Tramp, The | 156 | 4/4 | N | Y | | 07 | T1 |
| La Paloma Blanka | 124 | 4/4 | N | Y | | 06 | T1 |
| Last Christmas | 109 | 4/4 | N | Y | | 08 | T1 |
| Last Farewell, The | 94 | 4/4 | N | Y | EasyBallad | 05 | T1 |
| Let It Be Me | 96 | 4/4 | N | Y | KorgYamDuFrolich | 03 | T1 |
| Let It Be Me | 75 | 4/4 | N | Y | | 11 | T1 |
| Love Boat, The | 120 | 4/4 | N | Y | 70sTVTheme | 01 | T1 |
| Love Boat, The | 100 | 4/4 | N | Y | | 15 | T1 |
| Love Letters In The Sand | 89 | 4/4 | N | Y | | 06 | T1 |
| Love Me Tender | 80 | 4/4 | N | Y | | 07 | T1 |
| Love Train | 123 | 4/4 | N | Y | | 14 | T1 |
| Mack The Knife | 164 | 4/4 | N | Y | JazzClub | 05 | T1 |
| Mala Femmena | 108 | 4/4 | N | Y | TapDanceSwing | 01 | T1 |
| Mala Femmena | 100 | 4/4 | N | Y | | 11 | T1 |
| Mary's Boy Child | 110 | 4/4 | N | Y | | 08 | T1 |
| Mary's Boy Child | 100 | 4/4 | N | Y | | 09 | T1 |
| Mary's Boy Child | 112 | 4/4 | N | Y | Merengue | 13 | T1 |
| Massachusetts | 100 | 4/4 | N | Y | | 06 | T1 |
| Me And My Shadow | 124 | 4/4 | N | Y | TapDanceSwing | 02 | T1 |
| Mexican Hat Dance | 124 | 4/4 | N | Y | KP80RASPA | 03 | T1 |
| Moonlight Seranade | 61 | 4/4 | N | Y | | 15 | T1 |
| Moonlight Serenade | 82 | 4/4 | N | Y | MoonlightBallad | 04 | T1 |
| Music Box Dancer | 112 | 4/4 | N | Y | Arpeggio1 | 12 | T1 |
| My Blue Heaven1 | 154 | 4/4 | N | Y | | 11 | T1 |
| My Blue Heaven2 | 180 | 4/4 | N | Y | | 11 | T1 |
| Mystery | 100 | 4/4 | N | Y | CubanBolero | 14 | T1 |
| My Way | 88 | 4/4 | N | Y | Arpeggio2 | 12 | T1 |
| Naturally | 172 | 4/4 | N | Y | DetroitPop1 | 03 | T1 |
| Naturally | 80 | 4/4 | N | Y | | 07 | T1 |
| Naturally | 172 | 4/4 | N | Y | | 15 | T1 |
| New York, New York | 120 | 4/4 | N | Y | | 10 | T1 |
| New York, New York | 114 | 4/4 | N | Y | | 14 | T1 |
| Ob La Di, Ob La Da | 122 | 4/4 | N | Y | | 10 | T1 |
| Ob La Di, Ob La Da | 120 | 4/4 | N | Y | Piano8Beat | 12 | T1 |
| Oh My Love | 80 | 4/4 | N | Y | | 10 | T1 |
| O Holy Night | 120 | 4/4 | N | Y | | 09 | T1 |
| Old MacDonald | 125 | 4/4 | N | Y | | 10 | T1 |
| On The Sunny Side Of The Street | 116 | 4/4 | N | Y | | 06 | T1 |
| Patricia | 128 | 4/4 | N | Y | SimpleChaCha | 02 | T1 |
| Peg O' My Heart | 143 | 4/4 | N | Y | | 10 | T1 |
| Peg O' My Heart | 126 | 4/4 | N | Y | | 11 | T1 |
| Please Answer Me | 86 | 4/4 | N | Y | RolandPBallad | 03 | T1 |
| Quando Quando Quando | 108 | 4/4 | N | Y | Mambo | 02 | T1 |
| Red Roses For A Blue Lady | 112 | 4/4 | N | Y | MovieSwing | 05 | T1 |
| Repaz Band | 124 | 4/4 | N | Y | | 11 | T1 |
| Ring Of Fire | 114 | 4/4 | N | Y | ItalianTango | 01 | T1 |
| Ring Of Fire | 120 | 4/4 | N | Y | | 15 | T1 |
| Rudolph The Red Nosed Reindeer | 152 | 4/4 | N | Y | | 08 | T1 |
| Rudolph The Red Nosed Reindeer | 102 | 4/4 | N | Y | BigBandSalsa | 13 | T1 |
| Sail Along Silvery Moon | 105 | 4/4 | N | Y | 6-8SlowRock2 | 05 | T1 |
| Santa Claus Is Coming To Town | 160 | 4/4 | N | Y | PopBossa2 | 13 | T1 |
| Scottish Silent Night | 90 | 3/4 | N | Y | | 09 | T1 |
| Silent Night | 124 | 4/4 | N | Y | GypsyRumba | 13 | T1 |
| Silver Bells | 170 | 3/4 | N | Y | | 09 | T1 |
| Sleepy Time Gal | 152 | 4/4 | N | Y | Swing2 | 04 | T1 |
| Smile | 94 | 4/4 | N | Y | LoungePiano | 04 | T1 |
| Someone's Knocking | 105 | 4/4 | N | Y | Country2-4 | 14 | T1 |
| Stangers In The Night | 82 | 4/4 | N | Y | BigBandBallad | 04 | T1 |
| Stardust | 80 | 4/4 | N | Y | EasyListening | 15 | T1 |
| Summer Place, A | 90 | 4/4 | N | Y | 6-8Orchestral | 05 | T1 |
| Summer Samba | 133 | 4/4 | N | Y | | 15 | T1 |
| Sweet Sue, Just You | 154 | 4/4 | N | Y | ClassicBigBand | 05 | T1 |
| Tea For Two | 121 | 4/4 | N | Y | KP80ChaCha | 03 | T1 |
| That's My Baby | 120 | 4/4 | N | Y | 30sBigBand | 14 | T1 |
| There's A Kind Of Hush | 130 | 4/4 | N | Y | | 06 | T1 |
| Tico Tico | 120 | 4/4 | N | Y | OrganSamba | 01 | T1 |
| Tijuana Taxi | 200 | 4/4 | N | Y | Tijuana | 02 | T1 |
| Trabellaesono | 144 | 3/4 | N | Y | ItalianMazurka | 02 | T1 |
| Wake Up Little Susie | 180 | 4/4 | N | Y | | 11 | T1 |
| What A Wonderful World | 73 | 4/4 | N | Y | 6-8SlowRock1 | 05 | T1 |
| When I Fall In Love | 79 | 4/4 | N | Y | | 06 | T1 |
| When I'm 65 | 184 | 4/4 | N | Y | PianoRag1 | 12 | T1 |
| Whispering | 140 | 4/4 | N | Y | PianoComboBoogie | 12 | T1 |
| White Christmas | 96 | 4/4 | N | Y | | 08 | T1 |
| Who's Sorry Now | 152 | 4/4 | N | Y | P9000BigBand4 | 03 | T1 |
| Winchester Cathedral | 148 | 4/4 | N | Y | BigBandShuffle | 04 | T1 |
| Yes, Sir That's My Baby | 120 | 4/4 | N | Y | 30sBigBand | 05 | T1 |
| Yester Me | 120 | 4/4 | N | Y | CubanBolero | 02 | T1 |
| You're Just In Love | 120 | 4/4 | N | Y | KP80BigBand2 | 03 | T1 |