Look in Ernie's MIDI Index below to Download Additional MIDI files.
Ernie's Jukebox
See MP3 Index (below) to listen to and/or download all of Ernie's songs.
(January, 2006) My Name is Ernst Mulder (Ernie) and I live in Spijkenisse in the Netherlands. This is a town near Rotterdam where I was born in '52 (a very good year). I am married and I have two sons.
Musical Background - My musical background began when I was about 5 or 6 when I got a simple flute for Christmas. I learned some songs and bought an harmonica. My dad bought a small accordion and I played this, too. Next, an electronic organ came in to the house, a Solina. When I was 14, I played a small Tuba in a school ensemble and I learned to play the notes. My dad bought his first Yamaha Electone and I played a lot on it, but I forgot the notes. When I was 21, and in the army, I played for my inmates and a couple of times in an elderly home. Later my wife, Joke, gave me an electronic Hammond organ and somewhere in my late 30's, I bought my first Yamaha SHS 200. I played on a Casio CTK650, too. The Hammond organ did not survive and I bought a PSR-350 in 2001 and played a lot and made some mididfiles. Sometimes I gave small performances on party's at the camping. My son Mark made me a website and I put my samples of my music there. A midi sequenser program was a great help. In September 2005, I saw the PSR-2000 on ebay and I was sold! I am very happy with it and I still play without music sheets just for fun. I changed the website a bit and now I have added my mp3's on it as well. On the computer, I have a midi interface and an audio connection to the keyboard. And I made some new midi's, directly recorded on the 2000. Please do take a look (and listen) there - it's in English and Dutch.
And now I am learning from this beautifull PSR site, which I discoverd also in September 2005 and which has been very helpfull in letting me understand my PSR-2000.
Thank you, Joe, and all the others, too, of course!
Greetings from Holland
Ernie
Ernie's Web Site: http://www.ernie-online.nl/

Ernie also invites you to visit the Dutch musicians forum where Ernie is one of the moderators.

Update: In September, 2006, Ernie moved on to the PSR-3000 keyboard. - Joe Waters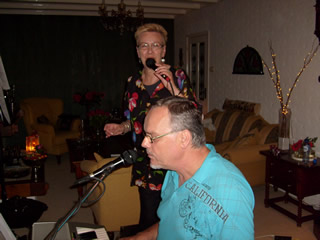 Ernie has used the internet to collaborate with Alie Feenstra on a number of songs. Ernie visited his friend Alie yesterday (10 September 2011). Alie lives 200km from Ernie. Here is a picture of Alie singing and Ernie playing his PSR-3000 and adding a second voice as they record Blue Suede Shoes, currently in Ernie's jukebox. "What a nice hobby!"
Ernie's MP3 Song Index/Comments
(click to open or close)