Recent Songs
Boody Mary F (7/20) Tyros5

Eens (7/20) Tyros5

Hele nacht aan jou gedacht (7/20) Tyros5

Laat maar lekker waaien (7/20) Tyros5

7 Dagen Lang (7/16) Tyros5

Aan het strand stil en verlaten (7/16)

Musical Background
(May 11, 2022) Music has always been a big part of my life. I started playing accordion when I was nine years old and found that I had a real knack for it. I soon joined a large accordion orchestra in my home town Beerta (a tiny village in the north east of the Netherlands) and enjoyed playing in this group for many years.
My parents also wanted me to play the piano and started me on lessons in a neighboring village. This did not work out at all. My teacher and I had very different ideas about music: I wanted to play the boogie-woogie, he only allowed me to play nocturnes and other classical music pieces. He told me that boogie-woogies would destroy my fingering and that was the end of that. Music needs to come from the heart.
At one point my parents got an electric organ and that turned out to be much more my thing. My parents were always very invested in my musical development and made sure I was properly schooled on this instrument as well. Around my sixteenth birthday I joined a band (The Rodys) and started playing clarion in our local drum band.
After finishing school, I joined the Navy in the guided weapon systems department. Everyone who played an instrument was automatically enlisted to the ship band. As part of the band, we basically toured the whole wide world and performed in places such as Norfolk USA, Odessa, Tolio and Gibraltar which was a great experience.
I regularly changed ships during my time at the Navy and joined the band every time. Often the keyboardist position was already taken, in which case I would try out a different instrument. This allowed me to add bass guitar and saxophone to the list. But, whenever I could, I would go back to my first love, the accordion.
At one point we were stationed for a long time at Curaçao, where we would often play music on the beach. One night, almost 50 years ago, I was playing music with some of my crew mates when a number of ladies joined our group to listen to the music. One of those ladies later became my wife to whom I am still happily married.
After eight years in the Navy, I moved back to the mainland to work as an electrotechnician, but my love for music always stayed. Next to my day job I played in a band called The Rio's at weddings and parties. I also volunteered to play accordion in nursing homes and accompanied Dutch folk choirs together with a friend, which I still do on occasion (unfortunately, my friend recently passed away after 30 years of playing the accordion together).
Now that I am a bit older, the on-stage performances have become less frequent. I do still accompany one Dutch folk choir for men and record background music for singers and choirs who do not have the luxury of professional musicians. I used to record songs using the MIDI format but have recently switched to mp3 as this is much easier to play from a telephone.
I have a lot more time to devote to my music now that I am retired. I practice at least an hour a day on my accordions and record a lot of German and Dutch folk music. I also still enjoy the boogie-woogie. I record my music on the Tyros 5 and Roland FR7. I am trying to covert my old midi files in to styles with Style Works2000, but is not an easy process. In any case, over the years, I have produced a ton of mp3 and midi songs and the pile keeps on growing. I would love to share these songs with you all via this website. I will also try to share some of my best midi files from the past.
Juul Meffert

Juul's MP3 Song Index
Juul's songs are arranged alphabetically by song title. Click on the song title to listen to and/or download the song. Songs were recorded on the Tyros5.
* Juul has made available the styles that he used for these songs. You can download all of these song-named styles in a single MP3Styles.zip file.
(7/5/22) Here are 8 additional Dutch MP3s Juul received from his friend Dick. Those marked with an asterisk (*) also have the style file available. All can be downloaded in this DutchMP3.zip file.
(7/16/22) Here are some Accordion/T5 songs played by me and some together with my friend Dick (marked with an *). These are all well known Dutch songs we played on a musical performance. Our friend Hans recorded our performance. For more information on how I have connected my accordions to my Tyros5, see the section on Performing with an Accordion and Tyros5 at the bottom of this page.
MIDI Songs
Beatles MIDI Songs
(6/27/22) Jules has come across a large number of midi files of Beatles songs. There are nearly 200 songs in this collection. Download all of them in this compressed file: Beatles-6-27.zip.
Juul's MIDI Songs
Juul's midi songs are arranged alphabetically by song title. Click on the song title to listen to and/or download the song. Songs were recorded on the Tyros5. 13 songs were added in two volumes (1,2) and they can be downloaded in a single zip file: V1-2.zip.
(5/18/22) 15 midi songs added in V3. Each is in the table below and all can be downloaded together in V3.zip.
(5/24/22) 10 midi songs added in V4. Each is in the table below and all can be downloaded together in V4.zip.
(5/29/22) 12 "practice" midi songs converted from Korg to T5 in V5. There is no melody line or a very soft one. Dick and I used these files in our lessons so you can play the song with your right hand. All are available in V5.zip.
(5/29/22) 10 more midi songs added in V6. Each is in the table below and all can be downloaded together in V6.zip.
280 MIDI Lesson Files (V7 - v13)
(6/4/22) I found my midi files that I used to give keyboard lessons. These midi files are combined with the style from which they are played. We did this as follows.
First, we played the song ( mostly my friend Dick ) with a working style and created the midi file. Then, in most cases, the style is made from the midi file. Then we print the score list to play the melody. (if you would like the song lyrics and chords, these are available for 570 songs in this text files.zip file.) The pupil played first the whole song together with the midi file Then, we mute the melody line. After awhile, when the pupil was ready, he or she could play the song with the style. This method has worked very well.
Some visitors have asked whether these midi files are self made or whether I have changed something in the file. Where are they from?

I do the following things. I search the hard disks from my friend for midi files and then delete duplicates. That still leaves a lot of files, about 120,000 midi files! I don't know where all these files come from but for a long time they have been used for music lessons.

For the files with styles, I look and listen to styles to compare them with the song. I play the styles on the keyboard. I do not change anything on the midi file or the style only the name so that the midi file and the style name are the same. For the other midi files without a style, I listen to them and if they sound well, I include in a volume and send it here.
Now and then, I play some songs on the Tyros5 and those are the MP3 files that I have provided elsewhere on this page.
Juul
The "MIDI Lesson" files are listed in the table below. Audition any individual song listed below or you can download all 44 ( Volume 7 ) songs in this V7.zip file. All the styles for these 44 songs are available in this V7-Styles.zip file.
(6/29/22) Volume 8 - Here are 32 additional "MIDI Lesson" files. You can download all 32 songs in this V8.zip file. All the styles for these 32 songs are available in this V8-Styles.zip file.
(7/5/22) Volume 9 - Here are 32 additional "MIDI Lesson" files. You can download all 32 songs in this V9.zip file. All the styles for these 32 songs are available in this V9-Styles.zip file.
(7/10/22) Volume 10 - Here are 31 additional "MIDI Lesson" files. You can download all 31 songs in this V10.zip file. All the styles for these 31 songs are available in this V10-Styles.zip file.
(7/16/22) Volume 11 - Here are 29 additional "MIDI Lesson" files. You can download all 29 songs in this V11.zip file. All the styles for these 29 songs are available in this V11-Styles.zip file.
(7/20/22) Volume 12 - Here are 30 additional "MIDI Lesson" files. You can download all 30 songs in this V12.zip file. All the styles for these 30 songs are available in this V12-Styles.zip file.
(8/4/22) Volume 13 - Here are 30 additional "MIDI Lesson" files. You can download all 30 songs in this V13.zip file. All the styles for these 30 songs are available in this V13-Styles.zip file.
Performing with an Accordion and Tyros5
My accordion files are played on an accordion coupled via MIDI to my Tyros5. The sound from the accordion goes from the accordion and the organ sounds come from the Tyros5 and sometimes from a Roland BK-7m backing module. Everything is coupled via MIDIi, so we have a lot of sounds to play with.
This photo shows the installation I have in my little studio. It is also what I (and Dick) use for a performance. The Tyros5 and the PSR-900 are the central sound machines. And beside the Tyros5 is the Roland BK-7m backing module. The BK-7m is only used for some accordion styles that are not on the Tyros5. I think it is made for accordion sounds.
I only use the PSR-900 now and then to play, for example, a trumpet or saxophone and not more, but the sound is very nice.
The Tyros5 is used for strings and other orchestra sounds in the background because this sound is stereo and therefore the music performance sounds better. Some times I also use the Tyros5 for the piano sound.
This setup is only used when I play accordion and I need no drums. I also play music on the Tyros but than with styles and so.
In have two accordions with MIDI. The first is the Piatanesi. This is an Italian instrument and plays very well. I bought it in Castelfidardo in Italy. In this accordion are two built-in microphones and and a built-in MIDI device. Both devices have a wireless connection with a mixer and MIDI expander. The sound from this accordion is mono.
Then, I have a Roland FR-7 digital accordion. I play this also on a performance but only when I have to play a longer time because of the trouble with my left shoulder. Because it is a digital instrument, I don't have to pull on the accordion for sound and my shoulder likes that. MIDI and sound are also coupled via a wireless device. The sound is mono.
And then I have the Roland BK-7m backing module, also coupled with the midi expander on channel 3 and then with a cable to the mixer. The BK-7m understands my FR-7 accordion very well in one click. So when I play accordion with a style, I can use the Tyros5 or the BK-7m.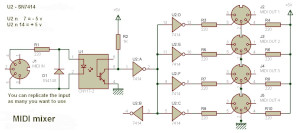 From the sound mixer it goes to the Bose  400 w amplifier and also to a laptop computer for recording if we wish that. This mixer is also digital and couples with Bluetooth to my Samsung. On the Samsung tablet I can manage the mixer and that is very nice. I could not buy the mixer I am using so I built it myself. My mixer has 5 MIDI IN ports and 4 MIDI OUT ports. See the diagram shown here. Click on the image for a larger view..

More on MIDI Installation Details
Using MIDI in a performance may be new to some users so Joe asked me to provide some more explicit details on how all this works. I will try to explain my installation a little bit better.
When I have a performance, which is for the whole evening, I have the instruments with me as you can see on the connection drawing. As you can see, I am not a draughtsman, but I hope it is understandable. Click on that image and it will open larger in a separate window.
I have the following hardware:
Tyros5 and PSR-900 keyboards,
Roland FR-7 Accordion and Piatanesi Accordion both with MIDI,
Two speakers (400 watts)
Two microphones
One laptop ASUS computer for possibly recording,
And, of course, cables and a technician.
I play mostly on the accordions and on the Tyros5 when, for example, they want rock n roll, so I use a very nice rock style. The Tyros5, PSR-900 and BK-7m have sound cables conjugated to the DAB sound mixer/amplifier to have stereo background music. Two microphones are also connected.
The two accordions are conjugated with a Lekato wireless guitar device shown here, so I have a wireless sound connection with the sound mixer although the sound of these instruments is only mono. The wireless connection allows me to move on the stage with the accordion if I want to.
Now let's look at the MIDI connections. First, consider the MIDI Merger, the central device for all connections. I built it myself 25 years ago and it still works fine. However, you can buy this kind of thing on the internet or in a good music store.
You can put more MIDI instruments together on this device and send the MIDI OUT signal to receiving instruments such as the Tyros5, PSR-900 and BK-7m. Both accordions have a wireless MIDI device (see picture) so I can move on the stage without any cable.
The Roland FR7 has a battery for 10 hours. The Pitanesi is an air accordion and has a battery for the MIDI device and the microphone amplifier. Battery change is once a year. When I play, for example, the FR7 accordion, you can hear the sound direct from the sound mixer/amplifier and then the speakers, but this is very "dry".
The MIDI OUT signal from the FR-7 accordion goes wireless to the MIDI Merger and then, with a cable, to the midi in connector from the BK-7m sound module, Tyros5 and PSR-900. For example, I choose on the Tyros5 strings then the Tyros5 will play with the accordion in the same keys. The strings sound from the Tyros5 you hear via the sound mixer/amplifier and speakers. That's it, no more. Also, any sound from the PSR-900 or BK-7m backing module, you hear the same way.
I have only one way with the MIDI signal. I can not play on the Tyros and then also hear sound from the accordion.
The accordion gives only MIDI OUT to the MIDI IN of the MIDI Merger. Then, the MIDI Merger combines the MIDI signals to MIDI OUT and this goes to the MIDI IN connectors on the Tyros5. BK-7m and PSR-900 and the Tyros5 or BK-7m or PSR-900 or all three together play the sound I want. That sound can be very nice as you can hear on my mp3's.
I hope this explanation gives visitors a better view on how all this works!
Juul