I am very sorry to report that Frank passed away on April 27, 2018 at age 74. -- Joe Waters
PSR-3000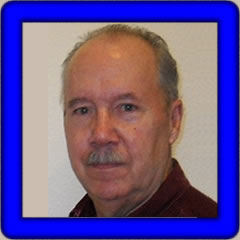 (August, 2006) My wife of 43 years, Tessie, and I reside near Oroville, Ca. We have three children, two sons in the Columbus, Ohio area, and a daughter who lives in San Francisco, and 10 grandkids, all in Ohio -- much to their Grandmother's disdain. I spent seven years in the Air Force in the early sixties and then worked for several AeroSpace companies before joining Dow Chemical. I retired from Dow as a senior programmer with an electronics/hardware background in 1995 at age 51. Since then, I have totally remodeled two houses and built a new home for Tessie and myself.
Musical Background: My known memory was around music with his parents. Mother was an accomplished pianist and singer who played piano and organs for many years at the local churches. Father was a talented, self-taught musician playing keyboards and many other instruments. My earliest music training was a few months on Hammond organ in the mid-50's. I played drums for street marching and clarinet in high school, but I never really applied myself. In the early years of marriage, I had a Lowry organ and then a Hammond 526c. My love of music was enhanced in the 80's with the inception of midi. I do like to play music, but I also find the tinkering, learning and putting together hardware/software and music creation to be great sport. After I retired, the keyboards were in mothballs for better than 10 years. After moving into out new home in April 2005, I brought out the keyboards, along with a newer DGX-200. Discovering PSR styles and One Man Band (OMB) gave me new impetus to make music using someone else's talented style creations.
I joined the PSRTutorial group in Sept 2005 and its been a wonderful journey ever since. I put together enough moola to purchase a PSR3000 in April 2006 and discovered two unknown abilities, poetry (triggered by Dennis), which a lot of you have suffered through, and song composing/writing.
This is the first forum I've joined in 15 or so years on the net. I was so impressed with the quality, the availability of songs/styles, and the overall feel of this website. This last year has been one of the most pleasurable periods of time in my life as I've talked with a lot of you. Your help, guidance, and advice has helped me Leapfrog way ahead. Again, we all owe a great deal to Mr. Joe Waters, who's spent countless hours building and maintaining his Creation the "PSRTutorial."
MIDI Songs

Frank provided 50 songs in midi format. These were created on the PSR-3000. Individual songs are shown in the table below and any one song can be downloaded by right-clicking on the song link. The table displays the song title, tempo (T), time signature (TS), lyrics (L), chords (C), where possible, the style used, the original volume (V), and the keyboard used (K).
You can download all of Frank's 50 MIDI songs here: FB-3k.zip.
---