The Ultimate Pop Rock Fake Book
The ultimate selection of over 500 pop standards and contemporary favorites from past and present - perfect for performers who need to know all the hits and for hobbyists building their pop library. It also includes three convenient indexes, Song title, Artist, Decade to make it easy to find the songs you're looking for: Melody line, lyrics and chords. 3rd edition.
All Around the World · All for Love · All Shook Up · Angel of the Morning · Bad, Bad Leroy Brown · Brand New Key · Close to You · Crying · Crystal Blue Persuasion · Don't Do Me like That · Don't Know Much · Dust in the Wind · Earth Angel · Every Breath You Take · From a Distance · Great Balls of Fire · A Groovy Kind of Love · Hard Habit to Break · Hey Jude · I Will Remember You · I'm Too Sexy · If · Imagine · Layla · Maggie May · Maria Maria · Me and Bobby McGee · Memory · Mission: Impossible Theme · Oh, Pretty Woman · On Broadway · One Sweet Day · Rainy Days and Mondays · Save the Best for Last · Spinning Wheel · Stayin' Alive · Tears in Heaven · True Colors · The Twist · Venus · Vision of Love · The Way We Were · What a Wonderful World · When I Fall in Love · A Whole New World · Wild Thing · Yesterday · You're the Inspiration · You've Lost That Lovin' Feelin' · and many more!
Hal Leonard, $39.95, ISBN-13: 9780793570003, 500 songs, 584pp. Feb. '97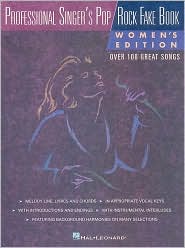 Professional Singers Pop/Rock Fake Book
There's never been such a singer-friendly fake book! Songs include material from the entire rock era, with ballads as well as many up-tempo dance tunes. Over 100 songs every singer needs, in appropriate keys, with intros, interludes, endings and background vocal harmonies. Includes:
All Night Long · Beautiful in My Eyes · Blue Suede Shoes · Brown Eyed Girl · Can You Feel the Love Tonight · (They Long to Be) Close to You · Copacabana (At the Copa) · Crying · Dancing Queen · Don't Let Me Be Lonely Tonight · Dream Love · Emotions · Endless Love · Even Now · Every Breath You Take · Everytime You Go Away · Fields of Gold · Great Balls of Fire · Heaven in Your Eyes · Hit Me with Your Best Shot · Imagine · In My Life · It's My Party · Just the Way You Are · Long Cool Woman (In a Black Dress) · Maybe I'm Amazed · (You Make Me Feel Like) A Natural Woman · Oh, Pretty Woman · Piece of My Heart · Save the Best for Last · Saving All My Love for You · Simply Irresistible · Somewhere Out There · Still the One · Sweet Dreams (Are Made of This) · Tears in Heaven · Time After Time · Twist and Shout · Under the Boardwalk · We Got the Beat · Where the Boys Are · Wild Thing · Wonderful Tonight · Your Song · and more.
Hal Leonard, $22.50, ISBN-13: 9780793559893, 101 songs, 160pp, Feb '98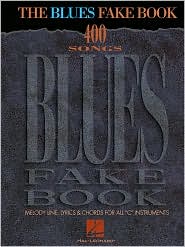 The Blues Fake Book
The most comprehensive single-volume blues publication ever, with songs spanning the entire history of the genre. Every major blues artist is well-represented, including Howlin' Wolf, Robert Johnson, B.B. King, Billie Holiday, Leadbelly, Alberta Hunter, Willie Dixon, Muddy Waters, Stevie Ray Vaughan, Eric Clapton, Jimmy Witherspoon, Bessie Smith, Sonny Boy Williamson, and scores of others. Features very easy-to-read engravings of 400 fantastic songs, including:
All Your Love (I Miss Loving) · Angel Eyes · Baby Please Don't Go · Basin Street Blues · Beale Street Blues · Bell Bottom Blues · Black Coffee · Crossroads · Do You Know What It Means to Miss New Orleans · Everyday (I Have the Blues) · Fine and Mellow · Folsom Prison Blues · A Good Man Is Hard to Find · Hellhound on My Trail · (I) Can't Afford to Do It · I Gotta Right to Sing the Blues · Ice Cream Man · Lady Sings the Blues · Lover Man (Oh, Where Can You Be?) · Lucille · Mean Woman Blues · My First Wife Left Me · Nine Below Zero · Oh! Darling · Road Runner · Royal Garden Blues · St. Louis Blues · Steamroller Blues · Stormy Weather · Sweet Home Chicago · Tain't Nobody's Biz-ness If I Do · The Thrill Is Gone · Worried Man Blues · hundreds more!
Hal Leonard, $39.95, ISBN-13: 9780793558551, 400 songs, 407pp, Jun '99
The Real Blues Fake Book
This matching folio to the 2005 release includes 300 blues essentials:
All Your Love (I Miss Loving) • Baby Please Don't Go • Big Boss Man • Blues Before Sunrise • The Blues Is Alright • Boom Boom • Born Under a Bad Sign • Cheaper to Keep Her • Come on in My Kitchen • Crosscut Saw • Damn Right, I've Got the Blues • Dust My Broom • Every Day I Have the Blues • Evil • Five Long Years • Further on up the Road • Gangster of Love • Give Me Back My Wig • Good Morning Little Schoolgirl • Got My Mo Jo Working • Have You Ever Loved a Woman • Hide Away • How Long, How Long Blues • I Ain't Got You • I Got Love If You Want It • I'm Tore Down • I'm Your Hoochie Coochie Man • It Hurts Me Too • Juke • Key to the Highway • Killing Floor • Let Me Love You Baby • Look on Yonder's Wall • Mama Talk to Your Daughter • Master Charge • Messin' with the Kid • My Babe • Phone Booth • Pride and Joy • Reconsider Baby • Rock Me Baby • Rock Me Right • Smokestack Lightning • Somebody Loan Me a Dime • Statesboro Blues • (They Call It) Stormy Monday (Stormy Monday Blues) • Sweet Home Chicago • Texas Flood • The Things That I Used to Do • The Thrill Is Gone • Wang Dang Doodle • and more. 
Hal Leonard, $39.95, ISBN-13: 978-1423404514, 400 songs, 479pp, 2014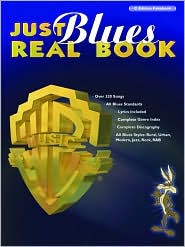 Just Blues Real Book
More than 350 of the greatest and most commonly performed blues tunes of all time. From classic rural and country blues to modern blues-rock, this is the best collection of blues music ever. With a foreword by Don Latarski describing the different styles of the blues, this folio contains all-new professional-quality arrangements and is extensively cross-referenced with a complete composer index, discography of suggested recorded versions for each song, a section on how to play from a fakebook, chord theory reference pages, and a unique genre index. Comb bound, approx. 400 pages.
Alfred Publishing, $39.95, ISBN-13: 9780757901690, 350 songs, 400pp, Jan '02
R&B Fake Book
This awesome R and B fake book features melody lines, lyrics and chords for 375 classics, including 125 songs added to the 2nd edition:
After the Love Has Gone * Ain't No Mountain High Enough * Baby Love * Best of My Love * Dancing in the Street * Do You Know Where You're Going To? * Everybody Plays the Fool, Sometime * Fire * The First Time Ever I Saw Your Face * For Once in My Life * Get Ready * Get Up (I Feel Like Being) A Sex Machine * Green Onions * Heatwave * Here and Now * Hero * I Can Love You Like That * I Got You (I Feel Good) * I Heard It Through the Grapevine * I Second That Emotion * I'll Be There * I'll Make Love to You * Iko Iko * In the Midnight Hour * In the Still of the Nite (I'll Remember) * Just Once * Kansas City * Let's Get It On * The Loco-Motion * Love's Theme * Mercy, Mercy (The Ecology) * My Guy * (You Make Me Feel Like) A Natural Woman * On Broadway * One Sweet Day * Papa Was a Rolling Stone * Reach Out, I'll Be There * Respect * Save the Best for Last * September * Sexual Healing * Theme from "Shaft" * Shop Around * (Sittin' On) The Dock of the Bay * Still * Tears of a Clown * Tell It Like It Is * The Tracks of My Tears * Up on the Roof * Walk on By * What's Going On * and many more. Two indexes feature songs listed alphabetically by title and by artist. For all "C" instruments.
Hal Leonard, $29.95, ISBN-13: 9780793578313, 375 songs, 440pp, Jan '99
This page updated on May 30, 2021 .
[top]