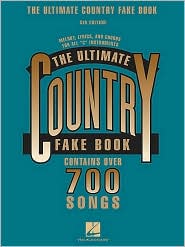 The New Ultimate Country Fake Book
This 4th edition includes even more of your favorite country hits - over 700 songs by country superstars of yesterday and today. Also features a glossary of guitar chord frames, alphabetical and artist indexes, and plastic-comb binding.
Achy Break Heart · Ain't Going Down ('Til the Sun Comes Up) · Always on My Mind · Are You Lonesome Tonight? · Blue Clear Sky · Boot Scootin' Boogie · Crazy · Daddy Sang Bass · Does Fort Worth Ever Cross Your Mind · Down at the Twist and Shout · Elvira ·Forever and Ever, Amen ·Friends in Low Places · The Gambler · The Greatest Man I Never Knew · Harper Valley P.T.A. · Jambalaya · King of the Road · Rocky Top ·She Believes in Me ·Sixteen Tons · There's a Tear in My Beer ·Walkin' After Midnight · What's Forever For · Your Cheatin' Heart · and more.
Hal Leonard, $39.95, ISBN-13: 9780881882605, 731 songs, 672pp, Feb '94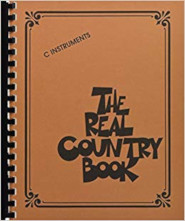 The Real Country Book
Country gets real in this new collection in the Real Book series featuring over 275 country favorites presented in the "Real Book" look with lead sheets and lyrics. Songs include:
Act Naturally * All My Rowdy Friends Are Coming over Tonight * Always on My Mind * Amazed * Beer for My Horses * Before He Cheats * Bless the Broken Road * Blue Moon of Kentucky * Boot Scootin' Boogie * A Boy Named Sue * Breathe * City of New Orleans * Coal Miner's Daughter * Could I Have This Dance * Coward of the County * Crazy * Delta Dawn * The Devil Went down to Georgia * Don't It Make My Brown Eyes Blue * Elvira * Family Tradition * Folsom Prison Blues * Forever and Ever, Amen * Friends in Low Places * The Gambler * Gentle on My Mind * God Bless the U.S.A. * Help Me Make It Through the Night * Here's a Quarter (Call Someone Who Cares) * Hey, Good Lookin' * I Hope You Dance * (I Never Promised You A) Rose Garden * I Will Always Love You * I've Got a Tiger by the Tail * Islands in the Stream * Jackson * Jambalaya (On the Bayou) * King of the Road * Live like You Were Dying * Lucille * Mama Tried * Mean * On the Road Again * Redneck Woman * Ring of Fire * Rocky Top * She Believes in Me * Southern Nights * Stand by Your Man * There's a Tear in My Beer * When You Say Nothing at All * Your Cheatin' Heart * and more.
Hal Leonard, $39.95, ISBN-13: 978-1480382879, 275 songs, 520pp, Jan '16
Professional Singer's Country Fake Book
Finally, a country fake book designed especially for singers in LOW Voice. There's a great selection of 150 songs for every kind of country gig, including lots of dance music and ballads, from country classic to the music of today's top artists. Keys have been carefully chosen for each edition and songs include instrumental introductions and interludes. Endings have been written for the live performance of each song - no repeat and fades here! For the first time in print, many background vocal harmonies have been transcribed
A Good Hearted Woman * A Lesson In Leavin' * Achy Breaky Heart (Don't Tell My Heart) * Ain't Goin' Down ('Til The Sun Comes Up) * Ain't That Lonely Yet * Always On My Mind * American Honky Tonk Bar Association * Anymore ... You Ain't Much Fun * You Can't Make A Heart Love Somebody * You Lie * You Needed Me * Your Cheatin' Heart * Your Heart's Not In It
Hal Leonard, $22.50, SBN-13: 9780793559916, 150 songs, 224pp Feb '98
Jimmie Rodgers Memorial Songbook
Fascinating bio and the best songs from the Singing Brakeman, including:
Blue Yodel No. 1 (T for Texas) · The Brakeman's Blues · Hobo's Meditation · I'm Free from the Chain Gang Now · I'm Lonely and Blue · In the Jailhouse Now · Jimmie Rodgers' Last Blue Yodel · Memphis Yodel · My Blue Eyed Jane · My Good Gal's Gone Blues · My Rough and Rowdy Ways · Mystery of Number Five · Pistol Packin' Papa · T.B. Blues · Train Whistle Blues · Yodeling Cowboy · more
Hal Leonard, $10.95, ISBN-13: 9780634006173, 64pp, Feb '00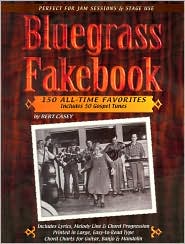 Bluegrass Fakebook
This handy songbook contains bluegrass lyrics, bluegrass gospel lyrics, chord progressions, and melody lines to 150 of the all-time favorite Bluegrass songs, including 50 gospel tunes, as well as many new bluegrass songs. Printed in large, easy-to-read type with one song per page, this book is excellent for use on stage or in jam sessions, because everyone can read along. Also includes chord charts for the guitar, banjo, and mandolin to help you learn your favorite bluegrass chords and a listing of currently available recordings of each song. Now all those obscure verses you can never remember are right at your fingertips.
KMP Publishing, $24.95, ISBN-13: 978-1893907492 , 150 songs, 154pp, Dec '99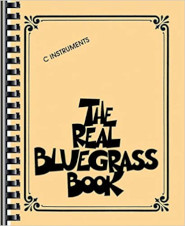 The Real Bluegrass Book
This collection gathers more than 300 bluegrass favorites presented in the straightforward Real Book format favored by musicians including lyrics where applicable:
Alabama Jubilee * Ballad of Jed Clampett * Bill Cheatham * Blue Ridge Mountain Blues * Bury Me Beneath the Willow * Dixie Hoedown * Down to the River to Pray * Foggy Mountain Top * Highway 40 Blues * How Mountain Girls Can Love * I'm Goin' Back to Old Kentucky * John Henry * Keep on the Sunny Side * The Long Black Veil * My Rose of Old Kentucky * Old Train * Pretty Polly * Rocky Top * Sally Goodin * Shady Grove * Wabash Cannonball * Wayfaring Stranger * Wildwood Flower * The Wreck of the Old '97 * and hundreds more!
Hal Leonard, $25.98, ISBN-13: 978-0634049217 , 300 songs, 432pp, May '11
The Fiddler's Fakebook
The enormous wealth of material in the Fiddler's Fakebook makes it more than a reference book to be left on the shelf. You will find it helpful in any playing situation--from a square dance to an informal gathering of friends. You can study it page by page learning those tunes that particularly strike your fancy. But perhaps most importantly, you can have a great deal of fun just sitting down and playing through these remarkable monuments to the traditional musician's art. Contains nearly 500 jigs, reels, rags, and hornpipes from all the major fiddling traditions. Special introductory materials on regional styles,bowing, and ornamentation. Includes, extensive discography.
Oak Publications, $24.95, ISBN-13: 978-0825602382, 500 songs, 304pp, Dec '83
This page updated on May 30, 2021 .
[top]