Here are a number of books that will help you get the most out of your music fake books. Summary information is provided for each book. The book cover on the left will take you to Barnes & Noble where you can get additional information and current pricing. Similarly, the link on the right goes to Amazon's page for this book. You can scroll down the page to review all the books or click on the book title below to jump directly to that book.
How to Play from a Fake Book
Ever wondered how to create better accompaniments for the melodies in your favorite fake books? This 'teach yourself' book introduces you to chord building, various rhythmic styles, and much more, so that you play the songs you like just the way you want them. Keyboard players with a basic understanding of notation and sight-reading will be on their way to more fun with fake books. The relaxed tone of the text and selection of fun songs keep How to Play from a Fake Book entertaining throughout - perfect for amateur musicians, or as a supplement for keyboard teachers and their students.
Hal Leonard, $16.95, ISBN-13: 9780634002069, 88pp, 52 songs, Jan '99 - Table of Contents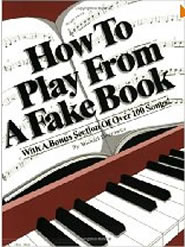 How To Play From A Fake Book
By Michael Esterowitz, this books is for musicians of all levels. It teaches how to use bass lines, countermelodies, introductions and endings, rhythmic patterns, embellish a melody and how to accompany. All the techniques needed to 'fake' a great-sounding accompaniment from just melody, lyrics and chord symbols.
Ekay Music, $16.95, ISBN-13: 978-0943748191, Apr '91

How to Get Real with a Fake Book
An easy-to-follow, step-by-step system to understand and create sophisticated piano arrangements and/or orchestrations. Ideal for any musician who wants to play or write notes that are not found on the printed page! Pianist/arranger Steve Rawlins will help players improve their abilities with: chord alterations and voicings; chord substitutions; key selections; inversions and pedal bass; intros and endings; and other essential music fundamentals.
Creative Concepts, $12.95, ISBN-13: 9781569221211, 88pp, 0 songs, Mar '00

How to Play the Piano Despite Years of Lessons
This method is a truly entertaining approach to learning how to play the piano. Written by Ward Cannel of the Piano Consortium, the method breaks down music theory into visual concepts which are fun and easy to grasp, so you can learn to play the music you want to play! Perfect for those piano lesson dropouts!
Hal Leonard, $22.99, ISBN-13: 9780385142632, 29 songs, 240pp, Jan '81 - Song List

Play Piano In A Flash
As seen on public television stations nationwide, a revolutionary new approach to playing non-classical music on the piano. Have you ever wished you could play the piano? Well, now you can! Scott "The Piano Guy" Houston teaches you to play the way the pros play, in a style enormously simpler than traditional classical piano and with an absolute minimum of note-reading. By focusing on playing the melody with the right hand (one note at a time) and simple chords with the left hand, Houston gives you the tools you need for a lifetime of musical enjoyment. Best of all, your tour guide to this adventure forces you to have fun along the way!
Hyperion, $10.36, ISBN-13: 9781401307660, 160pp, Jan '04

Scott The Piano Guy's Favorite Piano Fake Book
Next time your friends see your piano and say, "Play 'Misty' for me," impress them and really do it! This fake book includes 74 popular song arrangements from Scott Houston, the Piano Master of PBS. Includes Scott's unique "simple chord frames" for each song.
All the Things You Are · Blueberry Hill · Can You Feel the Love Tonight · Crazy · Endless Love · The Girl from Ipanema · Heart and Soul · Hey Jude · I Will Remember You · Imagine · Let It Be · Misty · Moon River · My Funny Valentine · Satin Doll · Somewhere Out There · Stand by Me · and more.
Hal Leonard, $24.95, ISBN-13: 9781423413172, 74 songs, - 52pp, Jun '06 - Table of Contents

Scott the Piano Guy's Favorite Piano Fake Book, Vol. 2
Over 90 more popular song arrangements from Scott Houston, the Piano Master of PBS. Includes basic and advanced chord charts for every song. Features:
Alfie · Breaking Up Is Hard to Do · Come Fly with Me · Friends in Low Places · Help Me Rhonda · I Write the Songs · King of the Road · Leaving on a Jet Plane · My Heart Will Go On · Rock Around the Clock · Sweet Home Alabama · Three Times a Lady · Under the Boardwalk · When I'm Sixty-Four · You're So Vain · and dozens more!
Hal Leonard, $24.99, ISBN-13: 9781423461708, 90 songs, 240pp, Jan '09 - Table of Contents

How to Play Keyboards
How to Play Keyboards offers an exciting new way to learn to play.Its easy-to-follow instructions and systematic approach enable you to start playing popular tunes on your keyboard within minutes-even if you've never played a musical instrument before. You'll learn keyboard basics like: fingering, chords, special effects, playing by ear, how to read sheet music, playing with drum backing and much more. Filled with a wealth of instruction and inspiration, How to Play Keyboards is like having your own personal tutor. Roger Evans has helped nearly half a million readers learn to play an instrument on their own. His other books include How to Play Guitar and How to Play Piano.
St. Martins, $11.95, ISBN-13: 9780312287078, 104pp, Dec '01

How to Play Keyboard: A Complete Guide for Absolute Beginners
his book is the perfect introduction to the electronic Keyboard for absolute beginners of all ages. This great beginner's guide also provides an easy introduction to reading and playing music - so whether you have no previous musical experience OR are simply new to the keyboard, this clear and concise guide will have you playing tunes on your new keyboard in no time!
Easy to follow instructions and illustrations * Simple exercises to follow and practice * Learn at your own pace * Fun and easy songs, chords and tunes to play  * Simply follow the lessons in the book and you will be playing Keyboard in no time !
Kyle Craig, $11, ISBN-13: 978-1908707147, 48pp, May '13

FastTrack Music Instruction - Keyboard, Book 1
Learn how to play that piano today. With this book you'll learn music notation, chords, riffs, licks and scales, syncopation, and rock and blues styles. Method Book 1 includes over 87 songs and examples and access to online audio tracks. The price of this book includes a unique code that provides access to audio tracks online, for download or streaming. The tracks include PLAYBACK+, a multi-functional audio player that allows you to slow down audio without changing pitch, set loop points, change keys, and pan left or right available exclusively from Hal Leonard.
Hal Leonard, $7.99, ISBN-13: 9780793574070, 48pp, Feb '97 - Closer Look

Teach Yourself To Play Electronic Keyboard
Everything you need to know to get started playing electronic keyboard now! Melody, harmony and rhythm are explained in an easy-to-understand, step-by-step system. This very easy electronic keyboard method is perfect for students age 10 and up and is designed for beginners with no musical training. This method will provide an excellent introduction to note reading and the basics of music and is intended for keyboards with automatic rhythms and single-finger chords. Also includes basic improvising techniques! Explains how to use chord symbols to play from pop sheet music, fake books and lead sheets. You'll learn about the "Circle of 5ths" and improvising techniques.
Alfred Publishing, $11.95, ISBN-13: 9780882846804, 80pp, Jul '00

Teach Yourself to Play Jazz at the Keyboard
Learn to play jazz at the keyboard and open up a brand new world of musical knowledge with this exciting method from Alfred. Students of all ages can continue their journey to a lifetime of musical enjoyment. By following the step-by-step set of instructions, you will learn all about jazz and blues scales, progressions, walking bass, latin jazz, jazz ballads and how to read from a fake book. You will gain insight by learning from jazz masters from every era---including swing, be-bop, jazz-rock, fusion and beyond. With its chords symbols, mini music lessons and modern jazz techniques, this book will allow you to become a jazz master in your own right. The accompanying CD features examples of the pieces in the book with background arrangements by a live jazz combo, a helpful resource for play-along and practice.
Alfred Publishing, $18.95, ISBN-13: 9780739000199, 80pp, Aug '97

Jazz Theory Book
The most comprehensive Jazz Theory book ever published! Over 500 pages of text and over 750 musical examples. Written in the language of the working jazz musician, this book is easy to read and user-friendly. At the same time, it is the most comprehensive study of jazz harmony and theory ever published. The Jazz Theory Book takes the student from the most basic techniques such as chord construction and the II-V-I progression through scale theory, the blues, "I've Got Rhythm" changes, slash chords, the bebop and pentatonic scales, how to read a lead sheet and memorize tunes and a study of reharmonization that is almost a book in itself.
Sher Music, $42 , ISBN-13: 9781883217044, 522pp, Jan '96 - Contents

How to Play Chord Symbols in Jazz and Popular Music
The purpose of this book is to develop facility in reading alphabetical chord symbols at the keyboard, with the ultimate goals being the ability to play fakebook leadsheets and understand popular sheet music chord symbols.
Hal Leonard, $14.95, ISBN-13: 9780793578962, 64 pp, 17 songs, Feb '91 - Song List

This page updated on May 30, 2021 .
[top]