Tyros4, PSR-3000, PSR-740
I am sorry to announce that Del Kay passed away on Monday, December 28, 2015.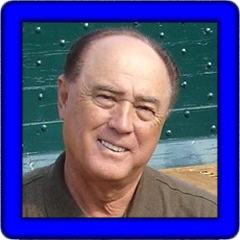 Sample MP3 Songs
(Jun, 2002) Del lives in San Diego, California. He is retired, married for 35 years, and has one adult son and daughter. "My son likes to play lead guitar and actually has a better ear than I do. My daughter doesn't play an instrument; but she was a 'CHARGER GIRL' cheerleader for the San Diego Chargers Football Team for six years, and got to travel a lot."
Musical Background. I love to play all kinds of music and started first on a 12-bass Accordian. However, when I went to take a lesson after getting a 120-bass Accordian, I was playing quite well, but was advised that I was playing it "backwards." (I'm left-handed) At about 20, I learned three chords on the guitar and progressed to a 12-string and then an Electric Guitar with a big Amp. I played only by ear and liked to accompany myself singing. A couple times, I was offered a spot in a small group; but had job conflicts. At about 30, I bought a Thomas Spinet Organ, then progressed to a Lowrey C-500 Console Organ, and currently have a WERSI Spectra Console Organ. I belong to a Home Organ Club; and we play at least two songs each month, at each others homes. I get to play on many different brands of organs.
About 4 years ago, I purchased a Yamaha PSR620 and loved it. I felt I could sound better on it than my full-sized Organ. I then upgraded to the Yamaha PSR740 and it is simply fantastic. The sounds and styles are everything I could want to have in an instrument. It is also very "User Friendly." Currently, I like to record all types of songs onto a floppy and use the PSR740's Vocal Harmoniser to record vocals onto a cassette tape. To me, they sound great, and I enjoy listening to them when travelling.
I have done free gigs for my Kiwanis Club, a Friend's Church Club, and at a couple of my 88 yr old Aunt's "Assisted Living" residences. They all really enjoy listening to what I play. I don't know if I have more enjoyment playing, or if they have more enjoyment listening. Anyhow, it's fun to do; and I can play, by ear, for hours at a time. Friends think I should do gigs for pay; however, right now, I'm an avid golfer with a 7.6 handicap. If I ever have to give up playing golf two or three times a week, I will probably do a lot of free gigs for Seniors with my keyboard. I have listed the style used with each title in the songs provided below. All are played by ear and recorded on the PSR-740.
(In early 2005, Del moved up to the PSR-3000. V35 is his first volume of songs produced on his new keyboard. In September, 2014, Del moved up to the Tyros4.)
Del's MIDI Songs

Del provided 620 songs in midi format. These were created on the PSR-3000 (3k) and the PSR-740 (74). Individual songs are shown in the table below and any one song can be downloaded by right-clicking on the song link. The table displays the song title, tempo (T), time signature (TS), lyrics (L), chords (C), where possible, the style used, the original volume (V), and the keyboard used (K). Download all of Del's 620 MIDI files in four zip files. Songs created on the PSR-740 are here: DK-74_A-I.zip and DK-74_J-Z.zip). Songs created on the PSR-3000 are here: DK-3k_A-I.zip and DK-3k_L-Z.zip .
Del's MIDI songs

| Title | T | TS | L | C | Style | V | K |
| --- | --- | --- | --- | --- | --- | --- | --- |
| After The Lovin' | 76 | 4/4 | N | Y | ArmWaver | 25 | 74 |
| Ain't She Sweet | 125 | 4/4 | N | Y | TapDanceSwing | 16 | 74 |
| Alley Cat | 130 | 4/4 | N | Y | BigBandMed2 | 41 | 3k |
| All I Ask Of You | 76 | 4/4 | N | Y | PianoStringBallad | 21 | 74 |
| All Of Me | 110 | 4/4 | N | Y | JazzTrio | 19 | 74 |
| All Of Me | 166 | 4/4 | N | Y | AcousticJazz | 35 | 3k |
| Amazing Grace | 98 | 3/4 | N | Y | GuitarWaltz | 14 | 74 |
| America The Beautiful | 75 | 4/4 | N | Y | SoftXMAS | 07 | 74 |
| America The Beautiful | 71 | 4/4 | N | Y | | 55 | 3k |
| Am I Losing You | 70 | 4/4 | N | Y | Country6-8Bld | 47 | 3k |
| Am I That Easy To Forget | 72 | 4/4 | N | Y | 12-8Ballad | 62 | 3k |
| Among My Souvenirs | 76 | 4/4 | N | Y | PianoStringBallad | 24 | 74 |
| Among My Souvenirs | 76 | 4/4 | N | Y | WhenaMan | 29 | 74 |
| Amor | 132 | 4/4 | N | Y | ChaCha | 02 | 74 |
| Amor | 124 | 4/4 | N | Y | OrganSamba | 40 | 3k |
| Anneliese | 128 | 4/4 | N | Y | PolkaOberkrainer | 09 | 74 |
| Answer Me, My Love | 76 | 4/4 | N | Y | ArmWaver | 28 | 74 |
| Anytime | 120 | 4/4 | N | Y | EasySwing | 06 | 74 |
| April In Portugal | 116 | 4/4 | N | Y | AprilIn/Mid17 | 22 | 74 |
| April In Portugal | 116 | 4/4 | N | Y | LatinStyle | 41 | 3k |
| April Showers | 100 | 4/4 | N | Y | BigBandMid2 | 05 | 74 |
| Are You Lonesome Tonight | 92 | 4/4 | N | Y | 6/8Ballad1 | 26 | 74 |
| Are You Lonesome Tonight | 72 | 4/4 | N | Y | 6-8SlowRock1 | 53 | 3k |
| Armed Service Songs | 116 | 4/4 | N | Y | ArmCassAnch | 48 | 3k |
| As Time Goes By | 65 | 4/4 | N | Y | DeepEmotion | 03 | 74 |
| As Time Goes By | 76 | 4/4 | N | Y | PianoStringBallad | 36 | 3k |
| At The Hop | 176 | 4/4 | N | Y | LetsDance | 23 | 74 |
| Auld Lang Syne | 148 | 4/4 | N | Y | BigBand1 | 31 | 74 |
| Auld Lang Syne | 186 | 4/4 | N | Y | BigBandFast2 | 58 | 3k |
| Autumn Leaves | 78 | 4/4 | N | Y | PianoOrchBallad | 34 | 74 |
| Ave Maria | 78 | 4/4 | N | Y | PianoStrBld | 07 | 74 |
| Ave Maria | 90 | 3/4 | N | Y | SlowWaltz2 | 14 | 74 |
| Ave Maria | 71 | 4/4 | N | Y | AcusGuitarWaltz | 43 | 3k |
| Ave Maria No Morro | 108 | 4/4 | N | Y | Rumba | 60 | 3k |
| Away In A Manger | 90 | 3/4 | N | Y | XmasNight | 11 | 74 |
| Away In A Manger | 94 | 3/4 | N | Y | XmasWaltz | 46 | 3k |
| Baila Morena | 85 | 4/4 | N | N | Lambada | 27 | 74 |
| Bali Hai | 100 | 4/4 | N | Y | Hawaiian | 38 | 3k |
| Ballad Of The Green Berets | 89 | 4/4 | N | Y | 6-8March1 | 26 | 74 |
| Battle Hymn Of The Republic | 76 | 4/4 | N | Y | ArmWaver | 14 | 74 |
| Battle Hymn Of The Republic | 110 | 4/4 | N | Y | | 50 | 3k |
| Be Bopa Lula | 127 | 4/4 | N | Y | BeBopa | 17 | 74 |
| Because Of You | 110 | 4/4 | N | Y | 30sBigBand | 08 | 74 |
| Before The Next Teardrop Falls | 82 | 4/4 | N | Y | CountryBallad | 45 | 3k |
| Begin The Beguine | 136 | 4/4 | N | Y | OhCarol | 21 | 74 |
| Begin The Beguine | 113 | 4/4 | N | Y | Beguine | 36 | 3k |
| Begin The Beguine | 113 | 4/4 | N | Y | Beguine | 57 | 3k |
| Berchtesgaden Fest Song | 120 | 3/4 | N | Y | TraditionalWaltz | 33 | 74 |
| Berchtesgaden Fest Song | 150 | 3/4 | N | Y | OberWalzer | 44 | 3k |
| Besame Mucho | 110 | 4/4 | N | Y | PianoRhumba | 01 | 74 |
| Big Band Medley | 148 | 4/4 | N | Y | BigBand1 | 30 | 74 |
| Bilitis | 80 | 4/4 | N | Y | PianoBallad | 06 | 74 |
| Bilitis | 70 | 4/4 | N | Y | | 51 | 3k |
| Bill Bailey | 180 | 4/4 | N | Y | BigBandFast1 | 28 | 74 |
| Bill Bailey | 220 | 4/4 | N | Y | GuitarSerenade | 35 | 3k |
| Blame It On The Bossa Nova | 168 | 4/4 | N | Y | BossaNova | 07 | 74 |
| Blue Bayou | 108 | 4/4 | N | Y | Rumba | 38 | 3k |
| Blue Christmas | 128 | 4/4 | N | Y | Xmas06 | 11 | 74 |
| Blue Christmas | 200 | 4/4 | N | Y | Christ4_4 | 39 | 3k |
| Blue Danube | 127 | 3/4 | N | Y | ViennaWaltz | 19 | 74 |
| Blue Eyes Crying In The Rain | 92 | 4/4 | N | Y | CountryBallad | 20 | 74 |
| Blue Eyes Crying In The Rain | 82 | 4/4 | N | Y | CountryBallad | 45 | 3k |
| Blue Hawaii | 100 | 4/4 | N | Y | Hawaiian | 51 | 3k |
| Blue Moon | 74 | 4/4 | N | Y | BlueMoon | 19 | 74 |
| Blue Spanish Eyes | 112 | 4/4 | N | Y | SpanishEyes | 01 | 74 |
| Blue Tango | 130 | 4/4 | N | Y | Tango1 | 08 | 74 |
| Body And Soul | 72 | 4/4 | N | Y | 12-8Ballad | 63 | 3k |
| Born To Lose | 78 | 4/4 | N | Y | OrganBallad | 03 | 74 |
| Born To Lose | 72 | 4/4 | N | Y | 12-8Ballad | 38 | 3k |
| Born Too Late | 120 | 4/4 | N | Y | PopRock | 13 | 74 |
| Born Too Late | 120 | 4/4 | N | Y | PopRock | 59 | 3k |
| Brazil | 112 | 4/4 | N | Y | SambaBrazil | 13 | 74 |
| Breeze And I, The | 116 | 4/4 | N | Y | Rhumba | 06 | 74 |
| Breeze And I, The | 96 | 4/4 | N | Y | EasyPop | 10 | 74 |
| Bridge On River Kwai, The | 110 | 4/4 | N | Y | Marc11*G.1.0 | 32 | 74 |
| Bridge On The River Kwai | 116 | 4/4 | N | Y | RiverKwai | 61 | 3k |
| Bridge Over Troubled Water | 85 | 4/4 | N | Y | CelineBeat | 02 | 74 |
| Busted | 120 | 4/4 | N | Y | CountryRock1 | 28 | 74 |
| Bye Bye Blues | 144 | 4/4 | N | Y | Foxtrot | 13 | 74 |
| Bye Bye Love | 120 | 4/4 | N | Y | | 23 | 74 |
| By The Light Of The Silvery Moon | 125 | 4/4 | N | Y | TapDanceSwing | 41 | 3k |
| Cab Driver | 144 | 4/4 | N | Y | FoxTrot | 30 | 74 |
| Candida | 130 | 4/4 | N | Y | SeeYaLater | 25 | 74 |
| Carioca | 150 | 4/4 | N | Y | PopBossa1 | 58 | 3k |
| Champions Ole' | 123 | 2/4 | N | Y | WaltzOberkrainer | 09 | 74 |
| Charleston | 220 | 4/4 | N | Y | Charleston | 20 | 74 |
| Charmaine | 90 | 3/4 | N | Y | EnglishWaltz | 55 | 3k |
| Cheek To Cheek | 130 | 4/4 | N | Y | BigBandMid2 | 03 | 74 |
| Chicken Dance | 100 | 4/4 | N | Y | OberPolka | 37 | 3k |
| Chicken Dance | 100 | 4/4 | N | Y | OberPolka | 44 | 3k |
| Chopsticks | 210 | 4/4 | N | Y | Ragtime | 25 | 74 |
| Cielito Lindo | 170 | 3/4 | N | Y | MariachiWaltz | 36 | 3k |
| Classical Medley | 181 | 3/4 | N | Y | XT_WaltzM | 60 | 3k |
| Climb Every Mountain | 90 | 4/4 | N | Y | DeepEmotion | 30 | 74 |
| Climb Every Mountain | 71 | 4/4 | N | Y | ThePianoA | 62 | 3k |
| Cocaine Blues | 120 | 4/4 | N | Y | JohnnyCash | 47 | 3k |
| Cold Cold Heart | 110 | 4/4 | N | Y | CountrySwing | 04 | 74 |
| Colonel Bogey March | 120 | 4/4 | N | Y | Marc21G1.0 | 23 | 74 |
| Corrina Corrina | 128 | 4/4 | N | Y | Corrina Corrina | 59 | 3k |
| Count Every Star | 65 | 4/4 | N | Y | DeepEmotion | 18 | 74 |
| Country Medley | 120 | 4/4 | N | Y | Bluegrass | 32 | 74 |
| Crazy | 76 | 4/4 | N | Y | VincesCrazy | 04 | 74 |
| Crazy | 76 | 4/4 | N | Y | VincesCrazy | 20 | 74 |
| Crazy Arms | 115 | 4/4 | N | Y | Cheating*i3 | 26 | 74 |
| Cry | 73 | 4/4 | N | Y | | 50 | 3k |
| Cryin' Time Again | 100 | 4/4 | N | Y | CountrySwing | 04 | 74 |
| Cu Cu Ru Cu Cu Paloma | 90 | 4/4 | N | Y | Mariachi | 02 | 74 |
| Cu Cu Ru Cu Cu Paloma | 90 | 4/4 | N | Y | MariachiWaltz | 44 | 3k |
| Daddy Wouldn't Buy Me A Bow Wow | 140 | 4/4 | N | Y | StrideSwing | 33 | 74 |
| Danke Schoen | 126 | 4/4 | N | Y | OrchestraSwing1 | 55 | 3k |
| Danny Boy | 72 | 4/4 | N | Y | 12-8Ballad | 37 | 3k |
| Days Of Wine And Roses, The | 120 | 4/4 | N | Y | Rainin | 01 | 74 |
| Days Of Wine And Roses, The | 120 | 4/4 | N | Y | Rain_In | 40 | 3k |
| Deck The Halls | 83 | 4/4 | N | Y | XmasWonderland | 26 | 74 |
| Deep Purple | 62 | 4/4 | N | Y | 6-8Orchestral | 59 | 3k |
| Delilah | 186 | 3/4 | N | Y | VienneseWaltz1 | 40 | 3k |
| Del Rock Composition | 120 | 4/4 | N | Y | | 53 | 3k |
| Del's Blues (c) | 120 | 4/4 | N | Y | Blues2 | 15 | 74 |
| Del's Boogie (c) | 187 | 4/4 | N | Y | XGBoogie | 15 | 74 |
| Del's Deutsch Composition (c) | 118 | 4/4 | N | Y | Schnetzenliest | 15 | 74 |
| Del's Halloween Composition (c) | 126 | 4/4 | N | Y | Phantom | 15 | 74 |
| Del's Love Tyros Composition (c) | 126 | 4/4 | N | Y | LoveTyros | 10 | 74 |
| Del's Night Composition (c) | 125 | 4/2 | N | Y | LastNight | 15 | 74 |
| Del's Reggae (c) | 100 | 4/4 | N | Y | PopReggae | 15 | 74 |
| Del's Scottish Composition (c) | 154 | 3/4 | N | Y | McWaltz06 | 15 | 74 |
| Del's Scottish Song2 (c) | 116 | 4/4 | N | Y | 4/4Reel02 | 15 | 74 |
| Del's Scottish Song3 (c) | 92 | 2/4 | N | Y | McPolka00 | 15 | 74 |
| De Nina A Mujer | 105 | 4/4 | N | Y | Bolero2 | 59 | 3k |
| Devil Woman | 108 | 4/4 | N | Y | Rhumba | 63 | 3k |
| Diana | 120 | 4/4 | N | Y | PopRock | 24 | 74 |
| Didn't We | 72 | 4/4 | N | Y | 6-8SlowRock1 | 63 | 3k |
| Dixieland Medley | 224 | 4/4 | N | Y | Dixieland1 | 40 | 3k |
| Do-Re-Mi | 125 | 4/4 | N | Y | M!!Broadway | 44 | 3k |
| Dominique | 135 | 4/4 | N | Y | Showtune | 55 | 3k |
| Don't Be Cruel | 167 | 4/4 | N | Y | Don'tBeG13 | 18 | 74 |
| Don't Blame Me | 75 | 4/4 | N | Y | LoungePiano | 12 | 74 |
| Don't Fence Me In | 126 | 4/4 | N | Y | CountryShuffle | 16 | 74 |
| Don't Get Around Much Anymore | 125 | 8/4 | N | Y | GlennMiller | 07 | 74 |
| Don't Let The Stars Get In Your Eyes | 122 | 4/4 | N | Y | DiscoHands | 32 | 74 |
| Don't Sit Under The Apple Tree | 95 | 4/4 | N | Y | March | 29 | 74 |
| Dream | 80 | 4/4 | N | Y | WarmVibes | 13 | 74 |
| Dream | 80 | 4/4 | N | Y | WarmVibes | 47 | 3k |
| Du Du Du | 192 | 3/4 | N | Y | WaltzOberkrainer | 09 | 74 |
| Du Kannst Nich Treu Sein | 192 | 3/4 | N | Y | WaltzOberkrainer | 09 | 74 |
| Easter Parade | 120 | 4/4 | N | Y | OrchestraFox | 05 | 74 |
| Easter Parade | 120 | 4/4 | N | Y | OrchestraFox | 30 | 74 |
| Ebb Tide | 65 | 4/4 | N | Y | 6-8Slow | 56 | 3k |
| Edelweiss | 104 | 3/4 | N | Y | BigBandMed2 | 35 | 3k |
| Elizabethen Serenade | 135 | 3/4 | N | Y | TraditionalWaltz | 49 | 3k |
| El Paso | 116 | 4/4 | N | Y | Rhumba2 | 23 | 74 |
| Embraceable You | 118 | 4/4 | N | Y | MediumJazz | 19 | 74 |
| End, The | 85 | 4/4 | N | Y | DeepEmotion | 08 | 74 |
| The End Of The World | 72 | 4/4 | N | Y | 6-8SlowRock | 62 | 3k |
| Enjoy Yourself | 140 | 4/4 | N | Y | MediumJazz | 26 | 74 |
| Everybody Loves A Lover | 118 | 4/4 | N | Y | MediumJazz | 21 | 74 |
| Everybody Loves A Lover | 192 | 4/4 | N | Y | SwingFox | 53 | 3k |
| Everybody's Somebody's Fool | 90 | 4/4 | N | Y | Francis*13 | 18 | 74 |
| Exactly Like You | 193 | 4/4 | N | Y | JzQuint1 | 28 | 74 |
| Far Away Places | 72 | 4/4 | N | Y | 12-8Ballad | 45 | 3k |
| Fascination | 100 | 3/4 | N | Y | Musette | 22 | 74 |
| Fascination | 90 | 3/4 | N | Y | EnglishWaltz | 58 | 3k |
| Feelings | 111 | 4/4 | N | Y | Rhumba2 | 03 | 74 |
| Feelings | 102 | 4/4 | N | Y | BBLAT1&2 | 41 | 3k |
| Fernando | 109 | 4/4 | N | Y | | 50 | 3k |
| Fever | 142 | 4/4 | N | Y | Fever | 18 | 74 |
| Five Foot Two Eyes Of Blue | 148 | 4/4 | N | Y | AcousticJazz | 35 | 3k |
| Fly Me To The Moon | 110 | 4/4 | N | Y | ArmWaver | 19 | 74 |
| Folsom Prison Blues | 197 | 4/4 | N | Y | CountryPop1 | 42 | 3k |
| Fools Rush In | 72 | 4/4 | N | Y | Arpeggio | 02 | 74 |
| Fools Rush In | 72 | 4/4 | N | Y | 12-8Ballad | 43 | 3k |
| Forever And Ever | 180 | 3/4 | N | Y | TraditionalWaltz | 25 | 74 |
| For The Good Times | 92 | 4/4 | N | Y | 6-8Ballad1 | 07 | 74 |
| For Your Love | 70 | 4/4 | N | Y | Slow41G1.0 | 02 | 74 |
| Four Walls | 109 | 3/4 | N | Y | CountryWaltz | 42 | 3k |
| Freight Train | 110 | 4/4 | N | Y | ChetFancy | 20 | 74 |
| Funiculi Funicula | 122 | 4/4 | N | Y | Pasodoble | 45 | 3k |
| Funiculi Funicula | 129 | 4/4 | N | Y | Tarantella | 54 | 3k |
| Ghost Riders In The Sky | 120 | 4/4 | N | Y | Ghost Riders in The Sky | 63 | 3k |
| Girl From Ipanema, The | 140 | 4/4 | N | Y | CoolBossa | 19 | 74 |
| God Bless America | 90 | 4/4 | N | Y | March11*G1.0 | 33 | 74 |
| God Must Be A Cowboy At Heart | 114 | 4/4 | N | Y | CountryBrush | 20 | 74 |
| Good Luck Charm | 144 | 4/4 | N | Y | ElvisShuffle | 62 | 3k |
| Goodnight Irene | 178 | 4/4 | N | Y | Country1 | 16 | 74 |
| Goodnight Irene | 130 | 4/4 | N | Y | BluesShuffle | 56 | 3k |
| Goodnight Sweetheart | 94 | 4/4 | N | Y | XTFarewell | 41 | 3k |
| Good Night Sweetheart | 94 | 4/4 | N | Y | 6-8SlowRock | 61 | 3k |
| Green Eyes | 112 | 4/4 | N | Y | Rhumba | 13 | 74 |
| Greensleeves | 98 | 3/4 | N | N | GuitarWaltz | 27 | 74 |
| Half As Much | 120 | 4/4 | N | Y | SlowShuff | 29 | 74 |
| Hank Williams Medley | 109 | 4/4 | N | Y | | 52 | 3k |
| Happy Birthday | 100 | 4/4 | N | Y | 8BeatAdria | 58 | 3k |
| Happy Wanderer, The | 120 | 4/4 | N | Y | March21G1.0 | 34 | 74 |
| Harbor Lights | 85 | 4/4 | N | Y | CelineBeat | 13 | 74 |
| Hawaiian Medley | 100 | 4/4 | N | Y | Hawaiian | 32 | 74 |
| Hawaiian Wedding Song | 100 | 4/4 | N | Y | Hawaiian | 07 | 74 |
| He | 85 | 4/4 | N | Y | CelineBeat | 07 | 74 |
| He | 85 | 4/4 | N | Y | CelineBeat | 14 | 74 |
| Hearts Made Of Stone | 150 | 4/4 | N | Y | FastShuffle | 32 | 74 |
| He'll Have To Go | 92 | 4/4 | N | Y | CountryBallad | 02 | 74 |
| He'll Have To Go | 92 | 4/4 | N | Y | He'llHaveToGo | 40 | 3k |
| Help Me Make It Through The Night | 78 | 4/4 | N | Y | PianoBallad | 04 | 74 |
| Here Comes Santa Claus | 200 | 4/4 | N | Y | Christ4_4 | 11 | 74 |
| Here Comes Santa Claus | 184 | 4/4 | N | Y | Jingle | 39 | 3k |
| Here Comes Santa Claus | 152 | 4/4 | N | Y | HereComesSanta | 46 | 3k |
| Here In The Real World | 92 | 4/4 | N | Y | CountryBallad | 06 | 74 |
| Here In The Real World | 85 | 4/4 | N | Y | CountrySwing1 | 36 | 3k |
| Here's That Rainy Day | 118 | 4/4 | N | Y | MediumJazz | 30 | 74 |
| He's Got The Whole World In His Hands | 120 | 4/4 | N | Y | Halleluia | 14 | 74 |
| He Stopped Loving Her Today | 76 | 4/4 | N | Y | ArmWaver | 04 | 74 |
| Hey, Good Lookin' | 192 | 4/4 | N | Y | Hey,GoodLookin | 17 | 74 |
| Hey Joe | 102 | 4/4 | N | Y | X-8Eisenbahn | 34 | 74 |
| Hey Joe | 115 | 4/4 | N | Y | Jamba | 63 | 3k |
| Hi-Lili Hi-Lo | 76 | 4/4 | N | Y | ArmWaver | 25 | 74 |
| Hold Me, Thrill Me, Kiss Me | 73 | 4/4 | N | Y | 12-8Ballad | 45 | 3k |
| Honey | 96 | 4/4 | N | Y | HoneyBallad | 18 | 74 |
| Honey | 105 | 4/4 | N | Y | Honey | 31 | 74 |
| Honey | 72 | 4/4 | N | Y | 12-8Ballad | 40 | 3k |
| House Of The Rising Sun | 98 | 6/8 | N | Y | | 50 | 3k |
| How Great Thou Art | 76 | 4/4 | N | Y | HowGrt-Frnd-Organ | 61 | 3k |
| Hucklebuck, The | 164 | 4/4 | N | Y | BriansBBS | 25 | 74 |
| Hucklebuck, The | 164 | 4/4 | N | Y | BriansBB | 49 | 3k |
| I Can't Give You Anything But Love | 120 | 4/4 | N | Y | BigBandMid2 | 28 | 74 |
| I Can't Help It | 100 | 4/4 | N | Y | SONDAGO13 | 04 | 74 |
| I Can't Stop Loving You | 109 | 4/4 | N | Y | Hank Wil | 60 | 3k |
| I Could Have Danced All Night | 135 | 4/4 | N | Y | Showtune | 12 | 74 |
| I Don't Know Why | 75 | 4/4 | N | Y | LoungePiano | 10 | 74 |
| I Don't Know Why | 72 | 4/4 | N | Y | 12-8Ballad | 38 | 3k |
| If I Give My Heart To You | 72 | 4/4 | N | Y | 12-8Ballad | 48 | 3k |
| If I Loved You | 76 | 4/4 | N | Y | PianoStrBld | 07 | 74 |
| If Tomorrow Never Comes | 92 | 4/4 | N | Y | | 55 | 3k |
| I Get Ideas | 116 | 4/4 | N | Y | AprMed17 | 12 | 74 |
| I Hear You Knocking | 120 | 4/4 | N | Y | | 53 | 3k |
| I Just Called To Say I Love You | 108 | 4/4 | N | Y | Rumba | 58 | 3k |
| I Left My Heart In San Francisco | 95 | 4/4 | N | Y | LostDream | 31 | 74 |
| I'll Never Smile Again | 85 | 4/4 | N | Y | PianoStrBld | 27 | 74 |
| I'll See You In My Dreams | 184 | 4/4 | N | Y | Foxtrot | 54 | 3k |
| I Love How You Love Me | 64 | 4/4 | N | Y | 6-8ModernEP | 34 | 74 |
| I Love Paris | 144 | 4/4 | N | Y | ILoveParis | 48 | 3k |
| I Love You Because | 72 | 4/4 | N | Y | 12-8Ballad | 49 | 3k |
| I'm Confessin' (That I Love You) | 76 | 4/4 | N | Y | ArmWaver | 01 | 74 |
| I'm Gonna Sit Write Down And Write Myself A Letter | 118 | 4/4 | N | Y | MediumJazz | 27 | 74 |
| I'm In The Mood For Love | 70 | 4/4 | N | Y | Slow41*G1.0 | 10 | 74 |
| I'm Looking Over A Four Leaf Clover | 210 | 4/4 | N | Y | Ragtime | 32 | 74 |
| Impossible Dream | 58 | 4/4 | N | Y | 6-8SlowOrchBld1 | 03 | 74 |
| Impossible Dream | 58 | 4/4 | N | Y | 6-8SlowBallad1 | 38 | 3k |
| I'm So Lonesome I Could Cry | 92 | 4/4 | N | Y | 6/8Ballad1 | 04 | 74 |
| I'm So Lonesome I Could Cry | 82 | 4/4 | N | Y | | 52 | 3k |
| I'm Sorry | 69 | 4/4 | N | Y | I'mSorry | 18 | 74 |
| I'm Walkin' | 110 | 4/4 | N | Y | I'mWalkin | 17 | 74 |
| In Munchen Steht Ein Hofbrauhaus | 128 | 4/4 | N | Y | PolkaOberkrainer | 09 | 74 |
| Innamorata | 100 | 4/4 | N | Y | 8BeatAdria | 05 | 74 |
| Innamorata | 100 | 4/4 | N | Y | 8BeatAdria | 48 | 3k |
| In The Mood | 168 | 4/4 | N | Y | In The Mood | 60 | 3k |
| In The Mood | 168 | 4/4 | N | Y | InTheMood1 | 62 | 3k |
| In The Still Of The Night | 64 | 4/4 | N | Y | 6-8ModernEP | 22 | 74 |
| In The Still Of The Night | 60 | 4/4 | N | Y | WhenaMan | 29 | 74 |
| In The Still Of The Night | 72 | 4/4 | N | Y | 6-8SlowRock1 | 56 | 3k |
| In The Still Of The Night | 72 | 4/4 | N | Y | 6-8SlowRock1 | 57 | 3k |
| I Only Have Eyes For You | 65 | 4/4 | N | Y | DeepEmotion | 19 | 74 |
| I Saw Her Standing There | 195 | 4/4 | N | Y | BillHaley | 28 | 74 |
| I Saw Her Standing There | 80 | 4/4 | N | Y | RockTheJoint | 37 | 3k |
| It Had To Be You | 120 | 4/4 | N | Y | HitParadeWhoK2 | 06 | 74 |
| It Must Be Him | 116 | 4/4 | N | Y | Rhumba2 | 23 | 74 |
| It's A Small World | 125 | 4/4 | N | Y | Broadway*E86 | 13 | 74 |
| It's A Small World | 135 | 4/4 | N | Y | Showtune | 55 | 3k |
| It's Been A Long Long Time | 82 | 4/4 | N | Y | 40sBigBand | 01 | 74 |
| It's Been A Long, Long Time | 82 | 4/4 | N | Y | 40'sBigBand | 61 | 3k |
| Cherry Pink And Apple Blossom White | 132 | 4/4 | N | Y | RockRoll1 | 35 | 3k |
| It's No Secret What God Can Do | 76 | 4/4 | N | Y | ArmWaver | 14 | 74 |
| It's Now Or Never | 122 | 4/4 | N | Y | NowOrNever | 20 | 74 |
| It's Now Or Never | 113 | 4/4 | N | Y | Beguine | 42 | 3k |
| It's Only A Paper Moon | 130 | 4/4 | N | Y | BigBand1 | 26 | 74 |
| I Walk The Line | 105 | 4/4 | N | Y | CountryPop | 04 | 74 |
| I Walk The Line | 120 | 4/4 | N | Y | JohnnyCash | 47 | 3k |
| I Want A Girl | 180 | 4/4 | N | Y | Dixieland | 21 | 74 |
| I Want You, I Need You, I Love You | 72 | 4/4 | N | Y | | 50 | 3k |
| I Wish You Love | 105 | 4/4 | N | Y | JazzTrio | 21 | 74 |
| I Wonder Why | 174 | 8/4 | N | Y | | 01 | 74 |
| Jalisco | 121 | 2/4 | N | Y | LaGaloppata | 49 | 3k |
| Jalisco | 121 | 2/4 | N | Y | | 51 | 3k |
| Jamaica Farewell | 105 | 4/4 | N | Y | Kingston | 17 | 74 |
| Jambalaya | 115 | 4/4 | N | Y | JambaG*13 | 17 | 74 |
| Jambalaya | 94 | 4/4 | N | Y | 2XJAMBAL | 41 | 3k |
| Jealous Heart | 100 | 4/4 | N | Y | SONDAGO13 | 04 | 74 |
| Jingle Bells | 190 | 4/4 | N | Y | Tinkle*K2 | 11 | 74 |
| Jingle Bells | 152 | 4/4 | N | Y | Jingle | 39 | 3k |
| Jingle Bells | 175 | 4/4 | N | Y | JingleBells | 46 | 3k |
| Johnny Be Good | 170 | 4/4 | N | Y | RockRoll1 | 35 | 3k |
| Joy To The World | 116 | 4/4 | N | Y | Xmas02 | 11 | 74 |
| Joy To The World | 200 | 4/4 | N | Y | Christ4_4 | 39 | 3k |
| Joy To The World | 98 | 4/4 | N | Y | Chiristmas2 | 46 | 3k |
| Just A Closer Walk With Thee | 76 | 4/4 | N | Y | ArmWaver | 14 | 74 |
| Just A Dream | 80 | 4/4 | N | Y | 12-8Ballad | 54 | 3k |
| Just Because | 220 | 4/4 | N | Y | 16BeatBallad1 | 35 | 3k |
| Kufsteinlied | 192 | 3/4 | N | Y | WaltzOberkrainer | 09 | 74 |
| Kuschel Dich In Meine Arme | 132 | 4/4 | N | Y | ChaCha | 09 | 74 |
| Kuschel Dich In Meine Arme | 128 | 4/4 | N | Y | ChaChaCha | 44 | 3k |
| La Altenitas | 150 | 4/4 | N | Y | PopBossa1 | 58 | 3k |
| La Cucaracha | 90 | 4/4 | N | Y | RumbaFlamenca | 36 | 3k |
| La Paloma | 110 | 4/4 | N | Y | Mariachi | 26 | 74 |
| Lara's Theme | 100 | 3/4 | N | Y | 50sWaltz | 17 | 74 |
| Last Waltz | 125 | 3/4 | N | Y | Simple Waltz 125 | 60 | 3k |
| Latin Medley | 105 | 4/4 | N | Y | Bolero | 32 | 74 |
| La Vie En Rose | 73 | 4/4 | N | Y | 70sBallad | 43 | 3k |
| Learnin' The Blues | 100 | 4/4 | N | Y | BigBandMid2 | 05 | 74 |
| Let Me Go Lover | 92 | 4/4 | N | Y | 8BeatModern | 24 | 74 |
| Limbo Rock | 88 | 4/4 | N | Y | Limbo1*G1.0 | 08 | 74 |
| Linda | 100 | 4/4 | N | Y | BigBand | 31 | 74 |
| Lisbon Antigua | 120 | 4/4 | N | Y | Tango1 | 10 | 74 |
| Little Brown Jug | 158 | 4/4 | N | Y | BrJug3&4 | 03 | 74 |
| Little Darlin' | 120 | 4/4 | N | Y | PopRock | 25 | 74 |
| Little Drummer Boy | 99 | 4/4 | N | Y | MovieBallad | 11 | 74 |
| Little Things Mean A Lot | 72 | 4/4 | N | Y | 12-8Ballad | 54 | 3k |
| Lonely Street | 76 | 4/4 | N | Y | ArmWaver | 05 | 74 |
| Lone Ranger Theme | 124 | 4/4 | N | Y | PopClassics | 37 | 3k |
| Lord's Prayer | 71 | 4/4 | N | Y | The PianoA | 60 | 3k |
| The Lord's Prayer | 71 | 4/4 | N | Y | ThePianoA | 62 | 3k |
| Love Is A Many Splendored Thing | 80 | 4/4 | N | Y | DeepEmotion | 19 | 74 |
| Love Is A Many Splendored Thing | 73 | 4/4 | N | Y | 6-8SlowRock1 | 61 | 3k |
| Loveliest Night Of The Year, The | 110 | 3/4 | N | Y | GuitarWaltz | 10 | 74 |
| Loveliest Night Of The Year, The | 90 | 3/4 | N | Y | | 55 | 3k |
| Love Me Like You Used To | 90 | 4/4 | N | Y | Ctry11*G1.0 | 08 | 74 |
| Love Me Tender | 88 | 4/4 | N | Y | CpuntryPop1 | 59 | 3k |
| Loving You | 66 | 4/4 | N | Y | AcousticJazz | 35 | 3k |
| Loving You | 68 | 4/4 | N | Y | | 50 | 3k |
| Lucille | 140 | 3/4 | N | Y | CountryWaltz | 42 | 3k |
| Lullaby Of Birdland | 115 | 4/4 | N | Y | JazzTrio | 32 | 74 |
| Mack The Knife | 120 | 4/4 | N | Y | Organ-Brian | 08 | 74 |
| Ma, He's Making Eyes At Me | 144 | 4/4 | N | Y | Foxtrot | 13 | 74 |
| Make Love To Me | 124 | 4/4 | N | Y | FoxTrot | 30 | 74 |
| Make The World Go Away | 72 | 4/4 | N | Y | 12-8Ballad | 62 | 3k |
| Mame | 160 | 4/4 | N | Y | JazVocals | 60 | 3k |
| Manana | 112 | 4/4 | N | Y | Calypso | 51 | 3k |
| Manuela | 110 | 4/4 | N | Y | PianoRhumba | 27 | 74 |
| Man Without Love, A | 108 | 4/4 | N | Y | OrganSwing | 43 | 3k |
| Maria Elena | 85 | 4/4 | N | Y | | 51 | 3k |
| Marie | 174 | 8/4 | N | Y | GlennMiller | 24 | 74 |
| Marie | 186 | 4/4 | N | Y | BigBandFast2 | 38 | 3k |
| Marina | 122 | 4/4 | N | Y | SommerSch3 | 27 | 74 |
| Mary Ann | 122 | 4/4 | N | Y | | 51 | 3k |
| Mary Had A Little Lamb | 125 | 4/4 | N | Y | Rumba | 43 | 3k |
| Marylou | 181 | 4/4 | N | Y | Marylong*13 | 18 | 74 |
| Me And Bobby Mcgee | 150 | 4/4 | N | Y | CowboyBoogie | 29 | 74 |
| Me And Bobby Mcgee | 80 | 4/4 | N | Y | RockTheJoint | 37 | 3k |
| Meditation | 120 | 4/4 | N | Y | GuitarBossa | 31 | 74 |
| Meditation | 152 | 4/4 | N | Y | Junc5&6 | 35 | 3k |
| Me Faltas Tu | 100 | 4/4 | N | N | Bolero | 27 | 74 |
| Melancholy Baby | 126 | 4/4 | N | Y | | 55 | 3k |
| Me Lo Dijo Adela | 131 | 4/4 | N | Y | ChaChaCha | 29 | 74 |
| Melody Of Love | 90 | 3/4 | N | Y | SlowWaltz1#139 | 31 | 74 |
| Memories (Cats) | 76 | 4/4 | N | Y | PianoStringBallad | 24 | 74 |
| Memories Are Made Of This | 105 | 4/4 | N | Y | BoleroBr | 20 | 74 |
| Mexicali Rose | 105 | 4/4 | N | Y | Bolero2 | 42 | 3k |
| Mexican Medley | 125 | 4/4 | N | Y | Mexican | 32 | 74 |
| Mona Lisa | 70 | 4/4 | N | Y | MediumJazz | 16 | 74 |
| Moonglow | 110 | 4/4 | N | Y | CoolJazz | 33 | 74 |
| Moonlight Cocktail | 85 | 4/4 | N | Y | CocktailK2 | 18 | 74 |
| Moonlight Serenade | 74 | 4/4 | N | Y | Moonlight5&6 | 03 | 74 |
| Moonlight Serenade | 74 | 4/4 | N | Y | MoonlightBallad | 42 | 3k |
| More | 108 | 4/4 | N | Y | Rumba | 59 | 3k |
| Music Box Dancer | 122 | 4/4 | N | Y | Pasodoble | 12 | 74 |
| Music, Music, Music, | 200 | 4/4 | N | Y | Quickstep | 24 | 74 |
| Music, Music, Music | 200 | 4/4 | N | Y | MusicMusicMusic | 58 | 3k |
| Mustafa | 132 | 4/4 | N | Y | OrchBallad | 33 | 74 |
| Mustafa | 132 | 4/4 | N | Y | ChaChaCha | 48 | 3k |
| My Foolish Heart | 76 | 4/4 | N | Y | ArmWaver | 40 | 3k |
| My Happiness | 76 | 4/4 | N | Y | ArmWaver | 34 | 74 |
| My Happiness | 72 | 4/4 | N | Y | 12-8Ballad | 47 | 3k |
| My Heart Cries For You | 87 | 3/4 | N | Y | GuitarWaltz | 06 | 74 |
| My Heart Cries For You | 146 | 3/4 | N | Y | TraditionalWaltz | 54 | 3k |
| My Heart Reminds Me | 72 | 4/4 | N | Y | 12-8Ballad | 59 | 3k |
| My Kind Of Girl | 150 | 4/4 | N | Y | FastShuff | 62 | 3k |
| My Melody Of Love | 114 | 4/4 | N | Y | Polka1#162 | 31 | 74 |
| My Special Prayer | 100 | 4/4 | N | Y | Cool8Beat | 52 | 3k |
| My Way | 80 | 4/4 | N | Y | SecretService | 28 | 74 |
| My Way | 92 | 4/4 | N | Y | BigBandMed2 | 36 | 3k |
| My Way | 72 | 4/4 | N | Y | 12-8Ballad | 48 | 3k |
| My Wild Irish Rose | 87 | 3/4 | N | Y | GuitarWaltz | 08 | 74 |
| Nach Hause Geh'n Wir Nicht | 172 | 3/4 | N | Y | WaltzOberkrainer | 09 | 74 |
| Nearness Of You, The | 72 | 4/4 | N | Y | OrchBallad | 34 | 74 |
| Nearness Of You, The | 72 | 4/4 | N | Y | 6-8SlowRock1 | 37 | 3k |
| Never On Sunday | 128 | 4/4 | N | Y | ChaChaCha | 60 | 3k |
| Nevertheless | 72 | 4/4 | N | Y | 12-8Ballad | 57 | 3k |
| New World SYmphony | 72 | 4/4 | N | Y | 12-8Ballad | 58 | 3k |
| New World Theme | 76 | 4/4 | N | Y | PianStrBld | 07 | 74 |
| Nikita | 78 | 4/4 | N | Y | PianoOrchBallad | 22 | 74 |
| Nikita | 79 | 4/4 | N | Y | SchlagerPolka | 44 | 3k |
| Noche De Ronda | 92 | 4/4 | N | Y | BlackOrpheus | 10 | 74 |
| No Not Much | 76 | 4/4 | N | Y | ArmWaver | 33 | 74 |
| Non Si Vive Cose | 120 | 4/4 | N | Y | Bolero | 18 | 74 |
| No One Will Ever Know | 126 | 4/4 | N | Y | CountryShuffle | 63 | 3k |
| Nostalgie | 108 | 4/4 | N | Y | Latin | 05 | 74 |
| Now Is The Hour | 90 | 3/4 | N | Y | Now Is The Hour | 60 | 3k |
| Oct Fest Trompetenecho | 128 | 4/4 | N | Y | | 55 | 3k |
| Octoberfest Waltzes | 184 | 3/4 | N | Y | SchlagerPolka | 44 | 3k |
| Oh, Lonesome Me | 143 | 4/4 | N | Y | TapDanceSwing | 43 | 3k |
| Oh, What It Seemed To Be | 75 | 4/4 | N | Y | LoungePiano | 01 | 74 |
| Oh, You Beautiful Doll | 120 | 4/4 | N | Y | 30sBigBand | 01 | 74 |
| Oktoberfest Medley | 192 | 3/4 | N | Y | OberkrainerWaltz | 33 | 74 |
| Oktoberfest Medley | 130 | 4/4 | N | Y | SchlagerPolka | 44 | 3k |
| Oktoberfest Waltz | 176 | 3/4 | N | Y | DKWaltz | 09 | 74 |
| Oktoberfest Waltzes | 180 | 3/4 | N | Y | TraditionalWaltz | 44 | 3k |
| Old Rugged Cross | 76 | 4/4 | N | Y | ArmWaver | 14 | 74 |
| On A Clear Day | 120 | 4/4 | N | Y | OrchestraFox | 27 | 74 |
| On A Clear Day | 125 | 4/4 | N | Y | JazzBosas | 47 | 3k |
| Once In A While | 92 | 4/4 | N | Y | 8BeatModern | 10 | 74 |
| Once In A While | 100 | 4/4 | N | Y | MediumJazz | 28 | 74 |
| Only You | 74 | 4/4 | N | Y | OnlyYou | 17 | 74 |
| Only You | 72 | 4/4 | N | Y | 6-8SlowRock1 | 38 | 3k |
| On Moonlight Bay | 158 | 4/4 | N | Y | Christmas Swing | 63 | 3k |
| On The Street Where You Live | 120 | 4/4 | N | Y | OnTheStreet | 18 | 74 |
| On The Sunny Side Of The Street | 118 | 4/4 | N | Y | BigBandMid2 | 21 | 74 |
| O Sole Mio | 108 | 4/4 | N | Y | Rumba | 61 | 3k |
| O Sole Mio | 108 | 4/4 | N | Y | Rumba | 63 | 3k |
| Over There | 110 | 4/4 | N | Y | ArmWaver | 16 | 74 |
| Patricia | 128 | 4/4 | N | Y | Patricia | 12 | 74 |
| Patricia | 125 | 4/4 | N | Y | BBLAT1&2 | 41 | 3k |
| Peg O' My Heart | 75 | 4/4 | N | Y | SlowRock1 | 19 | 74 |
| Peg O' My Heart | 72 | 4/4 | N | Y | 6-8SlowRock1 | 37 | 3k |
| Pennies From Heaven | 130 | 4/4 | N | Y | Bolero | 21 | 74 |
| Pennsylvania Polka | 114 | 4/4 | N | Y | Polka1#162 | 31 | 74 |
| People Will Say We're In Love | 130 | 4/4 | N | Y | BigBandMid2 | 27 | 74 |
| Perfidia | 128 | 4/4 | N | Y | ChaChaCha | 42 | 3k |
| Play A Simple Melody | 163 | 4/4 | N | Y | CountryStrol | 60 | 3k |
| Play Born To Lose Again | 94 | 4/4 | N | Y | EasyBallad | 61 | 3k |
| Pledging My Love | 66 | 4/4 | N | Y | 6-8SlowRock | 56 | 3k |
| Poet And Peasant Theme | 140 | 3/4 | N | Y | ViennaWaltz | 29 | 74 |
| Poor People Of Paris | 146 | 4/4 | N | Y | S-109 | 43 | 3k |
| Prayer To St Francis | 120 | 4/4 | N | Y | SlowShuff | 02 | 74 |
| Prayer To St Francis | 112 | 4/4 | N | Y | Rhumba | 14 | 74 |
| Prayer To St Francis | 113 | 4/4 | N | Y | Beguine | 36 | 3k |
| Proud Mary | 130 | 4/4 | N | Y | ProudMary | 20 | 74 |
| Put Your Arms Around Me Honey | 144 | 4/4 | N | Y | Foxtrot | 13 | 74 |
| Quando Quando Quando | 128 | 4/4 | N | Y | ChaChaCha | 59 | 3k |
| Quiereme Mucho | 105 | 4/4 | N | Y | BoleroBr | 29 | 74 |
| Quiereme Mucho | 108 | 4/4 | N | Y | Rumba | 48 | 3k |
| Quiet Village | 105 | 8/4 | N | Y | Rhumba2 | 23 | 74 |
| Quiet Village | 114 | 8/4 | N | Y | Rhumbx | 57 | 3k |
| Quizas, Quizas, Quizas | 108 | 4/4 | N | Y | Rumba | 61 | 3k |
| Red River Valley | 160 | 4/4 | N | Y | CntrySing-a-Long | 56 | 3k |
| Religious Medley | 71 | 4/4 | N | Y | | 51 | 3k |
| Return To Me | 113 | 4/4 | N | Y | Beguine | 42 | 3k |
| Return To Me, Arrivederci Roma | 100 | 4/4 | N | Y | 8BeatAdria | 24 | 74 |
| Rhythm Of The Rain | 121 | 4/4 | N | Y | Rhythm Of The Rain | 59 | 3k |
| Riders In The Sky | 120 | 4/4 | N | Y | Bluegrass | 04 | 74 |
| Riders In The Sky | 120 | 4/4 | N | Y | GhostRidersintheSky | 41 | 3k |
| Ring Of Fire | 105 | 4/4 | N | Y | CountryPop | 34 | 74 |
| Rock Around The Clock | 195 | 4/4 | N | Y | BillHaley | 17 | 74 |
| Rockin' Around The Christmas Tree | 138 | 4/4 | N | Y | CountryShuffle | 39 | 3k |
| Rudolph The Red Nosed Reindeer | 162 | 4/4 | N | Y | Rudolph | 11 | 74 |
| Rudolph The Red Nosed Reindeer | 190 | 4/4 | N | Y | CountryShuffle | 39 | 3k |
| Rudolph The Red Nosed Reindeer | 158 | 4/4 | N | Y | RudolphClassic | 46 | 3k |
| Runaway | 151 | 4/4 | N | Y | | 52 | 3k |
| Sabor A Mi | 113 | 4/4 | N | Y | Beguine | 37 | 3k |
| San Antonio Rose | 204 | 4/4 | N | Y | Jive | 06 | 74 |
| San Antonio Rose | 160 | 4/4 | N | Y | CntrySing-a-Long | 56 | 3k |
| Santa Bring Baby Back To Me | 180 | 4/4 | N | Y | DrivingHome4Xmas | 46 | 3k |
| Santa Claus Is Coming To Town | 184 | 4/4 | N | Y | ChristmasSwing | 11 | 74 |
| Santa Claus Is Coming To Town | 157 | 4/4 | N | Y | Christ4_4 | 39 | 3k |
| Santa Claus Is Coming To Town | 157 | 4/4 | N | Y | ChristmasSwing | 46 | 3k |
| Satin Doll | 100 | 4/4 | N | Y | LoungePiano | 23 | 74 |
| Save The Last Dance For Me | 128 | 4/4 | N | Y | ChaChaCha | 53 | 3k |
| Seaman | 112 | 4/4 | N | Y | Rhumba | 12 | 74 |
| Sentimental Journey | 82 | 4/4 | N | Y | 40sBigBand | 01 | 74 |
| Sentimental Journey | 82 | 4/4 | N | Y | MidnightSwing | 57 | 3k |
| September In The Rain | 118 | 4/4 | N | Y | MediumJazz | 30 | 74 |
| September In The Rain | 160 | 4/4 | N | Y | JazzVocals | 48 | 3k |
| September In The Rain | 160 | 4/4 | N | Y | JazzVocals | 57 | 3k |
| September In The Rain Jazzy | 118 | 4/4 | N | Y | Marc*G1.0 | 16 | 74 |
| Seven Lonely Days | 120 | 4/4 | N | Y | Jive#123 | 25 | 74 |
| Shake Rattle And Roll | 195 | 4/4 | N | Y | BillHaley | 17 | 74 |
| Shake Rattle And Roll | 80 | 4/4 | N | Y | | 54 | 3k |
| She'll Be Coming 'Round The Mountain | 118 | 4/4 | N | Y | Banjo&Fiddle | 45 | 3k |
| Siboney | 108 | 4/4 | N | Y | Rumba | 41 | 3k |
| Side By Side | 120 | 4/4 | N | Y | 30sBigBand | 12 | 74 |
| Silent Night | 90 | 3/4 | N | Y | XmasNight | 11 | 74 |
| Silent Night | 74 | 3/4 | N | Y | ChristmasWaltz | 39 | 3k |
| Silent Night | 74 | 3/4 | N | Y | ChristmasWaltz | 46 | 3k |
| Silver Bells | 120 | 3/4 | N | Y | XmasNight | 26 | 74 |
| Silver Bells | 80 | 3/4 | N | Y | CountryWaltz | 39 | 3k |
| Silver Bells | 90 | 3/4 | N | Y | ChristmasWaltz | 46 | 3k |
| Since I Met You Baby | 99 | 4/4 | N | Y | CountryBrush | 22 | 74 |
| Since I Met You Baby | 72 | 4/4 | N | Y | 6-8SlowRock1 | 56 | 3k |
| Sincerely | 66 | 4/4 | N | Y | 6-8Slow | 57 | 3k |
| Singing In The Rain | 125 | 4/4 | N | Y | TapDanceSwing | 16 | 74 |
| Sixteen Candles | 70 | 4/4 | N | Y | WhenaMan | 28 | 74 |
| Sleep Walk | 72 | 4/4 | N | Y | 12-8Ballad | 59 | 3k |
| Smile | 80 | 4/4 | N | Y | SecretService | 57 | 3k |
| Solamente Una Vez | 105 | 4/4 | N | Y | MediumJazz | 21 | 74 |
| Soldier Boy | 84 | 4/4 | N | Y | 6-8ModernEP | 22 | 74 |
| Soldier Boy | 80 | 4/4 | N | Y | 6-8SlowRock1 | 53 | 3k |
| Somebody Else Is Taking My Place | 80 | 4/4 | N | Y | JazzBallad | 03 | 74 |
| Somebody Else Is Taking My Place | 72 | 4/4 | N | Y | BluesBallad | 47 | 3k |
| Something Stupid | 125 | 4/4 | N | Y | Chac11*G1.0 | 26 | 74 |
| Somewhere My Love | 100 | 3/4 | N | Y | TraditionalWaltz | 49 | 3k |
| Song For Guy | 92 | 4/4 | N | Y | | 51 | 3k |
| Song From Moulin Rouge | 80 | 4/4 | N | Y | SecretService | 05 | 74 |
| Song Sung Blue | 114 | 8/4 | N | Y | Rhumba | 06 | 74 |
| Song Sung Blue | 125 | 4/4 | N | Y | TapDanceSwing | 36 | 3k |
| So Nice | 130 | 4/4 | N | Y | Bossa1 | 23 | 74 |
| Sound Of Music | 76 | 4/4 | N | Y | PianoStringBallad | 23 | 74 |
| Sound Of Music | 76 | 4/4 | N | Y | PianoStrBld | 30 | 74 |
| Sound Of Music | 72 | 4/4 | N | Y | 12-8Ballad | 38 | 3k |
| The Sound Of Music | 71 | 4/4 | N | Y | ThePianoA | 62 | 3k |
| South Of The Border | 120 | 4/4 | N | Y | Bolero | 16 | 74 |
| So What's New | 122 | 4/4 | N | Y | BBWhatsNew | 21 | 74 |
| Stand By Me | 122 | 4/4 | N | Y | ChaCha01 | 57 | 3k |
| Stand By Your Man | 106 | 4/4 | N | Y | Shuffle1 | 16 | 74 |
| Stardust | 70 | 4/4 | N | Y | DeepEmotion | 02 | 74 |
| Stardust | 72 | 4/4 | N | Y | 6-8SlowRock | 45 | 3k |
| Stardust | 64 | 4/4 | N | Y | Stardust | 56 | 3k |
| Steel Guitar Rag | 150 | 4/4 | N | Y | Bluegrass | 38 | 3k |
| St Louis Blues | 75 | 4/4 | N | Y | LoungePiano | 05 | 74 |
| St Louis Blues | 86 | 4/4 | N | Y | Blue_EL | 56 | 3k |
| Strangers In The Night | 105 | 4/4 | N | Y | BoleroBr | 20 | 74 |
| Sukiyaki | 67 | 4/4 | N | Y | PopBallad | 08 | 74 |
| Summer Place, A | 72 | 4/4 | N | Y | 6-8SlowRock1 | 37 | 3k |
| Summer Wind | 101 | 4/4 | N | Y | BigBand1 | 24 | 74 |
| Sunshine On My Shoulders | 105 | 4/4 | N | Y | Bolero2 | 28 | 74 |
| Susie Darlin | 120 | 4/4 | N | Y | | 53 | 3k |
| Sweet And Gentle | 137 | 8/4 | N | Y | ChaCha | 06 | 74 |
| Sweet And Gentle | 128 | 4/4 | N | Y | Patricia | 13 | 74 |
| Sweet Dreams | 123 | 4/4 | N | Y | Clubdance | 34 | 74 |
| Take My Hand Precious Lord | 65 | 4/4 | N | Y | DeepEmotion | 14 | 74 |
| Take These Chains From My Heart | 100 | 4/4 | N | Y | | 52 | 3k |
| Tales From The Vienna Woods | 181 | 3/4 | N | Y | | 51 | 3k |
| Tammy | 80 | 3/4 | N | Y | SlowWaltz1#139 | 31 | 74 |
| Tavern In The Town | 118 | 4/4 | N | Y | Banjo&Fiddle | 57 | 3k |
| Tea For Two | 131 | 4/4 | N | Y | FlyMeMoon | 19 | 74 |
| Tea For Two | 128 | 4/4 | N | Y | ChaChaCha | 41 | 3k |
| Tears On My Pillow | 72 | 4/4 | N | Y | 6-8SlowRock1 | 37 | 3k |
| Teddy Bear | 173 | 4/4 | N | Y | TeddyBear | 47 | 3k |
| Tenderly | 80 | 4/4 | N | Y | JazzBallad | 02 | 74 |
| Tennessee Waltz | 90 | 3/4 | N | Y | StandardWaltz | 26 | 74 |
| Texas When I Die | 80 | 4/4 | N | Y | Country2-4 | 08 | 74 |
| That's All Right | 144 | 4/4 | N | Y | Shuffle | 48 | 3k |
| That's Amore | 88 | 6/8 | N | Y | ThatsAmore | 34 | 74 |
| That's Amore | 176 | 3/4 | N | Y | ItalianWaltz | 45 | 3k |
| There's A Tavern In The Town | 178 | 4/4 | N | Y | Country1 | 16 | 74 |
| There's A Tear In My Beer | 176 | 4/4 | N | Y | Rock&Roll2 | 52 | 3k |
| There's No Business Like Show Business | 135 | 4/4 | N | Y | Showtune | 07 | 74 |
| There's No Business Like Show Business | 135 | 4/4 | N | Y | Showtune | 53 | 3k |
| Third Man Theme | 184 | 4/4 | N | Y | Foxtrot | 10 | 74 |
| Third Man Theme | 146 | 4/4 | N | Y | S__00109 | 45 | 3k |
| This Is My Song | 72 | 4/4 | N | Y | 12-8Ballad | 50 | 3k |
| This Old House | 176 | 4/4 | N | Y | Jive | 27 | 74 |
| Thousand Stars, A | 64 | 4/4 | N | Y | 6-8ModernEP | 22 | 74 |
| Thousand Stars, A | 60 | 4/4 | N | Y | PianoStringBallad | 29 | 74 |
| Thousand Stars, A | 72 | 4/4 | N | Y | 6-8SlowRock1 | 36 | 3k |
| Tijuana Taxi | 200 | 4/4 | N | Y | Tijuana | 47 | 3k |
| Till | 76 | 4/4 | N | Y | PianoStrBld | 12 | 74 |
| Till We Meet Again | 87 | 3/4 | N | Y | GuitarWaltz | 20 | 74 |
| Till We Meet Again | 90 | 4/4 | N | Y | ChristmasWaltz | 63 | 3k |
| Time After Time | 72 | 4/4 | N | Y | 12-8Ballad | 53 | 3k |
| Tiny Bubbles | 100 | 4/4 | N | Y | Hawaiian | 23 | 74 |
| Tiny Bubbles | 100 | 4/4 | N | Y | Hawaiian | 52 | 3k |
| To All The Girls I've Loved Before | 105 | 4/4 | N | Y | Bolero | 36 | 3k |
| To All The Girls I've Loved Before | 72 | 4/4 | N | Y | CountryBallad | 58 | 3k |
| To Know Him Is To Love Him | 73 | 4/4 | N | Y | 6-8SlowRock | 61 | 3k |
| Too Fat Polka | 128 | 4/4 | N | Y | PolkaOberkrainer | 25 | 74 |
| Tosselli Serenade | 90 | 3/4 | N | Y | EnglishWaltz | 49 | 3k |
| Treat Me Nice | 168 | 8/4 | N | Y | Rock&Roll | 29 | 74 |
| Treat Me Nice | 167 | 4/4 | N | Y | | 54 | 3k |
| Try To Remember | 68 | 4/4 | N | Y | SlowBallad | 22 | 74 |
| Tulsa Time | 120 | 4/4 | N | Y | BluesRock | 49 | 3k |
| Turn Around Look At Me | 80 | 4/4 | N | Y | 90PopBld3 | 34 | 74 |
| Turn Around Look At Me | 72 | 4/4 | N | Y | 6-8SlowRock1 | 40 | 3k |
| Tuxedo Junction | 106 | 4/4 | N | Y | Junc5&6 | 03 | 74 |
| Tuxedo Junction | 106 | 4/4 | N | Y | Dixieland1 | 35 | 3k |
| Tweedle Dee Dee | 200 | 4/4 | N | Y | QuickStep#117 | 25 | 74 |
| Twelfth Of Never | 80 | 4/4 | N | Y | SecretService | 02 | 74 |
| Twelfth Street Rag | 211 | 4/4 | N | Y | Ragtime1 | 12 | 74 |
| Twelve | 166 | 4/4 | N | Y | ComboBoogie | 33 | 74 |
| Twilight Time | 78 | 4/4 | N | Y | Twilight | 17 | 74 |
| Unchained Melody | 66 | 4/4 | N | Y | Slow41 | 22 | 74 |
| Unforgettable | 76 | 4/4 | N | Y | PianoStrBld | 03 | 74 |
| Venus | 105 | 4/4 | N | Y | BoleroBr | 21 | 74 |
| Vielleicht Kann Es Liebe Sein | 92 | 4/4 | N | Y | 8BeatModern | 49 | 3k |
| Volare | 127 | 4/4 | N | Y | RockChaCha | 52 | 3k |
| Wabash Cannon Ball | 110 | 4/4 | N | Y | Bluegrass1 | 42 | 3k |
| Walk Right Back | 200 | 4/4 | N | Y | OrganQuickstep | 33 | 74 |
| Waltz Medley | 176 | 3/4 | N | Y | VienneseWaltz1 | 52 | 3k |
| Wanted | 73 | 4/4 | N | Y | 6-8SlowRock1 | 63 | 3k |
| Wayward Wind | 113 | 4/4 | N | Y | | 50 | 3k |
| Way You Look Tonight, The | 64 | 4/4 | N | Y | 6-8ModernEP | 22 | 74 |
| Welcome To My World | 72 | 4/4 | N | Y | 12-8Ballad | 40 | 3k |
| Wer Sol Dass Bezahlen | 180 | 3/4 | N | Y | GermanWaltz | 09 | 74 |
| What A Difference A Day Makes | 76 | 4/4 | N | Y | | 53 | 3k |
| What A Wonderful World | 65 | 4/4 | N | Y | 6-8SlowRock1 | 54 | 3k |
| When Irish Eyes Are Smiling | 100 | 3/4 | N | Y | OrchWaltz | 08 | 74 |
| When Irish Eyes Are Smiling | 224 | 4/4 | N | Y | Dixieland1 | 48 | 3k |
| When You Wish Upon A Star | 78 | 4/4 | N | Y | PianoBallad | 06 | 74 |
| Where Am I Going To Live | 130 | 4/4 | N | Y | CountrySwing1 | 43 | 3k |
| Where Or When | 112 | 4/4 | N | Y | Rhumba | 05 | 74 |
| White Christmas | 88 | 4/4 | N | Y | WhiteCh*E86 | 11 | 74 |
| White Christmas | 90 | 4/4 | N | Y | ChristmasSwing | 46 | 3k |
| White Silver Sands | 94 | 4/4 | N | Y | LayDownSally | 62 | 3k |
| Who Can I Turn To | 100 | 4/4 | N | Y | BigBandMid2 | 05 | 74 |
| Who Can I Turn To | 94 | 4/4 | N | Y | EasyBallad | 50 | 3k |
| Why Me | 140 | 3/4 | N | Y | CountryWaltz | 43 | 3k |
| Why Me Lord | 120 | 3/4 | N | Y | EnglishWaltz | 49 | 3k |
| Will You Love Me Tomorrow | 128 | 4/4 | N | Y | WillYouStillLoveMe | 45 | 3k |
| Wind Beneath My Wings | 120 | 4/4 | N | Y | ArmWaver | 24 | 74 |
| Winter Wonderland | 125 | 4/4 | N | Y | TapDanceSwing | 39 | 3k |
| Woman In Love, A | 108 | 4/4 | N | Y | Rumba | 55 | 3k |
| Wooden Heart | 170 | 4/4 | N | Y | | 50 | 3k |
| Yellow Bird | 112 | 4/4 | N | Y | YellowBird | 56 | 3k |
| You Always Hurt The One You Love | 126 | 4/4 | N | Y | LoveTyros | 10 | 74 |
| You Are Just In Love | 185 | 4/4 | N | Y | BigBandFast2 | 40 | 3k |
| You Are My Sunshine | 108 | 4/4 | N | Y | CowboyBlues09 | 43 | 3k |
| You Belong To Me | 64 | 4/4 | N | Y | 6-8ModernEP | 30 | 74 |
| You Can Have Her | 80 | 4/4 | N | Y | RocktheJoint | 42 | 3k |
| You Don't Know Me | 70 | 4/4 | N | Y | ArmWaver | 31 | 74 |
| You'll Never Know | 80 | 4/4 | N | Y | ArmWaver | 24 | 74 |
| You'll Never Know | 88 | 4/4 | N | Y | 6-8SlowRock | 61 | 3k |
| You Made Me Love You | 100 | 4/4 | N | Y | 30sBigBand | 33 | 74 |
| You're A Grand Old Flag | 120 | 4/4 | N | Y | March21 | 32 | 74 |
| Your Man | 95 | 4/4 | N | Y | CountrySwing1 | 58 | 3k |
| You Were Meant For Me | 120 | 4/4 | N | Y | 30sBigBand | 30 | 74 |
| You Were Only Fooling | 120 | 4/4 | N | Y | OrchestraFox | 01 | 74 |
---