PSR-S900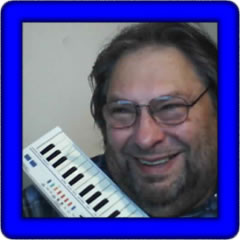 MP3 Songs
My first encounter with the world of electronic organs was in 1964 when I was just 14 and at boarding school in North Wales, it was a Lowrey model S (Berkshire) that was purchased a few years earlier from Wagstaff's in Llandudno. After leaving school, I rejoined my parents who lived in Limassol and I got a job with the MPBW (Ministry of Public Buildings & Works) working at RAF Akrotiri.
During my time in Cyprus with the RAF, I discovered the mighty "tone wheel" instruments from Hammond. I was fascinated by the mechanical tone generators and the sounds that the drawbars could produce. I was hooked, I use to skive off and play with the Hammonds, Compton and Jennings instruments.
On returning to the UK, the owner of a small chain of Organ Shops agreed to take on a keen and enthusiastic non-player as a salesman and I got my first paid job in the music industry at Chingford Organ Studios, the biggest Hammond dealer in the country during the 70's. Whilst I couldn't play very well I could sell organs and eventually moved from Chingford Organs to the Midland Organ Company and eventually became manager of the Smallwood Pianos business Birmingham City Center. Wilst living in the Midlands, I had also acquired my pilots license and became the owner of the flying establishment that I learned at, a new and second career was in the making.
I went on to become a dealer in some major brands such as Conn, Gulbransen, Rodgers and stocked all the popular home organ brands such as Cavendish, Gallanti, Yamaha together with Godwin, Eminent & Solina and Solton. However, by 1982, the back side had fallen out of the home organ business, mainly due to the introduction of the "keyboard" instruments that were being aggressively marketed by major Japanese companies such as Technics and Yamaha. The "home Organ" lost the battle. I went on to pursue a career in aviation as a pilot.
In the early 2000's I rekindled my interest for the organ. I started to trade in tonewheel Hammonds on eBay and then about 2004/5 I borrowed a PSR-3000 from a friend who had gone on holiday. That was it! I became a PSR fanatic. I picked up a second hand PSR-1000 off eBay for a hundred quid or so and then, when they were launched, bought a PSR-S900.
Mike (schrodingers cat)
---