Tyros1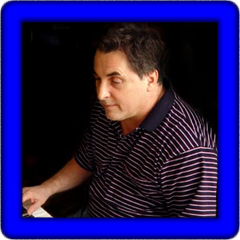 (January, 2005) My name is Alan Paganelli. I was born and raised in East Chicago, Indiana, a small town in the northwest corner of the state in 1948.
I have played professional music starting around the age of 13 years old. I retired in 1981. Although I never went to school to study music, I did take private lessons until I left to travel on the road in 1970 with a band. I cut my teeth on an old Hammond B3 organ. I did some work back in the mid 60's as a concert organist for Hammond organ. This is where I fell in love with the demo concert. People need to hear that music can be, and is, fun to play. It was my job to present that to them. I found that the best way to do that was to make the music easy. Keep the style of playing down to the basics. Let the music speak for itself.
My interests in music span country, pop music of the 30's and 40's, as well as the music of the 50's and 60's. My main focus though is on the 30's and 40's. I retired from playing nightclubs, bars, dances and the like in 1981. From there I didn't do much with music other than playing at home, for my own enjoyment. I went along till around 1992 or so, when I heard about midi. I remember hearing a Yamaha console organ reproduce the entire Glen Miller Orchestra and I fell in love with music all over again.
I started out with a Technics SX G7 organ that wasn't midi capable, but did have a 4-track sequencer, limited as it was. It ran out of memory in short order and you could only play four notes with each hand. Maddening! I next got a Yamaha PSR 6700 keyboard, which had an 8-track sequencer and I learned much more about sequencing. It quickly became obvious I needed a computer. The reason I needed the computer is because I am totally blind and I couldn't read what the screen on my keyboard was telling me. Friends told me that there was special screen reading software that could read what was happening on the screen. It took the next several years to save up the money to buy my first computer.
I went along without general midi for several more years. Finally, in 1997, I decided I wanted to share my music with my friends, but I needed a general midi instrument. I wound up trading the Technics SX G7 organ and Yamaha keyboard in on a Technics SX-KN3000 general midi keyboard. From there the KN3000 gave way to the Yamaha Tyros. I enjoy the computer and sharing music with other people. The computer lets me play music virtually all around the world with many people. It just blows my mind away when I get an email message from somebody around the world, or from the next town, saying they found one of my songs on the Internet and how much they have enjoyed my work. I find that I enjoy music even more than I did as a professional musician, because I can reach people directly now and on a one to one basis.
Thanks to PSR Tutorial and Tyros World. Being totally blind, I don't know what I would do without the help of the members of this group as well as the Tyros World group. As you may know, the Tyros manual, even in PDF format, is not very informative to a blind user with it's graphical examples and instructions making it useless. Fortunately for me, because of the help I have received from a few forward thinkers such as Craig Schiller and Michael Bedesem, I have managed one way or the other. It amazes me that there are such people out there who are willing to go above and beyond just answering a question for another user. Because of such people and others I have had a much greater experience with my Yamaha Tyros. I don't know what I would with out them all. For that reason alone I am happy to be included in your pages as a PSR Performer and on your Arranger Artists CD-ROM.
Many thanks in advance,
Alan Paganelli.
Alan's MIDI Song Index

Alan provided 90 songs in midi format. These were created on the Tyros1. Individual songs are shown in the table below and any one song can be downloaded by right-clicking on the song link. You can download all of the MIDI songs in this file: AP-T1.zip. . The table displays the song title, tempo (T), time signature (TS), lyrics (L), chords (C), where possible, the style used, the original volume (V), and the keyboard used (K).
---