PSR-2000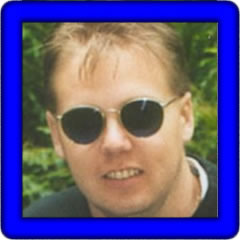 (Jun, 2002) - Paul Jackson lives in Geelong Australia. He is 30 years of age and works for Ford Motor Co. as a Training Facilitator. His hobbies are playing keyboard and golf (although he has been advised to stick to keyboard since he has an 18 handicap as a golfer). Paul likes going to the gym when time permits and is always a happy-go-lucky kind of guy.
Musical Background: My first keyboard was a very small Casio with 1/2 size keys that only had about six styles and just as many voices. I had that keyboard for about five years until my fingers were just too big to play it anymore. So I begged the golden oldies for a new one and upgraded to a Yamaha PSR something. I can't remember the model, but compared to the small Casio, it was like upgrading from a mini minor to a Ferrari. I had that keyboard for about four years, and then, after I joined the work force, I realised I could afford an even better keyboard. One day, when I happened to hear someone playing the Roland E-30, my heart skipped a beat -- I couldn't believe the sound quality that was coming from this keyboard. I had to have me one of these suckers. Then I saw the price tag and my heart skipped another beat: $2,500 Australian. But, I worked my butt off for two months and then went in and bought it. I didn't sleep for week; the only time I came out of my bedroom was to eat and go to work. The rest of the time I was making noise.
I've still got that keyboard. but it never gets used now. I bought a PSR GX76 in June, '01 and this June I bought the PSR-2000. I'm still learning my way around the 2000, but I am having heaps of fun with it. It's so flexible in what you can do with it; it gives you so many options. I've played one gig at a function with a friend of mine who was singing. We have a couple more gigs lined up around some of the clubs in the next month or so, but generally I just play at home for my own amusement. I use the PSR GX76 as the bottom keyboard and use it mainly as a piano since it has 76 keys. I use the PSR-2000 on the top for everything else. (Double Stack arrangement, that way it makes me look professional.hehe). I've never had lessons, and cannot read music, so I play all my songs by ear.
Paul's MIDI Songs

Paul provided 60 songs in midi format. These were created on the PSR-2000 (2k). Individual songs are shown in the table below and any one song can be downloaded by right-clicking on the song link. The table displays the song title, tempo (T), time signature (TS), lyrics (L), chords (C), where possible, the style used, the original volume (V), and the keyboard used (K). Click on this link to download Paul's 60 MIDI songs: PJ-2k.zip.
---