PSR-S910, PSR-3000
MP3 Songs
(Feb, 2009) I live in Arizona with dog who "thinks" he plays keyboard! I've played piano, accordion, organ, guitar thru the years and now play a PSR-3000. I am thoroughly fascinated by all the variety this "one man orchestra" has and have enjoyed sharing and learning with other members of this wonderful PSR Tutorial!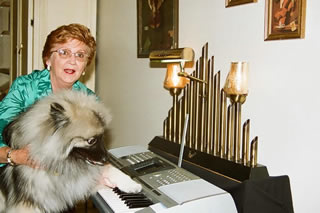 I was active in the exciting years of The Accordion Orchestras, participating with Pietro Deiro, Charles Magnante in New York and Palmer-Hughes duo from the University of Houston. I studied in Minnesota where my "unknown future husband" was a partner in a music studio. After marriage, we did some entertaining and started our own music studio in Owatonna, Minnesota. Now 53 years later, I'm still working for "that man!"
Note: in 2010, Gloria upgraded to the PSR-S910. - JW
Gloria's MIDI Song Index

Gloria has provided 30 songs in midi format. These were created on the PSR-3000 (3k) or the PSR-S910 (91). Individual songs are shown in the table below and any one song can be downloaded by right-clicking on the song link. Download all of Gloria's MIDI files here: GH-3k-91.zip. The table displays the song title, tempo (T), time signature (TS), lyrics (L), chords (C), where possible, the style used, the original volume (V), and the keyboard used (K).
---