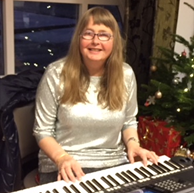 Latest Songs
Perhaps Perhaps Perhaps (1/16) Genos

Marching Out The Vaccine © (1/6) Genos - The vaccine against covid-19 is getting to more and more people and countries are collaborating. This makes me happy, so I made my first march ever!

Pebble In My Shoe © (11/26) Genos - Me and my dogs were on a walk when I suddenly felt a PEBBLE in my shoe and there was no place where I could sit down to take off the shoe and shake the little devil out. So I limped along, and this little melody began to play in my head, taking my mind off the nuisance. Played with a preset ChaCha style.

The Troll's Stomp Dance (11/2) Genos - The live in the forests or deep in the mountains in Norway. They are gigantic and ugly, and they don't like htrollsumans. But even trolls like to dance. Because they are so heavy and clumsy they can only stomp, making the ground shake. So I made them a melody they can dance to, hoping that will bring them in a better mood, with a style converted from another keyboard.

Dominique (9/30) Genos - I recorded this instrumental on my Genos using a show tune style. The composer, Jeanine Deckers, The Singing Nun, was popular all over the world.

Sail Along Silvery Moon (9/23) Genos - I recorded this yesterday using a style that had the title of the song.

The Postman's Waltz © (9/20) Genos - I made this waltz on my accordion in 1972, and yesterday I adapted it for my Genos, using a country waltz style.

My Musical Journey
(Dec, 2017) My name is Toril V. Susegg, I come from Norway and I was born in 1960. We had a farm, but when I was 4 years old, we moved to the town of Trondheim, where I have lived ever since. I have always loved music, and my mother used to sing a lot. No one in my close family played an instrument, but my mother purchased a guitar when I was seven, hoping I would learn to play it. I never did, and my niece got it. But the year after, I heard a boy playing accordion at a school concert, and I was awestruck! I felt something in my heart that is hard to describe, and from that moment I only wanted one thing, an accordion! At Christmas my mother and father made that wish come true, and I can still remember how happy I was! I have played accordion ever since.
I love to make melodies, and call myself an amateur musician and melody maker. I learned songs by listening to them. Except for maybe 10 hours with an accordion teacher I have had no musical education.
In 1990, I purchased my first keyboard, a PSR-47! I made many melodies on that funny little machine, and eventually started to play at birthday and Christmas parties, senior centers, hospitals and such. When I perform, I always play a mix of self made songs and well known songs, and I also read poems and essays that I have written myself.
In September 2003, I purchased my PSR 2100, and this was a huge step upwards for me! With this keyboard I started to play even more for different societies, and it inspired me to make a lot of new tunes! But I only used internal styles. I have extremely low vision, and the screen of the 2100 was difficult for me to see.
In the spring of 2017, I finally decided it was time to look for a new keyboard. While searching on the internet for new Yamaha models, I stumbled upon PSR Tutorial, and was so impressed with all the great and useful features this site can offer that I hurried to become a member. Got my forum profile in May, and have learned more these last months than all previous years on my own. In September 2017, I purchased an audio interface, installed audacity on my computer and started posting songs on the forum. I have no other friends who play keyboard, so it was so exciting to find a lot of people on the forum that I could discuss all things keyboard with! I have received so much help here, and listened to so much outstanding music. Knowing that I had a lot of forum friends that I could turn to, I purchased my new keyboard, an S970 in September 2017, and I want to thank all keyboard enthusiasts in PSR Tutorial for a wonderful community!
Note: in December 2018, a damaged S970 was replaced with a new S975 and Toril also purchased a used Tyros5 and a Genos.
Toril's MP3 Songs - PSR-S975/S970/2100, Tyros5, Genos
Recent songs are in the Jukebox above. The list below includes all of Toril's songs arranged alphabetically by song title. Click on the song title to listen to and/or download the song. Keyboards: (21) PSR-2100, (97) PSR-S970, (98) PSR-S975, (T5) Tyros5, (G1) Genos..