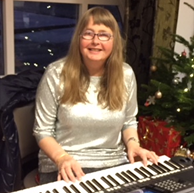 Recent Songs
The Waiting Tree (5/10) PSR-S975 - I made his tune 30 years ago on my funny little PSR-47. I adapted it for modern times just a couple of weeks ago, and played it on my S975.-

Isle Of Capri (4/11) PSR-S975

White Velvet © (2/8) Genos

Promise Of Sunlight © (1/11) Genos

Promise Of Sunlight © (1/11) Genos - an original song created using PianoBallad style.

Forest Lullaby © (10/16) Genos - my newest home made song.

La Golondrina (8/26) Genos

Musical Background
(Dec, 2017) My name is Toril V. Susegg, I come from Norway and I was born in 1960. We had a farm, but when I was 4 years old, we moved to the town of Trondheim, where I have lived ever since. I have always loved music, and my mother used to sing a lot. No one in my close family played an instrument, but my mother purchased a guitar when I was seven, hoping I would learn to play it. I never did, and my niece got it. But the year after, I heard a boy playing accordion at a school concert, and I was awestruck! I felt something in my heart that is hard to describe, and from that moment I only wanted one thing, an accordion! At Christmas my mother and father made that wish come true, and I can still remember how happy I was! I have played accordion ever since.
I love to make melodies, and call myself an amateur musician and melody maker. I learned songs by listening to them. Except for maybe 10 hours with an accordion teacher I have had no musical education.
In 1990, I purchased my first keyboard, a PSR-47! I made many melodies on that funny little machine, and eventually started to play at birthday and Christmas parties, senior centers, hospitals and such. When I perform, I always play a mix of self made songs and well known songs, and I also read poems and essays that I have written myself.
In September 2003, I purchased my PSR 2100, and this was a huge step upwards for me! With this keyboard I started to play even more for different societies, and it inspired me to make a lot of new tunes! But I only used internal styles. I have extremely low vision, and the screen of the 2100 was difficult for me to see.
In the spring of 2017, I finally decided it was time to look for a new keyboard. While searching on the internet for new Yamaha models, I stumbled upon PSR Tutorial, and was so impressed with all the great and useful features this site can offer that I hurried to become a member. Got my forum profile in May, and have learned more these last months than all previous years on my own. In September 2017, I purchased an audio interface, installed audacity on my computer and started posting songs on the forum. I have no other friends who play keyboard, so it was so exciting to find a lot of people on the forum that I could discuss all things keyboard with! I have received so much help here, and listened to so much outstanding music. Knowing that I had a lot of forum friends that I could turn to, I purchased my new keyboard, an S970 in September 2017, and I want to thank all keyboard enthusiasts in PSR Tutorial for a wonderful community!
Note: in December 2018, a damaged S970 was replaced with a new S975 and Toril also purchased a used Tyros5 and a Genos.
Toril's MP3 Songs - PSR-S975/S970/2100, Tyros5, Genos
Recent songs are in the Jukebox above. The list below includes all of Toril's songs arranged alphabetically by song title. Click on the song title to listen to and/or download the song. Keyboards: (21) PSR-2100, (97) PSR-S970, (98) PSR-S975, (T5) Tyros5, (G1) Genos..