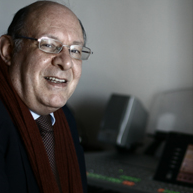 Recent Songs
Schindler's List Theme (8/14) Tyros5

L'indifferenza (3/3) Tyros5

Love Me Tender (10/21) Tyros5

Bilitis (Theme) (8/25) T5

Are You Lonesome Tonight

It's A Jungle Out There (Monk Theme)

Musical Background
(March, 2004) Franco has lived in a little house near Cosenza, exactly in Castrolibero. Now he lives in Cosenza. He's has two daughters from his first marriage. Franco is 59 years old.
Musical Background: I liked classical music since when I was young, I studied classical guitar for two years and after that I studied piano for two years also. When I was 25, I discovered my passion for Yamaha electronic instruments, Electone organs and various keyboards, which are the best in my opinion. I played music for entertainment in private parties and in some hotels until the age of 32. Unfortunately, for personal reasons, I stopped playing for a number of years. Then, at the age of 43, I restarted playing for my own enjoyment (actually I own a Yamaha PSR-6700, a very old keyboard, and a Yamaha PSR-2000, bought 2 years ago). Simultaneously, I discovered my passion for PCs. I programmed using DOS Borland Dbase IV and then I learned the HTML language.
I like melodic musics from the 40s and 50s, and motion picture soundtracks. I hope you will enjoy the music I sent in as my first volume. I'm sorry only because Yamaha's sounds don't work properly if played on a PC. With software, Van Basco's Karaoke Player (http://www.vanbasco.com), this problem is partially resolved (thanks Joe).
Thanks to Joe Waters for the opportunity he gives to all of us. - Franco
Note: Franco moved up to the Tyros2, then the PSR-S750, and now is playing a Tyros5.
Franco's MP3 Song Index
Franco's songs are arranged alphabetically by song title. Click on the song title to listen to and/or download the song. Songs recorded on Tyros5 (T5), PSR-S750 (75), or Tyros2 (T2).
Franco's MIDI Song Index
F
Franco has provided 60 songs in midi format. These were created on the PSR-2000 (2k) or Tyros2 (T2). Individual songs are shown in the table below and any one song can be downloaded by right-clicking on the song link. You can download all of Franco's MIDI songs in this file: FTancredi-60.zip. The table displays the song title, tempo (T), time signature (TS), lyrics (L), chords (C), where possible, the style used, the original volume (V), and the keyboard used (K).
---