In November, I picked up the Logitech Z-5500 Digital speaker system and the best word I can use to describe the sound is AWESOME! The clarity is beyond belief, even at higher volumes. No distortion at all, crisp highs, excellent mids and gut-thumpin' lows--all of the ingredients of a great system.
The next step was to modify everything for a quick set-up and tear-down thus making this an outstanding rig for small to mid-size venues. It's still not powerful enough for the larger jobs, but that's why I still have the Barbettas. I have now finished putting my traveling rig together. The photos below show the step-by-step procedure for the completed project in case anyone wants to setup a similar configuration.
A front and rear satellite speaker is mounted side by side on each stand. They can be swiveled to provide a broader coverage of the audience. (Figure 1)
The stands are heavy-duty, chrome plated steel and telescope to approximately 6 feet. (About $25 each at the local music store) (Figure 2)
All of the satellite speakers and control panel are mounted on a plywood platform and held securely in place with industrial strength Velcro. (Figure 3)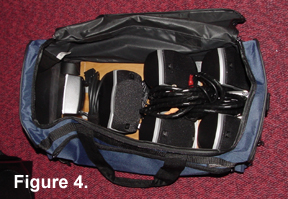 The platform fits snugly in a heavy-duty duffel bag that has a carrying strap and zipped, side storage compartment for wires and wireless remote. (Figure 4)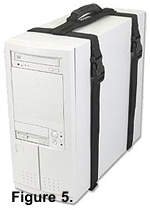 To carry the subwoofer, I purchased a computer carrying strap, which makes it a snap to pick up and transport. The strap sells for $16.95 at Cyberguys. (Figure 5.)
The finished product, rigged and ready to play. (Figure 6.)
Cheers,
Gary
This page updated on March 22, 2019 .