Back to Styles › Yamaha › Press Releases
Yamaha Tyros5 Brings Interactive, Intelligent Control to String Quartets and Brass Sections, Delivering Stunning Live Performances.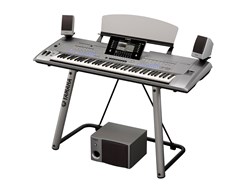 (November 11, 2013) BUENA PARK, Calif. - Yamaha today introduced its Tyros5 Arranger Workstation keyboard, which stands as the most powerful keyboard on the market today.
With its fifth generation flagship powerhouse, Yamaha offers musicians the ultimate instrument for composing, arranging and performing music with amazing +Audio Styles, vivid instrument Voices and for the first time, the choice of 76-note or 61-note models in a sculpted, elegant design.
Continuing the legacy of the immensely popular workstation line, Tyros5 is defined by incredibly nuanced and detailed instrument Voices, studio grade digital effects and Styles so realistic, it's like having the world's greatest studio musicians follow your performance in real time!
This year's models take performance to new heights, with Ensemble Voices, an incredible new feature that intelligently orchestrates brass, saxophone, woodwind and string ensembles by assigning each note in a chord to a different part in real time. For example, play a four-note chord using the "SoloQuartet" Ensemble Voice and the top note will be the 1st Violin, the note below that will be played by the 2nd Violin, the next lowest note will be the Viola and the lowest note will be Cello. It's like having a professional orchestrator instantly turn your playing into incredible four-part arrangements.
In addition, there are 40 new drum and percussion-based +Audio Styles, a new graphical interface and Virtual Circuitry Modeling that provides accurate reproductions of the classic sound of analog gear.
"Tyros5 provides levels of total control and authenticity to musicians' performances like no other instrument that has come before," said Mark Anderson, Director of Marketing, Keyboard Division, Yamaha Corporation of America. "It is so realistic sounding and such an amazing creative vehicle that musicians will find themselves exploring their musical ideas for hours."
For the first time, Yamaha offers Tyros in two model sizes. The full-size 76-note model unleashes the full potential of the stunningly realistic, easy-to-play grand and electric piano sounds, while the compact 61-note version provides portability for live performance.
The Organ World feature opens vast possibilities to play Vintage, Home, Euro, Concert and Theatre organ styles that are reproduced via vivid samples with the touch of a button. What's more, the keyboard on the 76-note model can be split three ways for instant multi-manual organ performance.
Piano players will be pleased to know that the Tyros5 represents an incredible marriage to the new Chord Detection Area, which enables the musician to play chords in the right hand while playing a bassline in the left hand.
Other key features of Tyros5 include excellent world music content, a cross fader function and enhanced DSP effects.
To learn more about the Tyros5 Arranger Workstation keyboard, please visit http://4wrd.it/YAMAHA_TYROS5.
Pricing and Availability
Tyros5 will be available in mid-December 2013 for MSRPs of $6,799 (76-note version) and $6,499 (61-note version).
---