Back to Styles › Yamaha › Press Releases
Flagship Arranger Workstation Now Features Super Articulation Technology, Optional Hard Disk Recording, New Action
BUENA PARK, CA (November 23, 2005) — The Yamaha Tyros has been called the ultimate arranger keyboard, with its incredible sounds, innovative design, functional control surfaces and unparalleled technology. With the introduction of Tyros2, Yamaha has a new flagship arranger workstation that lives up to its name.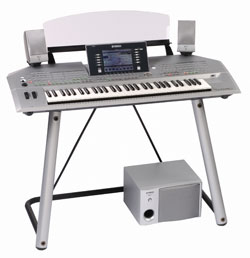 Sound quality continues to be a hallmark of the Yamaha Tyros product line. Although MegaVoice® technology has created some of the most realistic-sounding accompaniment styles in the industry, a new addition – Super Articulation – brings that audible and physical MegaVoice authenticity to the melody that you play, with 40 voices. The 61-key Tyros2 comes standard with 4 MB, but offers up to 1 GB of sample/playback capability (Wave, AIFF), and the ability to capture performances with optional audio rendering hard disk recording capability.
Additional improvements now enable Tyros2 to function not only as a stand-alone unit, but also as a component of a computer-based music production system, including USB MIDI ports and new USB "To Device" for connecting to peripheral storage devices. With Yamaha's broadband Internet Direct Connection feature, song data and content can be downloaded directly from the Internet. The onboard VGA display screen can be mirrored to an RGB/Video output allowing Tyros2 to display functions directly to an external computer monitor.
Yamaha has also responded to customers' requests for a more professional keyboard with a newly-designed action that is fast, smooth and responsive. Currently, it is the only action of its kind to be offered on any Yamaha keyboard product.
"The original Yamaha Tyros established itself as a product combining some of the best features from our Clavinova, synthesizer, pro audio and portable keyboard lines," says Mark Anderson, marketing manager, Yamaha Portable Keyboards. "Now, Tyros2 leads the way with features that are not found on any other keyboards we manufacture. This is not just an upgrade; it's an entire overhaul in what you can hear, see, feel and how you create music."
---