Back to Styles › Yamaha › Press Releases
Yamaha PSR-S750 AND PSR-S950 Arranger Keyboards Offer Higher-End Features And Advanced Connectivity
(Press Release) – Sep 24, 2012 – BUENA PARK, Calif.—Yamaha Keyboard Division announces the upcoming release of the PSR-S950 and PSR-S750 arranger keyboards. Available at authorized Yamaha dealers nationwide in September 2012, the instruments will also be featured in a special showcase event at Winter NAMM 2013. Featuring Super Articulation Voices, Styles and a number of advanced connectivity options, these arrangers now offer possibilities previously only found on higher-end Yamaha instruments, like the acclaimed Tyros4 arranger keyboard.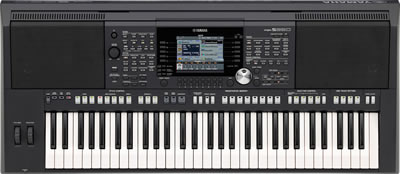 The PSR-S950 arranger keyboard debuts Audio Style technology, bringing the realism, nuance and character of live drums and percussion to Styles. Each Audio Style adds a track of tempo-synch'ed audio from drummers and percussionists around the world. It also features Vocal Harmony 2, a tool that augments singers' vocals with 3-part harmonies and effects using the newly added Mic/Line In capability. Additionally, the upgraded color screen on the S950 makes the interface clearer and easier to read, while a brushed metal data entry wheel allows for simpler programming.
"The PSR-S950 represents an evolutionary leap forward for the PSR line, offering sound innovation, vocal harmony features, pro-quality accompaniment features and comprehensive recording capabilities," says Mark Anderson, Director of Marketing, Yamaha Keyboard Division. "Audio Styles, just one of many remarkable new tools, give performances greater expressive potential by adding real audio drum and percussion parts to Yamaha's Guitar Enhanced Style engine, producing a natural feel, ambience and warmth. The PSR-S950 is a truly powerful addition to any musician's arsenal - whether they are playing live, writing a song or producing music."
Both the PSR-S950 and PSR-S750 models feature highly expressive Super Articulation Voices and offer "Real Distortion" DSP, which adds high-quality distortion and overdrive effects to instrument Voices like guitar and electric piano. The keyboards allow for the addition of Voices and Styles by loading Yamaha's ever-growing library of Voice and Style Expansions into the 64MB FlashROM. Players can also assign and trigger WAV audio with Yamaha's new Audio Link Multi-Pads, and a re-designed speaker box has extended lows along with a highly efficient digital amplifier and digital EQ to perfectly tailor the overall sound.
"The PSR-S750 provides Yamaha's outstanding Super Articulation Voice technology at a never before seen price," says Nate Tschetter, Electronic Keyboard Product Manager, Yamaha Keyboard Division. "With the built-in FlashROM for loading-in new Voice and Style Expansions, it truly is a world-class keyboard that grows with you."
Originally introduced on the Tyros arranger keyboard, Super Articulation Voices enhance the sound of performances by adding instrument-specific nuances as you play the keyboard. Convenient connectivity options like USB TO HOST, USB TO DEVICE and audio line inputs and outputs allow players to use the PSR-S750 in a variety of exciting ways. The PSR-S950 features 1281 Voices, while the PSR-S750 has 1186 Voices.
The PSR-S750 (MSRP: $1,499) and the PSR-S950 (MSRP: $2,499) are now shipping.
---