Back to Styles › Yamaha › Press Releases
Yamaha Announces PSR9000
Portable Keyboard Arranging Workstation
February 7, 2000 - Yamaha Corporation of America, Pro Audio & Combo Division, will launch a new dimension in sound and performance with the introduction of the PSR9000 portable keyboard at Winter NAMM 2000. Complete with an array of production and performance-oriented features, the PSR9000 is a versatile arranging workstation for the professional musician, an ideal live performance instrument, or the perfect keyboard for anyone who loves to sing and play. The PSR9000 will begin shipping in February, 2000.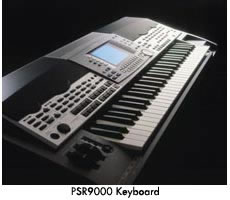 "The PSR9000 represents a new kind of keyboard that almost defies definition," states Jim Presley, marketing manager, Portable Keyboards. "Based on its sonic quality, functions and capabilities, it is a remarkably 'professional' keyboard. The PSR9000 has a combination of professional features that don't exist on any other keyboard on the planet, making it the perfect choice for performing musicians or professionals who use it as a writing tool. However, the user interface and auto-arranger functions are perfect for beginners or hobbyists. The PSR9000 breaks the rules and sets new standards."
Like its predecessor–the PSR8000–the PSR9000 is a 61-key, portable keyboard complete with microphone input, digital mixer, vocal harmonizer, a built-in audio system, and professional features like after touch, pitch bend and mod wheels. Designed for users at every level, the unit can be connected directly to a computer without requiring a MIDI interface, and contains GM compatibility and auto accompaniment features. In addition, the PSR9000 is fully compatible with the software of the PSR8000.
The stunning sound quality is some of the best ever produced by Yamaha. Expanded to 126 notes maximum polyphony, the PSR9000 is loaded with 32 MB of incredible voices that reproduce all the timbres and nuances of acoustic and amplified instruments. Innovative live drum sounds contain six layers of samples which crossfade from each other, based on velocity. They have been recorded in stereo, resulting in realism never before heard in sampled drums.
Much attention has been paid to ease of use. The PSR9000 contains a large music database, and all interfaces have been simplified through the direct access function, one- touch settings, and on-screen guidance–a necessity for the performing musician who must change settings quickly. In addition, a PS-2 PC keyboard input allows the user to enter alphanumeric data, taking the PSR9000 to a new level of user-friendliness.
Video output allows the PSR9000 to display lyrics from a MIDI song file through a projector or directly into a television monitor. This is an attractive feature for churches that display lyrics, or for home users as a karaoke device.
The list of professional features continues with an optional hard drive (up to 8 GB), SIMMs expandable RAM (up to 65 MB), additional MIDI in/out for external tone generators, and a SCSI port which can connect to an external storage device like a Zip drive. Four individual outputs, 12 blocks of DSP effects, an onboard sequencer and automated mixer are ideal for recording professionals. The PSR9000 contains a Flash ROM operating system, which enables software upgrades to be loaded from disk or the Web.
Innovations continue to the redesigned sound system. A pair of built-in two-way speaker cabinets produces rich, natural sound reproduction. Each speaker has been mounted inside a wooden cabinet with a large bass port, and is powered by a 56-watt amplifier.
The versatility of the Yamaha PSR9000 invites live performance musicians, studio musicians, songwriters, and amateurs alike to experience the highest level of musical performance and productivity ever available–all from the same keyboard.
---