Back to Styles › Yamaha › Press Releases
Yamaha Expands Line with PSR730, PSR630, and PSR530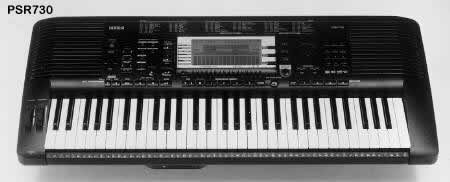 July 11, 1997 -- Every few years Yamaha introduces a new line of portable keyboards and establishes a new standard by which all others are judged. "Previous offerings stood the industry on its ears with functions and features reserved for much more expensive, professional keyboards," stated Jim Presley, marketing manager for Yamaha Corporation of America, Audio, Guitar & Synthesizer Division, Portable Keyboard Department. "The introduction of the PSR530, PSR630, and PSR730 represent the strongest leap forward yet."
All three models are stereo, 61-key, touch-sensitive, General MIDI (GM) keyboards. MIDI In and Out, Sustain Out, Audio Out, a To Host port, and pitch bend wheel are included.
The "To Host" port enables the direct connection to the serial port of a PC or Macintosh without the need of a MIDI interface card or box. A simple cable from the keyboard to the serial port is all the hardware that is needed. This opens a world of musical, educational, and creative possibilities to the more than thirty million U.S. households with personal computers. It is especially important for laptop users, fast becoming a larger portion of the total computer market, where the addition of cards may not be an option.
The PSR530, 630, and 730 owe their stunning sound quality, in part, to the Yamaha Advanced Wave Memory (AWM) tone generation, Yamaha's XG MIDI compatibility, a newly designed bass reflex sound system, and enhanced DSP.
Yamaha's XG MIDI format, never before available in a portable keyboard, is backwards compatible with GM (General MIDI) but adds a super set of voices and controls for audio, effects and more, resulting in unparalleled lifelike sound reproduction. In addition, any one of the new models can be used as an XG MIDI tone generator for personal computing applications.
Much attention has been paid to ease of use, with larger, icon-based, back-lit displays. All user interfaces have been completely redesigned, taking the keyboards to a new level of user-friendliness. Add to that Yamaha's new Easy Operation System (EOS) and Virtual Arranger (VA) for even more ease of use. EOS represents a major step forward in simplified, once complex, operations. Where functions like recording once took multiple steps, EOS has reduced the task to one-button simplicity.
The Yamaha auto accompaniment is world renowned for its natural, musically correct styles, and is a joy to play. VA (Virtual Arranger), a new innovation from Yamaha, adds more than a simple variation of the style the user plays. It will add riffs, phrases, chord changes, and other embellishments appropriate for that style, making users sound even more professional.
The PSR530 incorporates the Yamaha Music Cartridge System, enabling users to add both styles and songs without the use of a computer or external device. There is a complete library of music cartridges, including songs from artists such as The Beatles, Sting, and others. The Yamaha Music Cartridge System allows expandability at a price point never before possible.
Add 690 voices from 4MB of XG sounds, 32 notes of polyphony, a 5-track sequencer, and Yamaha's Music Cartridge System, at a SRP of $699.00, and the PSR 530 becomes the value and performance standard of the industry.
The PSR630 and PSR730 replace the Music Cartridge System with a 3.5-in. disk drive. By adding a 16-track sequencer for recording and playback, "Style File" and "Disk Orchestra" compatibility (enabling access to a huge library of songs on disk), and the new Yamaha "LY" feature, the professional capability of these keyboards is clear. The LY feature uses information embedded in MIDI song files to scroll the lyrics of the song being played, on the keyboard display, similar to a karaoke video system.
The PSR730 adds a mod wheel, a multi-band, digital, parametric EQ, DSP capability for multi-effects, a groove function, and 64 notes of polyphony.
The PSR630 at a SRP below $1200 and the PSR730 at a SRP below $1500 complement a complete line of new portable keyboards being introduced at Summer NAMM, including the PSR230, PSR330, and the PSR8000.
---