Back to Styles › Yamaha › Press Releases
New PSR2100 & PSR1100 Offer Professional Sound and Features For Musicians on a Budget
23 April 2003. Outstanding professional sound quality and styles at unprecedented price points mark out new Yamaha keyboards; digital sheet music capability and a re-designed user interface guarantee popularity amongst professionals and hobbyists alike.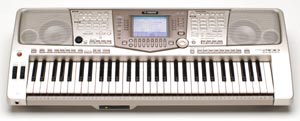 The all-new Yamaha PSR2100 and PSR1100 digital keyboards are characterised by a host of features previously unseen on instruments at these price points, and benefit largely from some of the revolutionary sound and style technology developed for Yamaha's Tyros keyboard.
Both models include digital sheet music facilities and greatly improved sound quality, thanks to a vastly expanded wave ROM memory. Both also feature comprehensive karaoke functions with lyric capabilities.
All these features, plus many more new innovations, make both instruments ideal for professionals, home music makers, computer users and songwriters.
Both models offer at least twice the Wave ROM memory of previous models ensuring startling sound quality, whilst new styles and content provide a refreshing new palette for users.
Stunning sound quality is achieved thanks to a combination of Yamaha's AWM (Advanced Wave Memory) tone generation, enhanced XG MIDI capability and totally redesigned stereo speaker systems incorporating bass reflex functions. Professional digital signal processing power, borrowed from the company's studio-quality effects units, further increases the sonic power of PSR1100 and 2100.
Yamaha's highly-acclaimed and exclusive "Sweet", "Cool" and "Live" voices, previously only found on the award-winning TYROS, have been incorporated, resulting in instrument sounds of breathtaking realism.
The PSR2100 features a dedicated organ flute function complete with graphic drawbars that can be individually modified, delivering classic jazz and rock organ sounds. These sounds can be further crafted thanks to the extensive programmable tremolo provided courtesy of the onboard digital signal processor.
Yamaha have found that the vocal harmoniser has become a much-used feature on the company's dedicated professional keyboards, and this feature has been enhanced and brought to the PSR2100. There is a dedicated microphone input for vocals, which feeds into the internal vocal harmoniser, allowing the 'singer' to add harmony to the voice in 'real time' and even change the gender. Vocals can be routed through the internal DSP for added realism and studio quality sound.
Both models employ a new Yamaha innovation titled LY (Lyrics) that allows the words of a song to be scrolled across the display in time to the music. Song lyrics can even be displayed together with music notation.
Yamaha have also paid particular attention to the user interface which now comprises excellent graphic representations for all functions including song, style and function lists and animated help screens. Chord data from standard MIDI files can be imported into the style section for further editing, which is perfect for songwriters and arrangers.
In addition to MIDI connections, the PSR1100 and 2100 feature a USB port enabling effortless computer connection, opening up a whole new world of educational and creative possibilities.
---