Back to Styles › Yamaha › Press Releases
Yamaha S Series Arranger Workstation Keyboards Packed with Amazing Voices and Styles to Create, Arrange and Perform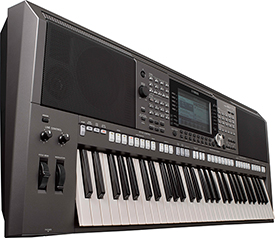 NASHVILLE (July 9, 2015)– Yamaha Corporation of America today announced three new Arranger Workstation models packed with more advanced features and all-in-one performance capabilities than ever before. The PSR-S670, PSR-S770 and PSR-S970, which propel Yamaha's award-winning PSR-S Series to the next level, are being unveiled at the 2015 Summer NAMM Show.
All three new Arranger Workstation keyboards feature two assignable control knobs that offer unprecedented control over a number of Voice and Style characteristics, innovative DJ Styles that put the focus on real-time Style and Voice manipulation, a large onboard Flash ROM that affords use of Yamaha's ever-growing library of Voice and Style Expansions, and a number of advanced connectivity options that provide performance and recording possibilities previously only found on the acclaimed Yamaha TYROS5.
"Any of these new keyboards would be a truly powerful addition to any musician's arsenal, whether they are playing live, writing a song or producing music," said Mark Anderson, director of marketing, Yamaha Keyboard Division, Yamaha Corporation of America. "While the PSR-S670, PSR-S770 and PSR-S970 each offer unique features, they all are remarkably versatile, high-quality keyboards that are both powerful and portable, allowing you to create, arrange, record or perform music in any genre."
The top of the PSR-S Series line, PSR-S970, offers a new, larger VGA screen, superior sound innovation, vocal harmony features, pro-quality accompaniment features and comprehensive recording capabilities. Musicians of all levels will be attracted to the forty new percussion-based Audio Styles that provide impressive backing and accompaniment capabilities previously only found on the higher-end TYROS5. Audio Styles add natural feel, ambience, and warmth to drum and percussion parts, allowing greater creative expression. Audio Styles also benefit from Yamaha's Time Stretch Technology, which commands the audio to follow your tempo without changing pitch, so everything stays in perfect sync.
Another attractive audio-centric feature on the PSR-S770 and PSR-S970 models is a powerful Vocal Cancel function that effectively cancels or suppresses the vocals and solos, allowing you to make your own "minus one" track and sing karaoke-style with just instrumental backing.
Each new Arranger keyboard in the PSR-S Series also has an Audio Link Multi Pad function that lets you link your own audio files, such as sound effects and vocal phrases, and trigger them from the Multi Pads as you perform.
New iOS apps and an ever-expanding library of Voice & Style Expansion packs allow users to customize their music like never before. Featuring a 16-track sequencer, a variety of DSP effects and iOS app integration, the new Arranger Workstations are the most versatile and best sounding to date, solidifying Yamaha's PSR-S Series as the preferred choice of musicians around the globe.
The PSR-S970, PRS-S770 and PRS-670 (MSRP range: $999 to $2,499) will ship in September
For more information, visit http://4wrd.it/usayamaha.
---