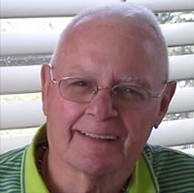 Recent Songs
Estate (2/21) Genos

Li Hi Tabidachi (2/21) Genos

If You Never Come To Me (12/13/19) Genos

I Won't Send Roses (11/5/15) Tyros4

Little Boat (11/5) Tyros4

Musical Background
(July, 2013) In the late 1960's I purchased an organ for my children, which they took about 2-3 weeks to lose interest in. Shortly thereafter, our union called a strike against the Detroit News and here I was with a loan for this Lowrey tube organ and, not wanting it to go to waste, I began my quest to become an organ player (hey, where's your monkey). In our area, there were seven or eight organs players and I would constantly spend the weekends going from club to club, asking questions, studying what they were doing with songs etc. I would then go home and try to adapt it in my playing. Eventually, they would invite me to sit in for a set, then I started preparing a set each week and going around to all the clubs where they let me sit in until I figured out that they were getting paid and I was doing the playing.
In early 1970, one of the guys was going on vacation and asked me to cover for him (actually he went to another gig) and I started to play for two weeks and remained there for 23 months. Bear in mind that this was with a tube organ with a 145 Leslie, no rhythm or styles, just pedal/chord, pedal/chord and play for dancing be it cha-cha, waltz or polka. Gigged around playing either a house organ or my own, which now was a newer (transistor) organ with manual rhythm so I was able to add the boom chickie boom chickie to the pedal chord and make it somewhat easier to play for dancing.
In the late 80's, I opened my own business and the organ playing fell to the wayside for 10-12 years until I discovered how far the industry had come with the new organs. I purchased a couple of used Lowrey organs and tried to get back to my old form. But that was not going to happen, so I resigned myself to the fact that I now play to entertain myself to whatever extent I'm able to.
In 2012, we moved to an old people's complex and the Lowrey Stardust couldn't make the turns going down to the family room so I had to sell it. I bought a Tyros4, which did fit and WOW it's like I was born again into music. Then, I joined the PSR Tutorial Forum and discovered a ton of really, really good players and a group like that is better than any of the other forums I cruised through.
A couple of interesting notes, in the early '70s one of the soda companies came up with a great idea. They put their soda into aluminum cans, wow. The folks that came to hear me and dance would put unpopped pop corn in the empty can and taped it closed then they would shake them as I would play a Latin number. Pretty neat when you have 8-10 people shaking and making the chickie-chickie, albeit about as out of meter as was my playing. The other one is a gig where we would project the words of a song up on a wall to a 35mm slide as I played for the then thing called "sing-along," not karaoke.
The offerings here are the first anyone has heard of me playing the Tyros4 and, to you all, I would appreciate any critique, suggestions or tips to help me get back to where I used to be musically. Please be kind as I am a very sensitive Marine and I cry easily.
- Don Valentine (whataguy)
Don's MP3 Song Index
The list below is alphabetical by song title. Click on the song title to audition and/or download the song.
---