Steve Molnar's Gig Disks
Style Gig Disks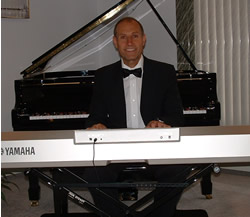 Steve's "Gig Disks" (see table below) are, like the other Gig Disks, styles that have been renamed to reflect the song that they go with. The styles in the gig disks should work on many PSR models. Gig Disk #1 is what Steve uses for gigs at Senior or Retirement homes. Gig Disk #2 is useful for Cocktail and/or dinner hours at various events such as retirement parties, birthday parties, or awards banquets.
Be sure to take a look at Steve's Registration Gig Disks as well!
Registration Gig Disks
Steve, who is one of our PSR Performers, has also sent in a number of registration files developed on the PSR-3000. Each registration file is a complete setup for a single song. All of these registration files can be downloaded in a single zip file. The contents of each file are shown in the table below. I have also included a version of these registrations converted for use by Tyro1, Tyros2, and Tyros3 owners below the table.
001S GIG
1 - Unforgettable
2 - Georgia
3 - CAB
4 - AllThings
5 - Hello Dolly
6 - Can't Get Started
7 - Desifinado
8 - Piano Solo
02S GIG
1 - Bad Leroy Brown
2 - My Girl
3 - Blue Bayou
4 - Crazy
5 - Those Were the Days
6 - Twilight Time
7 - Mack the Knife
8 - Sway
03S GIG
1 - Crying
2 - Cryin' Time
3 - Under the Boardwalk
4 - Green Onion
5 - Manhattan
6 - Nice N Easy
7 - Uuchained
8 - Over the Rainbow
04S GIG
1 - Lady Is a Champ
2 - Sophisticated Lady
3 - Love Is Here to Stay
4 - It Had to be You
5 - I'll Be Seing You
6 - I'll Follow the Sun
7 - Dream a Little Dream of Me
8 - Summer Time
05S GIG
1 - But Not For Me
2 - Moonglow
3 - That Old Feeling
4 - Beyond the Sea
5 - Blueberry Hill
6 - Stardust
7 - That's All
8 - How Deep Is Your Love
06S GIG
1 - Piano Man
2 - On Broadway
3 - Puttin' on the Ritz
4 - Under My Skin
5 - I Love Paris
6 - Music to Watch Girls Go By
7 - My Favorite Things
8 - Night and Day
07S GIG
1 - In the Mood
2 - I Get a Kick Out of You
3 - As Time Goes By
4 - Blue Moon
5 - Bewitched
6 - In My Life
7 - When You Are Smiling.S749
8 - Young at Heart
08S GIG
1 - City Swing
2 - Cool Combi.
3 - Lionels Mallets
4 - Brubeck Waltz
5 - Oscars Club
6 - Novelty Tap
7 - Wen You're Smiling.S749
8 - Young at Heart
09ROD STEW BEATLES
1 - Till There Was You
2 - Time After Time
3 - These Foolish Things
4 - My Heart Stood Still
5 - My Funny Valentine
6 - I'll Follow the Sun
7 - Jude & Yesterday
8 - Piano Solo
10S GIG
1 - How High The Moon
2 - Somethin Stupid
3 - Never on Sunday
4 - Love Potion Number 9
5 - Ain't Misbehavin
6 - Bye Bye Blackbird
7 - Hey Jude
8 - Garden Party
11DIXIE POLKA
1 - Dixie
2 - Bill Bailey Paper Moon
3 - Polkas
4 - Walk Right In
5 - We'll Sing in the Sunshine
6 - This Land
7 - Marches
8 - Piano Solo
13BEATLES 1
1 - Want to Know Secret
2 - This Boy
3 - Hide Luv Girl
4 - Wen I'm 64
5 - Yellow Sub
6 - Ob La Di
7 - Eleanor Rigby
8 - Piano Solo
13BEATLES 2
1 - From Me to You
2 - Things We Said Today
3 - Here There Everywhere
4 - Fool on the Hill
5 - I'll Follow the Sun
6 - In My Life
7 - Yesterday
8 - Piano Solo
01CHRISTMAS
1 - Carol Of Bells
2 - Carol Of Bells
3 - Lionels Mallets
4 - Brubeck Waltz
5 - Oscars Club
6 - Novelty Tap
7 - When You're Smiling.S749
8 - Young at Heart
I used Michael's MidiPlayer to make a Tyros version and then Yamaha's conversion utilities to make a T2 and T3 version: