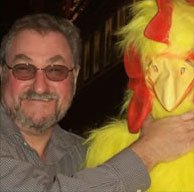 (May, 2007) Hello! Let me say right off that if it wasn't for this great forum, I probably would have given up on playing the PSR2100. I truly love to play it, but I'm sure you've heard this before—that is that the manual is, in a word, useless. So thanks to Joe Waters and all the rest of the forum members for the fantastic advice and encouragement.
I am sixty years old, married, two kids, four grandkids, one wife. My dear Beverley has listened to me hammer out so- called music for 40 years now.
My parents made the downpayment on an Eelectrohome organ when I was 19 years old. The deal was that I would make the monthly payments therafter. I couldn't get enough playing time in, but I knew that's what I wanted to be able to do. So i I took five years of lessons during which I learned chording and sight reading. I don't know the first thing about reading the bass clef, but my teacher drilled that reading the treble line as I play instead of memorizing the music was going to pay off later. Of course, I didn't believe him, being 19 years old, and knowing everything. To this day, I cannot play a single song from memory.
That first organ was unfixable after a number of years. Enter my second purchase—a Gilbransen. The top model had some style accompaniment capabilities, but was priced at $10.000.. Too much for this poor boy, so I had to settle for the second best -- that was only $6,000. After several years, that one, too, ended up in the landfill. Then came number three -- a Hammond spinet, used, but free. Well, that didn't seem to last very long as it was impossible to fix.
My bride suggested I go to Radio Shack and buy one of those playthings they call keyboards. What a dissapointment they are!
One day I stopped in a music store to investigate the real keyboards. The PSR2100 was the best they had. It took one demo to convince me that I had to have it. And, guess what? It does 20 times more than all the organs put together could ever do. And much cheaper to boot! It's a good thing they didn't charge extra for the manual. That would be fraud for sure, so I went to the internet and discovered the PSR Tutorial site by Mr. Joe Waters. Finally, instructions that make sense.
So, after 40 years I eventually learned that you don't have to spend a fortune to have a lot of fun. Now I check the forum every day. There's always somebody sharing something about anything. My alias is "ronbo."
Regards,
Ron Jubenville
Belle River, Ontario
MP3 Songs -PSR-2100
MIDI Songs
You can download all of Ron's 10 MIDI songs here: RJ-21.zip.