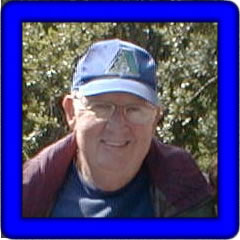 "The Great Gumball Music Machine"
(Jul, 2002) - I'm a native Californian and I worked there until I retired from Pacific Bell in 1986. My wife has tolerated my presence for the past 42 years during which time we managed to raise two children who are now busy raising their own families. Besides music, I've enjoyed a variety of hobbies including motorcycling, flying, sailing, scuba diving, ham radio, and traveling. My wife and I lived in our motor home for eight years before buying a home in Tucson Arizona.
Musical Background - At present, much of my time is devoted to the keyboard and computer. My son gave me my first keyboard. It was a small Yamaha, so small that my fingers wouldn't fit on the keys. That meant I had to have a larger board, (it was a good excuse anyway). After several more upgrades, I ended up with the 9000-PRO and the PSR-2000. The board I kept longest was a Technics KN2000, which I dearly loved.
My love for music comes naturally from my father who was a musician. Although not a professional during most of his life, he was always close to music in his work in the movie industry. Prior to getting hooked on the keyboard, I sang in a number of different barbershop quartets for a period of 23 years. It was exposure to barbershop harmony that accounts for the kind of songs I play, music with a melody.
I'm devoted to the idea that music is a gift from God that doesn't become music until it is passed through the heart and soul of the performer. I play by ear, which I consider a blessing and a curse. It's great for improvisation but makes it hard to play in an organized group. Somehow, I don't have the necessary discipline to filter the music spots through my head to my hands. Wherever I play, I try to encourage others to experience the joy of music.
I feel strongly that it doesn't matter how well you play, as long as you're having fun. To promote this idea, the songs I'm presenting are simple to play and easy to listen to. They are based on the styles I shared for Joe's tutorial.
While traveling around the country, I billed my music as "Music to Go." When considering the population that likes my old fashioned kind of music, I got to thinking. "Music to Go" sounded more like an unpopular dietary supplement so I changed my billing to "The Great Gumball Music Machine" with a slogan "more variety than a gumball machine," I've had a lot of fun with the "Gumball Machine."
MIDI Songs
Click on this link to download Richard's complete MIDI library: RP-2k.zip.