Wally's Jukebox
See MP3 Index (below) to listen to and/or download all of Wally's songs.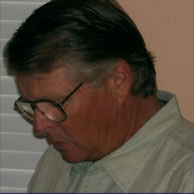 Musical Background
My background in music is mostly limited to listening. Fortunately my father was a music lover and I was exposed to a large variety of music genres growing up. He also was a very good self taught accordion and organ player.
Unfortunately, I never really took an interest in playing anything until I was in my mid twenties. Although I did take one semester of clarinet lessons at school in the 8th grade, that is basically it for any formal music training. I wanted to play the saxophone but the school supplied the instruments and they had already assigned what they had to other kids.
When I was in my twenties and making my own money I decided to buy a set of drums. I tinkered around with the drums for a while and even played in a couple of garage bands over the years. A few years after getting the drums I purchased an old upright piano so my daughter could take lessons. She took a few lessons but it was obvious she wasn't really interested in playing. I started messing around with it, and because I couldn't read music or figure out the left hand of popular songs playing by ear, I started making up my own songs. I did the same thing with a guitar that I found in the street. Taught myself a few chords, and made up some songs so I would have something to play.
Since then I've had two other pianos, a synthesizer, and now the Yamaha S910 Arranger keyboard. Most of these wouldn't get much play and I just never got real serious about playing. It was then, and for the most part still is, just a hobby. Something to do in my spare time for relaxation and entertainment.
I recently purchased the PSR S910 and have done more in the past few months than I have in all the years prior. I thought since I'm retired now I could spend more time with it, and the S910 would make it easier to record and arrange some of my songs. So here I am, playing and recording some of my original songs as best as my amateur abilities will allow. I hope you enjoy them for what they are. A simple mans musical thoughts.
Wally's MP3 Song Index
(click to open or close)
Wally's Lowrey Genie Songs
(click to open or close)
Back in 1978 when I got out of the navy, my then wife and I had to live with her parents until we found our own place (8 months.) They had a Lowery Genie organ in a spare room collecting dust. I started tinkering around with it out of boredom and made up some songs in the process. The organ had a little cassette recorder built into the keyboard so I recorded them. Not the best recordings, but it was fun and kept me occupied while we were there. I've been thinking about maybe redoing them on my S910, but not sure I want to take the time trying to figure them out again. Besides, they have some good memories attached to them that I want to preserve.