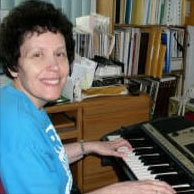 Laura's Jukebox
(See MP3 listing below for downloads or comments.)
Background: I've been making up songs ever since I can remember. Though I had a year of accordion lessons at age 10 and some glee club and chorus classes in junior high and high school, I'm basically self-taught. When I was in the 9th grade, a classmate played guitar and sang folk songs at a class talent show. That convinced me to trade in my accordion for a guitar. Mostly, I just sang and played chords on my guitar, though I did write one instrumental ("Trav'lin'"), which I later sequenced. (It will be included in Volume 2.) I wrote a lot of folk/protest-type songs back then, a couple of which I've sequenced and even recorded digitally as MP3 files.
(14 February 2013) - On a (non-musical) topic, I thought you might be interested to know that my science fiction novel, The Reality Matrix Effect, has been published by Kindle eBooks and is available for download at tinyurl.com/R-Matrix-FX.

If you don't have a Kindle, you still can read the book using a FREE Kindle reader app for PC, Android and/or Apple devices. You can download the app from from tinyurl.com/Free-K-Readers.
When my son was 9, I used to take him to his piano lessons, and I picked up a few things by watching and listening. I've learned a great deal by experimenting with my PSR 740 and MIDI software. This has allowed me to broaden the kind of music I can create. I was introduced to MIDI music as a byproduct of my public policy work on disability rights. I attended a conference in Orlando, FL, in 1995 and visited Epcot Center during my free time. While looking at one exhibit at the "Hall of Innoventions," I overheard a staff member answering some questions about the music that had been playing during a demonstration at an exhibit behind me. Intrigued, I wound up talking with the staff member myself. I was astounded to learn that all the "instruments" I had heard really were voices on a single instrument, a MIDI keyboard. (I had assumed the music was on CD or tape.) Then the staff member pulled a computer monitor around so that I could see what happened as he played notes on the keyboard.
I was thrilled as I watched the notes appear on a staff in the MIDI software as he played! Although I had been "writing" music for years, I never was very confident in my ability to notate my songs accurately. This seemed like a dream come true -- a dream I was sure I couldn't afford. But when I returned home, I was astonished to find that I already had a "light" version of a MIDI sequencing program on my computer! So in December 1995, I treated myself to my first MIDI keyboard. In June, 2000, I got my PSR 740, and I love it. I know there are newer models, but I'm still discovering all the wonderful things I can do with the 740.
Meanwhile, getting a MIDI keyboard encouraged me to learn more about music theory. I have found some excellent books, web sites and e-mail groups to help me in that endeavor. I still play my 740 for personal enjoyment, but most of my MIDI recordings are at least somewhat edited or step-recorded. (As you may have guessed by now, I am primarily a composer these days.)
My musical tastes are varied, and my compositions range from what might be called contemporary classical, to jazz and blues, to folk music, to easy listening, to some pieces I can't really categorize. (Volume 1 of my music could be considered contemporary classical. It includes "As Heaven Weeps," the tone poem I wrote in tribute to and remembrance of the heroes and victims of the Sept. 11, 2001. Eventually, I hope to post additional volumes with some of my music from other genres, including several that have lyrics.)
I have some disabilities that make performing with conventional instruments very difficult for me. So I really appreciate my 740 and MIDI software. (Currently, I use Cakewalk Pro Audio 8.) I know I still have a lot to learn, but these tools allow me to share with others some of the music that is in my mind and in my heart.
I hope you enjoy listening.
-- Laura
Please note: Since all of my songs are original compositions, they are Copyright (various years) by Laura Remson Mitchell. Feel free to download my music for personal use. If you want to use the music in any other way, please contact me at af752@lafn.org
Laura's MIDI Song Index
(click to open or close)
You can download all of Laura's MIDI songs here: LM-74.zip.
Volume 3
1. Jingle Rock Shuffle - My take on the traditional Christmas song. Uses Yamaha PSR 740's rock-shuffle style.
2. Mood Music - Uses Piano Ballad 2 style on my PSR 740, with fills from different style variations, beginning with variation A but mostly using variation D.
3. Step to My Blues - I keep changing the instrument voices for this bluesy little piece. This version uses a solid guitar lead with an upright bass, joined later by a touch bass. The song doesn't use any PSR style. This is the first song I wrote after learning a blues scale.
4. Lazy Daze - Uses the beautiful GtrBallad1 style created by Simon Williams.
5. Horsin' Around - Uses a PSR 740 style I created myself. It's not the most useful of styles, and the timing of my playing could be a lot better, but I still like the feeling of the song.
6. Thinking of You - Recorded directly to disk on Yamaha PSR 740 using the Cool Night style, then edited in Cakewalk Pro Audio 8. There are places in this piece where the timing still could use some work, but I experimented with a few techniques, including dynamics, for this song.
7. True Blue - No style used. I wrote this at the piano, recorded it using my PSR 740, then edited and expanded it using Cakewalk Pro Audio 8 software.
8. Grade Boo Meevies - Uses the PSR 740's Ragtime style, but parts of the style have been changed to fit what I was trying to do with the song. The title is inspired by the "Grade B movies" I used to watch on television on Saturday mornings when I was a kid.
9. On the Road - No style used. I started playing around with a C(6/9) chord, and the song just evolved from there.
10. London Bridge Piano Variations - Piano variations on the children's song "London Bridge Is Falling Down" (my most recent composition as of Aug. 2, 2005). This piece, which uses three different time signatures (4/4, 3/4 and 6/4), starts out with the original melody, goes to a Bach-like variation, and then.. Well, just listen to it, and decide for yourself. ;-)
Volume 2
This volume includes five original songs that have lyrics (indicated by a * after the song title). I have tried to align the lyrics and notes so that they will display properly when played using the floppy disk drive in a PSR 740. (I don't know whether other PSR models read lyrics from a MIDI-0 file in the same way.) Unfortunately, I wasn't always able to get the spacing to display properly, but at least the words seem to be highlighted properly as the song plays on my 740.
Since these are all original songs for which no commercial sheet music is available, I thought some people might want to look at the music in the staff view of a MIDI software program like Cakewalk. So I've tried to edit the files to make the score easier to read, but it's been a very frustrating process. I often play notes a little before or after the beat, change the tempo slightly as I'm playing, or play notes a a bit shorter (or longer) for purposes of phrasing. Unfortunately, all of this can play havoc with the alignment of notes within bar lines in the staff view. In some cases, after I'd moved notes and changed a few note durations so that the "sheet music" view of the song looked better, the song playback didn't sound the way I intended. Sometimes, I just had to undo the changes, and other times, I wound up making some of the changes but not all of them. The upshot is that while I have made some adjustments, there still may be places in these songs where the "score" or "staff" view in a MIDI file looks like a mess.
Following are brief descriptions of the songs in this volume. Songs with lyrics are indicated by an asterisk (*). I wrote the lyrics to all the songs below except for "Crystal Citadel," which started out as a poem written by my friend Cara Rosenberg Alson. Unless otherwise indicated, these songs didn't use any auto-accompaniment style.
1. Diversity Prayer*. Based on an old Hebrew blessing for diversity. I suspect the blessing was intended to refer to the diversity of life on Earth, but I think we all need to be reminded that the diversity within humanity also is something to celebrate, and that is how I have chosen to interpret it. The first section of the prayer is a transliteration of the original Hebrew blessing. The second section consists of new lyrics that I wrote to give my "take" on diversity. And the third section is an English translation of the Hebrew section.
2. Crystal Citadel*. As I indicated above, this song was inspired by Cara Alson's poem. I added a chorus after the second and fifth stanzas of the poem and repeated the first word of the last line in each of those stanzas, but otherwise, the lyrics are all hers. (This song is Copyright 2003 by Laura Remson Mitchell and Cara Rosenberg Alson.) By the way, you can read Cara's poem in its original form online at http://motherbird.com/cara.html
3. Freedom Land*. Inspired by a human relations workshop for Los Angeles high school students that I attended in the 1960s. It was a wonderful experience that showed how people from many different racial, religious and ethnic backgrounds could get along. The song was originally written for and performed on a nylon-string guitar, but I sequenced it using my PSR 740 so that I could have a MIDI arrangement/recording of it. [Makes use of Chords 1 and Bass tracks from a style I created.]
4. Justice for All*. This is the first song I wrote using a PSR keyboard--a PSR 420. It was intended as an anthem for the disability rights movement, with which I have been active for many years. I've tried several different arrangements, and so far, this is the one I like best, though I'm still not completely satisfied. I may come up with still another version in the future. I make a point of playing, singing or at least listening to "Justice for All" every July 26, which has been recognized as Disability Independence Day. The day commemorates the signing of the Americans with Disabilities Act on July 26, 1990. [Song uses PSR 740's Country Pop Style, #94, with all tracks except Chords 1 and Pad muted.]
5. Trav'lin'. I wrote this instrumental on and for my nylon-string guitar, then recorded/sequenced it many years later to create a MIDI file. This piece always made me think of riding on a train, which is why I called it "Trav'lin'."
6. Someone (with melody overlay)*. "Someone" is a jazz ballad I wrote in 1998 in the style of the 1940s. (I always loved the harmonies of songs from that era.) "Someone" was composed on the piano, but I liked the PSR 740's Jazz Ballad style and decided to try improvising a little to create a jazzy version of the song. I'm not very good as a performer, and I was trying not to stray too far from the basic melodic line, since only a handful of people ever had heard the original song. So this is by no means as exciting as authentic jazz can be. But I came to realize that even the little bit of improvisation I did in some sections could make it hard for a singer to recognize just which of the notes should be sung. That's when I decided to add a melody "overlay" (using a choir voice). This file indicates the phrasing I probably would use if I sang it--or at least the phrasing I had in mind on the date I last revised the file. (I tend to keep changing my mind.) If you want to hear how the jazz ballad sounds without the melody, you can mute out the choir track. [Uses PSR 740's Jazz Ballad style, #74.]
7. Haunted Carousel. I wrote this waltz at the piano, and I tended to play it with a lot of pauses and tempo changes to convey emotion, as well as a kind of eerie feeling. After I got my PSR 740, I tried playing "Haunted Carousel" with several of the 740's styles, but I just couldn't get the feeling I wanted when playing with any automated style. So instead, I built up this arrangement track by track, then went back and inserted tempo changes in various places.
8. Kickin' It Up. This song uses several types of guitar (including funk and overdriven), lots of pitch bend, a full rocker organ, and plenty of percussion.
9. Getaway. I wrote this a few years ago when I was getting very frustrated with my job and looking forward to a vacation. In short, I needed to "get away."
10. Still at It. This is another song with several kinds of guitar, a full rocker organ and a lot of percussion. I have a tendency to work on my music into the wee hours of the morning, which is when most of this was composed. So after everybody else in my family had gone to bed, I was "still at it."
Volume 1
The first 7 tracks in this volume make up what I call my "Seven-of-Eight Suite," a collection of seven short vignettes in 7/8 meter. This meter is unusual in Western music and may not be to everybody's taste, but it has been used successfully in jazz and even in rock music. This piece probably is best described as "contemporary." In some ways, I think this (or maybe any piece in 7-8 time) can be thought of as a musical representation of being disabled in a non disabled world. "On a Lark", particularly made me realize this. As I was working on it one day, I realized that one section of the piece reminded me of how it felt when I rode my Lark scooter over cobblestones and uneven brick, encountering barriers, but finally making it to my destination. (Hence the name of this vignette.)
Seven-of-Eight Suite: 1 - Exploring the Possibilities; 2 - Contemplation; 3 - Dreamscape; 4 - On a Lark; 5 - Breezing; 6 - Melting Pot; 7 - Triple Play
As Heaven Weeps: My tribute to and remembrance of the heroes and victims of the Sept. 11, 2001, terrorist attack on the United States. This is by far my longest and most ambitious work. I never would have even thought about trying to compose something like this if it weren't for my PSR 740.
Lectronata: I wrote this song using only a computer and MIDI software (no musical instrument), except for final tweaking of voices and sound levels, which I did using a MIDI keyboard.
Motive Fantasy: A tune with a Gershwin-like feeling, at least in some sections. I had fun playing around with variations on a few simple melodies.
Laura's MP3 Songs and Comments
(click to open or close)
The most recent songs are in the Jukebox above. All of Laura's MP3s are listed below. Click on the song title to download the song.
Songs in Laura's "Life Music" album, listed alphabetically (all original compositions created on PSR-740). Click HERE for liner notes to the album as well as lyrics to Crystal Citadel, Diversity Prayer, Freedom Land, Justice For All, and Someone.
As Heaven Weeps © - This "tone poem" is in honor of the victims and heroes of the Sept. 11, 2001, attack on the United States. It's kind of a compressed soundtrack to the terrible events of that day.
Crystal Citadel © - Inspired by a poem written by my friend Cara Rosenberg Alson. See separate insert for lyrics.
Diversity Prayer © - Inspired by a Hebrew blessing for diversity.
Getaway © - I wrote this song one day when I was getting frustrated with my usual work. I felt I had to "get away," and music was my escape.
Grade Boo Meevies © - I named this song after the "Grade B Movies" I used to watch on television when I was a child. I once used this spoonerism by accident, but it seemed to fit so well that I started using it intentionally.
Haunted Carousel © - I originally wrote this as a waltz, using the piano. This version was orchestrated on and for my Yamaha PSR 740.
Jingle Rock Shuffle © - My rock-shuffle interpretation of the holiday classic.
Justice For All © - As a disability rights advocate, I wanted to use music to express the goals and sentiments of this civil rights movement. This is the result. It was the first song I composed using a MIDI keyboard. I can't sing anymore, but I added the spoken lyrics to this one so that people will understand what it's about.
Lectronata © - I wrote this song using only a computer and MIDI software (no musical instrument), except for final tweaking of voices and sound levels.
London Bridge Piano Variations © - A twist on the old children's song. Complex variations and time signature changes make this something different.
Motive Fantasy © - A tune with a Gershwin-like feeling, at least in some sections. I had fun playing around with variations on a few simple melodies.
On The Road © - I was playing around with ninth chords on my keyboard, and this song kind of evolved out of that.
Seven-of-Eight Suite: - Seven short vignettes in 7/8 meter:
Someone © - This song is in the style of the romantic ballads of the 1940s, using lots of diminished 7th chords. I wrote it originally at the piano, then recorded it using the Yamaha PSR 740's Jazz Ballad style.
Still At It © - Another rock instrumental with several types of guitar, full rocker organ, lots of percussion .
Trav'lin' © - I wrote this on and for acoustical guitar in the 1960s. The song always made me think traveling on a train, hence the title. This version adds a handclap track to suggest railroad tracks.
True Blue © - I wrote this one at the piano using a blues scale. I added some flourishes and effects using my synthesizer/keyboard—and a few using my computer keyboard, too!